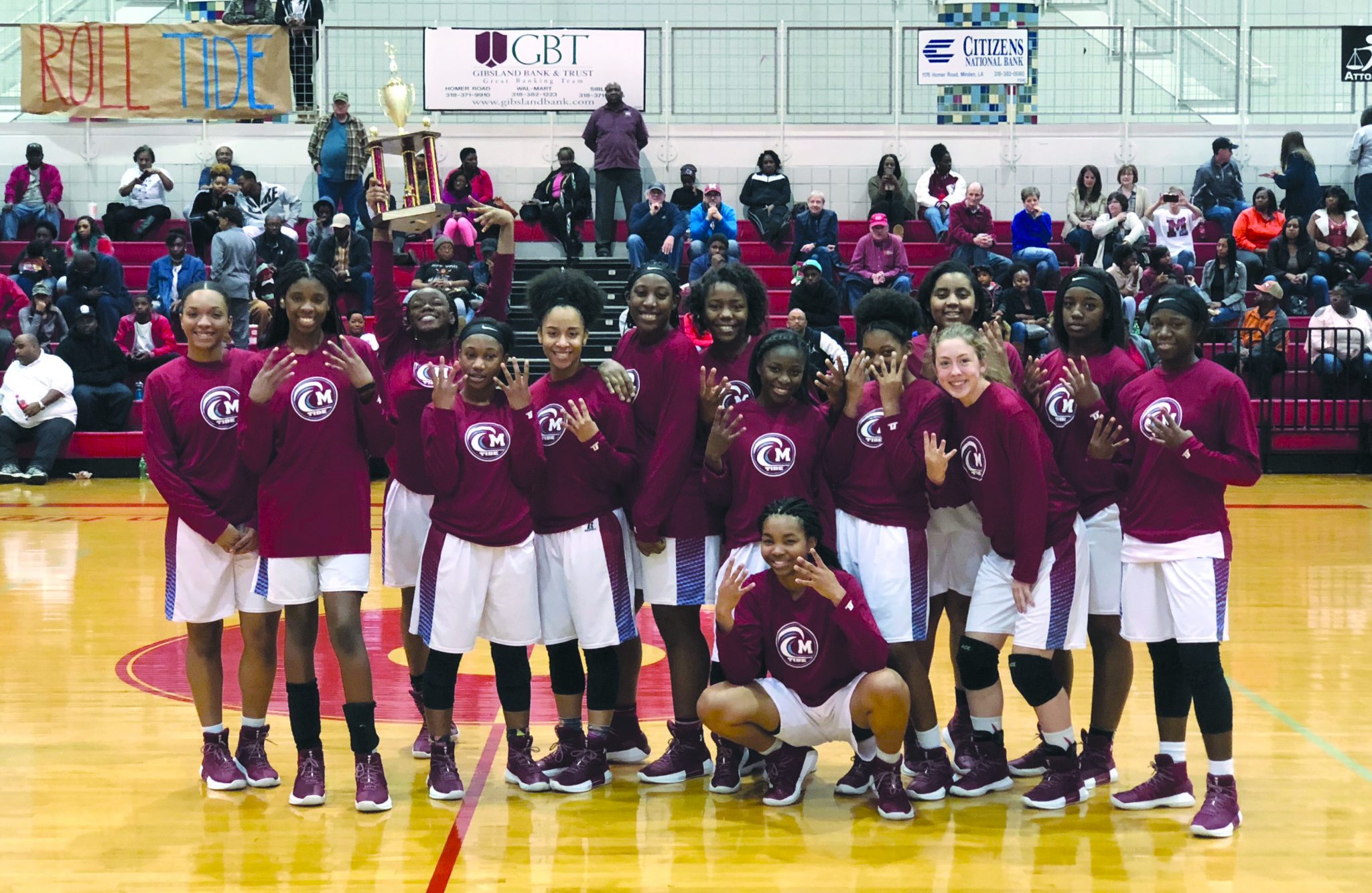 Minden Lady Tiders win second GBT Holiday Classic Championship
For the second time in two years, the Minden High School Lady Tiders are the GBT Minden Holiday Classic Champions.
However, the road to the championship was not an easy one, as Minden squeaked by Mansfield 55-53 in the semi-final game.
"We knew this was going to be a really good challenge. They had some girls who could present some challenges inside, and they had some that could score from the outside," Head Coach Jacob Brown said.
"It had a chance to go down to the wire." And that is exactly what happened.
Minden opened up the game with a 3-pointer from Destini Powell, and would eventually lead 13-10, but issues on offense kept things close. "I thought that we took some really quick shots and we weren't really disciplined in the half-court set throughout," Brown said.
In the second quarter Minden caught a bit of a break when Mansfield's best guard got into foul trouble. "We also had some girls get into foul trouble," Brown said.
Minden changed tactics a little, opting for a zone defense, which helped things and Minden went into the locker room with a 26-21 lead.
In the second half, however, the Lady Wolverines of Mansfield were determined to make a comeback, outscoring the Lady Tiders 13-8, and coming within one point of tying things up.
Throughout the game, Minden struggled at the free throw line. "We've had some nights where we were really good, but against Mansfield we were 24-of-43," said Brown.
"We did not capitalize at the free throw line. It kind of becomes a difference in a ball game."
In the fourth quarter, Minden outscored Mansfield 21-19. "I think the biggest lead was 3 points. Both teams had girls step up and make big shots," Brown said.
The final two minutes of the game kept the crowd on the edge of their seats.
Trailing 48-45, Sha'Terra (Strawberry) Batton hit a 3-pointer to tie the game.
Moments later, with a little more than a minute left to play, and the score tied at 50, Mansfield hit a 3-pointer to take the lead. "We knew she was a corner shooter and we let her set her feet," Brown said.
Things got even more intense when Mansfield's guard fouled, and Minden missed two shots at the line.
With time ticking below one minute, the Lady Tiders opted to apply pressure at full court, hoping to foul and extend the game with some free throw opportunities.
Minden then gets fouled and makes both, bringing the game within one point.
Another turnover, another foul, another trip to the free throw line. This time, Minden tied it up on a 1-for-2 effort.
In a devasting turn of events, Minden then fouled Mansfield, sending them to the line. "In that situation, we didn't need to foul," Brown said. "It was a miscommunication, and we need to do a better job of that."
With about 19 seconds to go, Mansfield was shooting was 1-and-1. The ball missed the basket, Batton grabbed the rebound and went coast-to-coast for a layup to take the 2-point lead. And held on for the win.
"That was an exciting win. A hard-fought win. And, I thought that overall our girls played hard. They continue to compete through adversity."
Batton led scoring with 23 points. Bre Rodgers scored 9 points, Destini Powell 8 points, and Derrica Gilbert added 7 points.
Championship Game
Minden 71, Ruston 51
In a rematch of sorts, the Minden High School Lady Tiders faced the Ruston Lady Bearcats in the championship game of the GBT Holiday Classic. The Lady Tiders took the lead early and never looked back, downing Ruston 71-51.
Ruston guard Amani McWain, a Southern University signee, was the leader of the Lady Bearcat offense. "You always try to take away what other teams want to do," Brown said. "They are a team that goes through her. We needed to find a way to contain her."
Things started quickly for both teams. Minden's Bree Rogers opened the game up with a 3 — and Ruston answered with a 3. Minden answered again with another 3-pointer.
"We tried to apply full-court pressure and keep the ball out of the Ruston guard's hands," Brown said. "I thought that we played with a lot of offensive energy. I thought defensively we really got after it."
Minden struggled to grab rebounds, keeping Ruston in the game offensively in the first quarter. "I think their high scorer had 26 and a good number of them were off us not rebounding the initial miss, which in turn leads to fouls and puts them at the free throw line," Brown said.
Minden led 22-20 after the first quarter, much to Brown's disappointment. "I was not pleased about giving up 20 points in a quarter. I think that we're better defensively than that."
In the second quarter, Minden got hot, going on an 11-0 run to take a 33-20 lead.
Defensively, Minden let off the gas a little, and Ruston capitalized, cutting the lead to eight. Minden went into the locker room at half with a 39-29 lead. "I was pleased with our offensive play in the first half."
Minden hit five three pointers in the first half. "I thought they were good shots," Brown said. "We didn't just throw the ball up there."
"For us to go on and win the game, I felt we had to rebound better," Brown said.
Minden outscored Ruston 19-12 in the third quarter, to lead 58-41. "We got key baskets, during the third," Brown said.
Minden didn't settle for outside shots, working a balanced attack on offense. "Bre Rodgers made some key baskets in the third. Whitney Aubrey played her tail off again throughout the second half and made some key baskets," said Brown.
Minden outscored the lady Bearcats 13-10 in the fourth to seal the game, and tournament championship.
"I thought that our girls showed some poise, being able to play with a lead."
Bre Rodgers led scoring with 22 points, Sha'Terra (Strawberry) Batton had 17, Whitney Aubrey scored 13, Laderrica Gilbert scored 7, Sha Whiting scored 6, Tayler Banks put in 4, and Destini Powell added 2 points. "We got good minutes from our bench again," Brown said.
Minden begins district play Tuesday night at home against North DeSoto at 6 p.m. (Girls game only). They are at home again Friday at 6 p.m. against Booker T. Washington, also at 6 p.m.