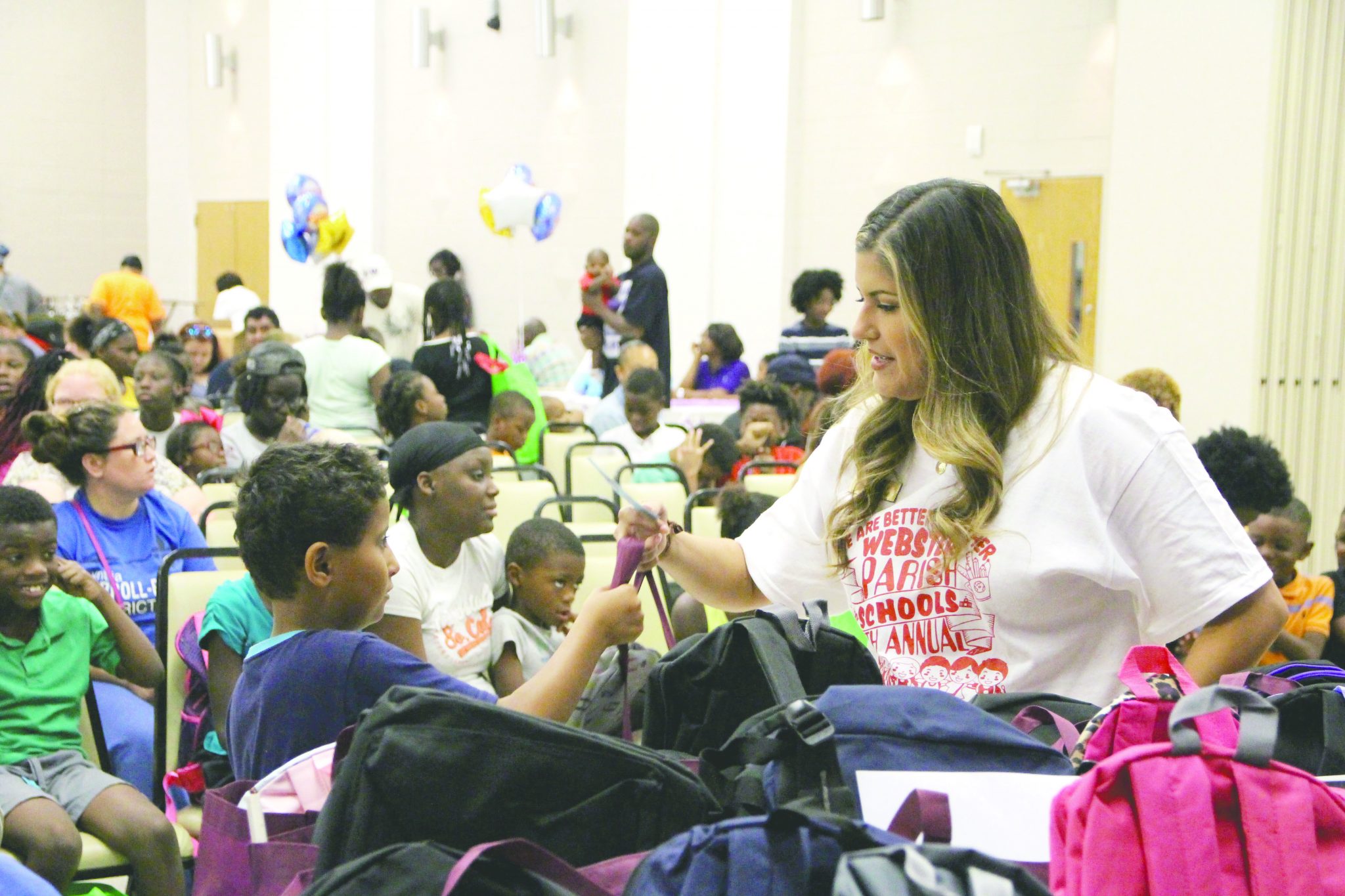 WPSB holds tenth annual Back to School Bash
Hundreds of students and family members from across the parish made their way to the Minden Civic Center Monday for the Webster Parish School Board's 10th annual Back to School Bash.
Over 1,300 backpacks stuffed with school supplies were prepared by volunteers last week and given to students for free.
The supplies were collected during the Pack the Bus event July 20-21, during which numerous local businesses and individuals donated items to fill up a Webster Parish school bus parked in front of Walmart in Minden.
Superintendent of Schools Johnny Rowland said during his address at the school board meeting Monday night that he was encouraged by the attendance and response to the Bash from the students and parents of the parish.
"I talked to a lady at lunch today who was there and was able to receive the different materials we make available for these students, and she went on and on about how appreciative she was," Rowland said. "This is yet another great outreach opportunity that our system has put in place, and we're so proud of it."
Other back-to-school essentials, such as clothes and shoes, were also given away, and many more items from gift cards to bicycles were raffled off. Minden Mayor Tommy Davis, representatives from the Webster Parish Police Jury, the Greater Minden Chamber, and many other local businesses and entities helped out by reading raffle winners, handing out backpacks, and more.
One attendee, Ieshia Thomas, brought several of her nieces and nephews, who attend Central Elementary School, to the Bash for the second year in a row. Thomas said she appreciates the event and recognizes that it is about more than just school supplies.
"It really encourages the students to do well in school, showing them they have a good support system behind them," she said. "I think this whole thing is a great idea, and they should keep doing it."
Face painting, concessions, and booths from dozens of schools and businesses rounded out the festivities as the school system ushered in a new year.
At the school board meeting, Rowland extended a special thanks to Safe and Drug Free Schools Coordinator Ursula Hullaby for heading up the organization of this year's Bash.
"We had a great day today, and I want to give public kudos to Ursula Hullaby and all of those who helped her organize our tenth annual Back to School Bash," he said." It was one of the largest crowds we've ever had, if not the largest."
Rowland said it is events like these that keep him and other school system employees focused on the right perspective.
"As I looked at all of those students out there, we were just reminded: so many of those kids – they depend on us," he said. "They need us. We've got a very important job to do in seeing that they're taken care of."