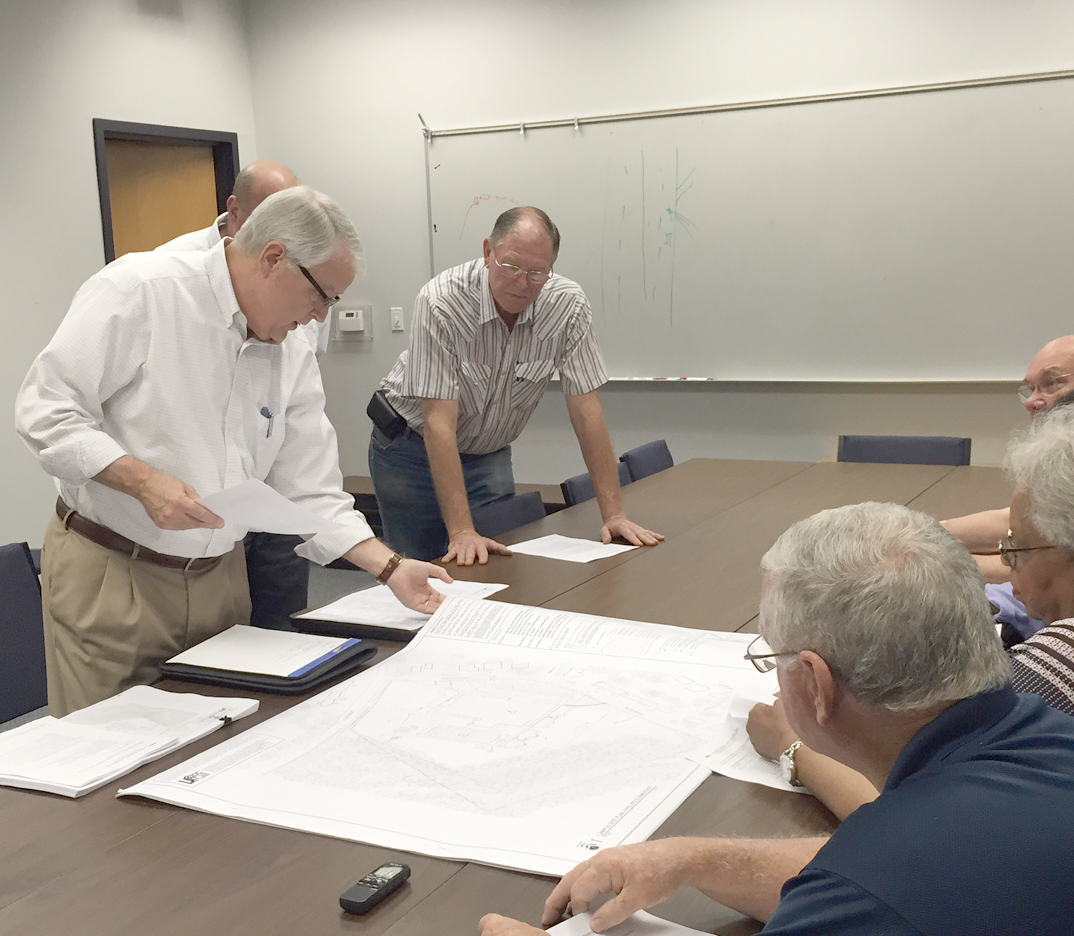 The construction project for Webster Junior High School and J.A. Phillips Middle School remains on schedule.
Architect Perry Watson, with Yeager, Watson and Associates, presented plans to Webster Parish School Board members during an informational meeting Tuesday.
The building committee was set to meet; however, there was no quorum.
Watson says they have been able to address several concerns of the board as well as the faculty with classroom space and computer lab space.
At Phillips, the new kindergarten wing will include 12 classrooms, a teacher's lounge and restroom and better accommodations for the special needs students. Additional parking will be added in front of the school building and additional renovations inside the main building will take place.
He says two classrooms have the same partitions currently at J.E. Harper Elementary, and they will be able to expand restroom space there and add facilities. During their research, he says they learned Phillips actually did not have enough toilets for the number of students the school can hold.
"The original building by the plumbing code did not have enough toilets in it," he said. "We're expanding those, and one of the most notable changes we had on that particular job is that we took the opportunity to expand the restrooms and now the restrooms are centrally located with all the rest of the classrooms."
All the fixtures and facilities will need to be retrofitted to age-appropriate fixtures for smaller children, he said, adding age-appropriate furniture will be moved in.
Each individual classroom will be upgraded to better fit the student population, he says. One way is by equipping them with cubby hole lockers. Another is by equipping them to handle a smart board and other instructional services.
At WJHS, they were able to solve an issue of the deeply inset lunchroom. Watson says they will fill it in and make the floor completely flat, which will add more flexibility to the room as well as additional seating. Currently, there are three lunch shifts, and it may have to go up to four.
They will be able to outfit a vacant room adjacent to the computer lab for an additional one, he said. The vacant room is already prepped to handle a number of computer stations.
Next to the current two-story classroom building, additional space was left for construction of another building if need be, he said. Because the new wing will be so long, it will be built lengthwise.
They were also able to increase the number of classrooms from nine to 10 plus a computer lab.
In order to stay within the projected timeline and pending a building committee meeting for final review, Watson will be asking board members for permission to begin advertising for bids during the week of July 18-22. Once bids have been advertised, the board will receive bids Aug. 25, and a special board meeting will be set to take action on the bids and award the contract on Aug. 29.
They expect to have construction complete at both campuses by July 2017.
The total cost of the project is about $6.9 million, and will be paid for through bond issues.
The project came about when problems became evident at Harper Elementary for the students, faculty and staff. Inadequate restroom space and noise levels in an open air classroom setting were just a few of the more prominent issues raised during a series of public meetings in 2015.
Harper was built in the 1970s with an open air concept for grades K-5. While teachers said it worked for grades K-5 at that time, it does not work for just kindergarten and first grade. Another issue raised is the number of students taught at the school. Current student population is around 500.