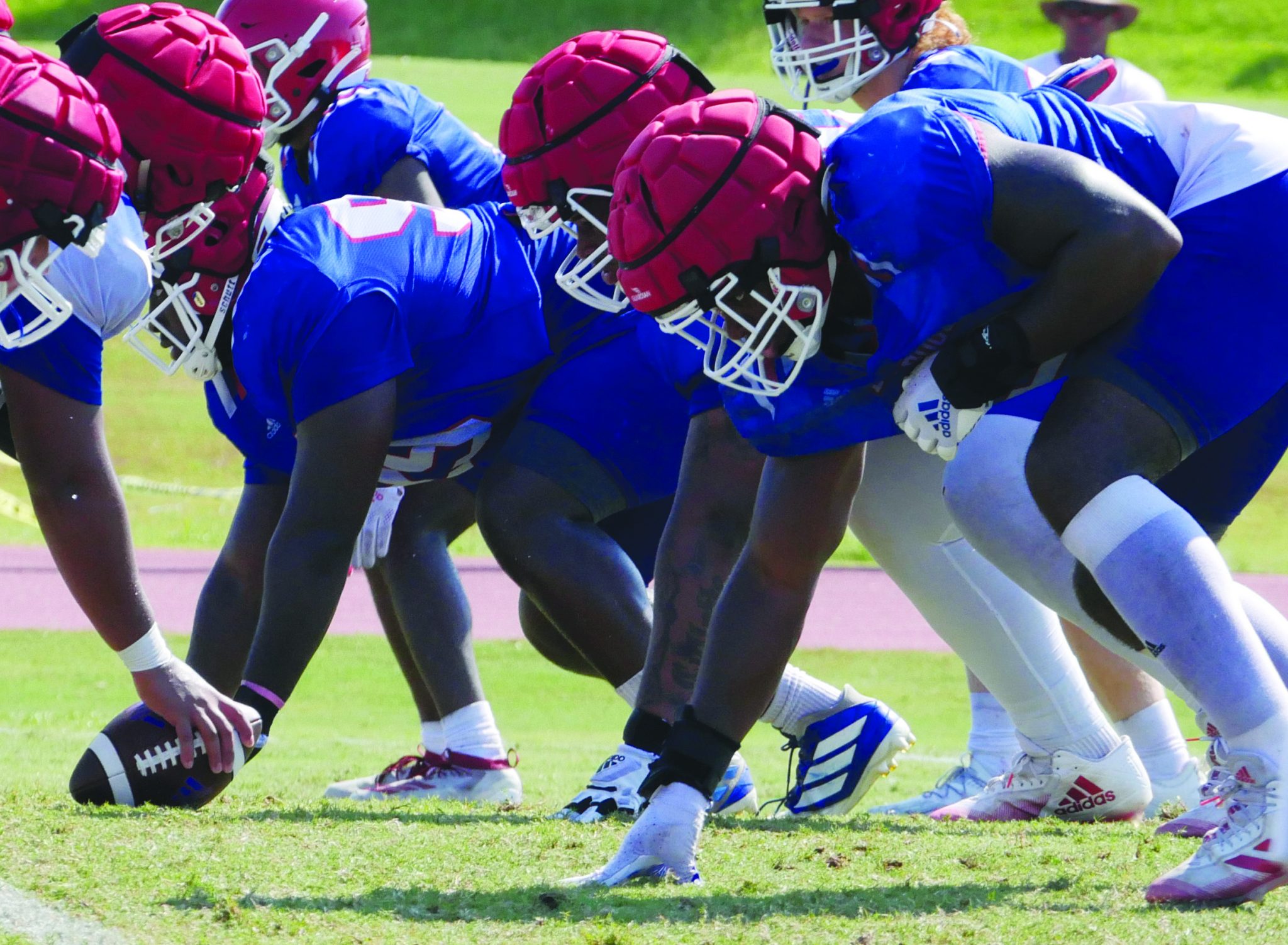 RUSTON — Iron sharpens iron.
That is one of the many mantras of the Louisiana Tech football team this season. Just as the Bulldogs are competing on the field to become better individually, they are also working to make each other better.
Tech fans need to look no further than the 'Dogs in the trenches as the offensive and defensive linemen compete on every play.
"Even when you are in shells going against each other, upfront they are still banging every play," said Tech head coach Skip Holtz. "Those guys take a beating upfront. Camp is a wear and tear physically on those guys. I'm really proud of the communication, the attitude, the work ethic and the way they are working together. They are trying to beat each other, but they are also trying to make this football team better. I really like the things they are doing right now."
The offensive line is made up of just as many newcomers as returners on the 2021 roster. Headlining the o-line returners are juniors Abraham Delfin and Joshua Mote. The duo started in all 10 games of the 2020 season at right guard and left guard, respectively.
"We've been doing great and have been getting better day by day," Delfin said. "We've focused on one thing at a time. We look at the film and then come back and do the same thing over and over again. We're stacking days on top of each other to try and get better and better."
Delfin, a native of Plaquemine, was named to the Conference USA Preseason Academic Watch List, while Mote, an Oak Grove native, was named to the C-USA Preseason and the Wuerffel Trophy watch lists. The pair were part of an offensive front that ranked first in C-USA and second in the FBS in fourth down conversions at 88.9 percent (16-of-18).
They helped the offense rank fourth in C-USA and 53rd in the FBS in red zone offense at 84.6 percent (33-of-39). Delfin and Mote assisted the offense in averaging 315.8 yards of total offense, including a 216.6 passing yard average and a 99.2 rushing yard average.
Delfin and Mote are joined in the meeting room by five returning lettermen in sophomore Biron Rossell, redshirt freshman Jonah Brewster, and freshmen Bert Hale, Ray Kelly and Dakota White. White started in three games at left tackle in the 2020 campaign and was named to the Conference USA all-Freshman Team.
Redshirt freshman Brett Pope and freshman Jerren Gilbert also return from the 2020 squad.
Along with the nine Bulldog returners, there are also nine new faces joining the offensive line this season. Tech added three graduate transfers in Chris Fournier (Lehigh), Kellton Hollins (TCU) and Samuel Williams (ULM), as well as a pair of transfers in John Bolding (ULM) and Demarcus Gordon (Copiah-Lincoln CC).
"Obviously, Mote and Abe are two staples that played every down for us last year," Holtz said. "Those two guys are really doing a good job. I'm pleased with Biron Rossell, Kellton Hollins, Samuel Williamson and Chris Fournier. They are really doing a nice job. Dakota White is doing a nice job. Jerren Gilbert is starting to get a lot of reps. They're getting a lot of work. The more work, the better they get because they want to be good and they're working at it. If they continue to do that, we're going to have a chance upfront on both sides of the ball."
Louisiana Tech brought in an additional four freshmen on the offensive line in Kenneth Bannister, Erron Bean, Carson Bruno and Gavin Soniat.
The other side of the line of scrimmage is a different story as the defensive line returns 16 Bulldogs while adding just three newcomers.
"Willie Baker is really coming back strong and getting a lot of reps," Holtz said. "Deshon Hall is doing good. Up on the defensive line, we just have a lot of bodies. Ben Bell and Kershawn Fisher are having really good camps. Keivie Rose quietly does his job every day. I like the depth and the way those guys are coming together."
Tech returns three of its four starters on the defensive line from the 2020 season in senior Eric Kendzior, sophomore Deshon Hall and redshirt freshman Keivie Rose. The only defensive starter from the 2020 campaign not returning this season is defensive lineman Milton Williams, who was selected as the 73rd overall pick by the Philadelphia Eagles in the 2021 NFL Draft.
"The D-line is coming together nicely this fall camp," Hall said. "It's going to be a strength for us. We have a lot of young guys in the room and everybody is stepping into place.
"The older guys in the room are doing a great job of leading the young guys. Right now, we're getting after the pass and that's going to be a strength for us this year."