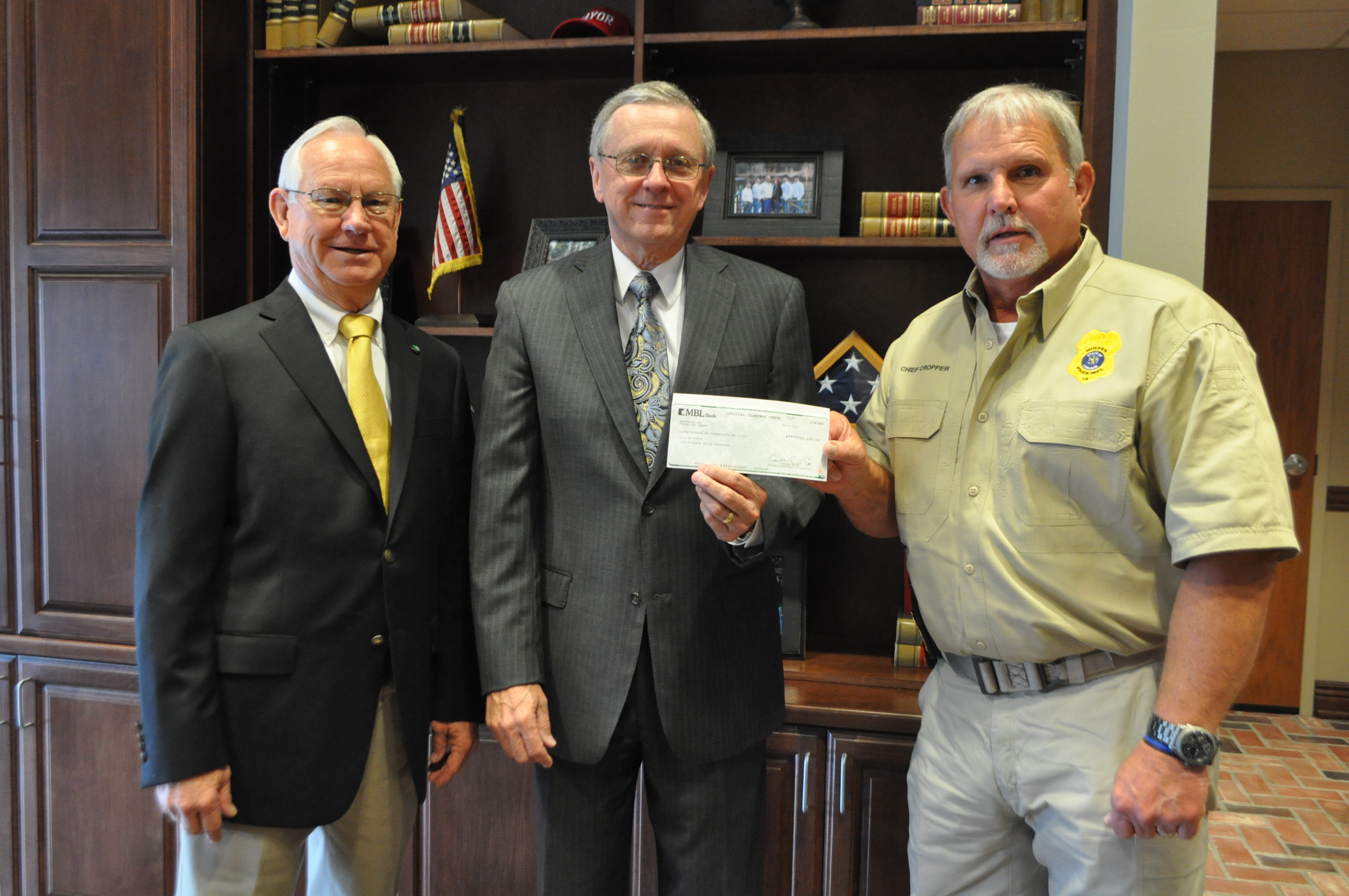 The Minden Police Department and the Webster Parish Sheriff's Office can now afford to outfit their patrol officers with body cameras thanks to the generosity of the Minden community.
Jack Byrd Jr., president of MBL Bank, presented Police Chief Steve Cropper and Sheriff Gary Sexton with checks for roughly $11,000 each Thursday towards the purchase of body cameras.
"This is just another example of the outstanding citizens we have in Minden and Webster Parish," Byrd said, "and because of this, our law enforcement will be equipped with this for not only the full understanding of events, but as training tools."
He says 100 percent of the roughly $22,000 raised went to both departments.
"The sheriff's office and staff are very appreciative for the efforts of Mr. Jack Byrd in his endeavors to launch a campaign to raise monies for the purchase of body cameras for our enforcement officers," Sexton said.
"We ordered 27 cameras this morning (Thursday)," Cropper said, "which will supply every shift with cameras. We ordered a camera for the narcotics division and a camera for the investigative division."
He says he ordered one for those two divisions in the event they have to serve a search warrant it will all be recorded. And he says he's just excited and grateful to be able to offer his officers this tool.
"For us to receive twice as much as we expected, it just amazed me," Cropper said. "Minden's a giving town, and we're just excited about it."
Byrd says around Christmas, he talked to both the chief and the sheriff and asked them if they had the funds in their budgets to purchase these cameras. They both said no. That's when he says he got the idea to begin raising money for them.
"I thought it would be a good idea to see what we could do to support our law enforcement," he said. "If you have the video, you could use that video in training classes on what to do and what not to do in situations."
Cropper and Sexton say these cameras are as much for their officers as they are for the citizens.
Cropper says issues could arise from them if they get knocked off or something happens.
"It's not a cure-all," he said. "We actually purchased a camera to try, so we already have one in use. We had an incident this weekend where they got a call and when they got there, there was a lot of drug paraphernalia in the residence."
He says officers were going to search the suspect, but he refused to allow officers to see what was in his pocket. When the officer reached for the suspect's pocket, a struggle ensued. During the struggle, the audio kicked off, even though the video was still very clear. He gave this example to show that there could still be some problems using the cameras, but it is another tool in law enforcement's arsenal to protect the officer as well as the citizen.
"It's not foolproof, but to me, it says to the public that we're trying to do the right thing," Cropper said.
He says he feels the public would feel more comfortable knowing they're protected by video.