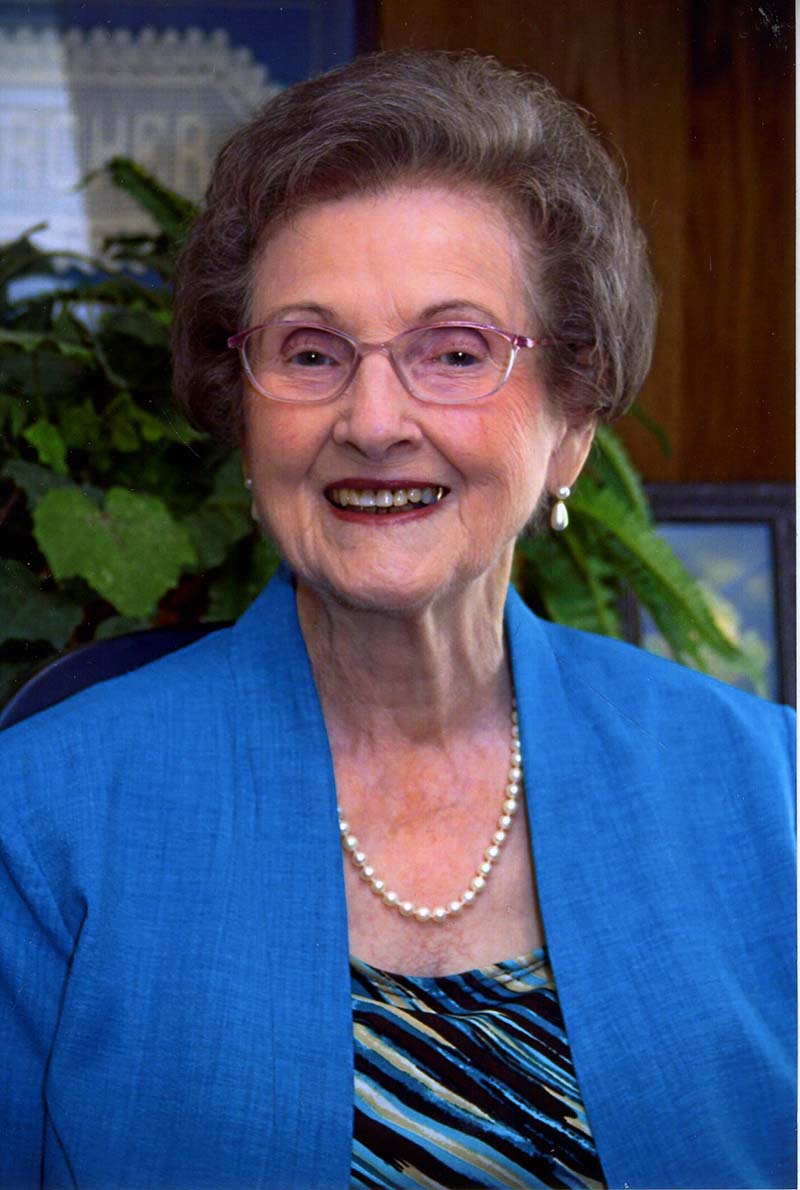 On Nov. 9, 2017, Chloe Phelps Tucker stepped into the eternal home that her Lord and Savior had prepared for her. Born in Farmerville on Sept. 18, 1919, she was 98 at the time of her death.
Chloe met and married her love of a lifetime, Curtis Tucker, in Farmerville where they grew up together. Early in their married life, they moved to Minden when Curtis became employed at the Louisiana Army Ammunition Plant which was under construction. He secured a job issuing electrical supplies, acquiring knowledge that would launch his lifetime work as an electrical contractor. When Curtis later established Tucker Electric in Minden, Chloe worked in the office to help operate the business. She was most proud, however, of her role as a homemaker, serving her family as a loving wife and mother.
In her homemaking role, Chloe was an excellent cook and seamstress. She was a woman of hospitality, welcoming all into their home. She enjoyed cooking, canning, collecting recipes, fishing, quilting and gardening. Family members have fond memories of Thanksgiving feasts with abundant desserts and breakfasts of biscuits with homemade jellies and preserves. She reigned in the family as the domino champion.
Chloe was a faithful member of Calvary Missionary Baptist Church for nearly 70 years. She visited and invited many people to come to Calvary before the word "outreach" was even a part of our vocabulary. She taught the Ruth Sunday School class for many years, served as secretary-treasurer of the Ladies Auxiliary, pioneered with others in forming a teaching ministry for nursery children (writing the literature themselves). She testified that she learned through the years that no matter how incompetent you feel, God will provide all you need to accomplish any task he places in your heart. In more recent years, she was an active member of her beloved Lydia Sunday School Class, helped with the Awana ministry, and was a part of the Widows Without Partners group.
For the last six years, Chloe made her home with her daughter and son-in-law, Rita and Cary Vercher, in Moss Bluff, where she enjoyed visiting with family, working jigsaw puzzles and word jumbles, cooking and canning, and backyard bird-watching.
Chloe is survived by her children Jeffrey Lynn Tucker and wife Donna of Round Rock, Texas; Judy Covington and husband Van of Brandon, Mississippi; and Rita Vercher and husband Cary of Lake Charles. She is also survived by her treasured grandchildren Lela Solum, Kevin Tucker, Jeffrey Tucker Jr., Emily Tucker, Wes Covington, Curtis Covington, Kim Covington-Core, Cary Vercher Jr. and Ryan Vercher. She was blessed with 20 great-grandchildren and three great-great grandchildren.
She was preceded in death by her husband of 56 years Robert Curtis Tucker; her parents Herbert Lee and Nettie Lou Phelps; brother W.R. Phelps and sisters Thelma Tucker Stringfellow, Naomi Brantley, and Treva Ledbetter Studinger.
Visitation will be held Saturday, Nov. from 3 p.m. to 5 at Rose-Neath Funeral Home in Minden. A celebration of life will be held at 2 p.m. Sunday Nov. 19 at Calvary Baptist Church in Minden, officiated by Dr. James A. Crain. Graveside service will follow at Gardens of Memory Cemetery in Minden. Grandsons will serve as pallbearers.