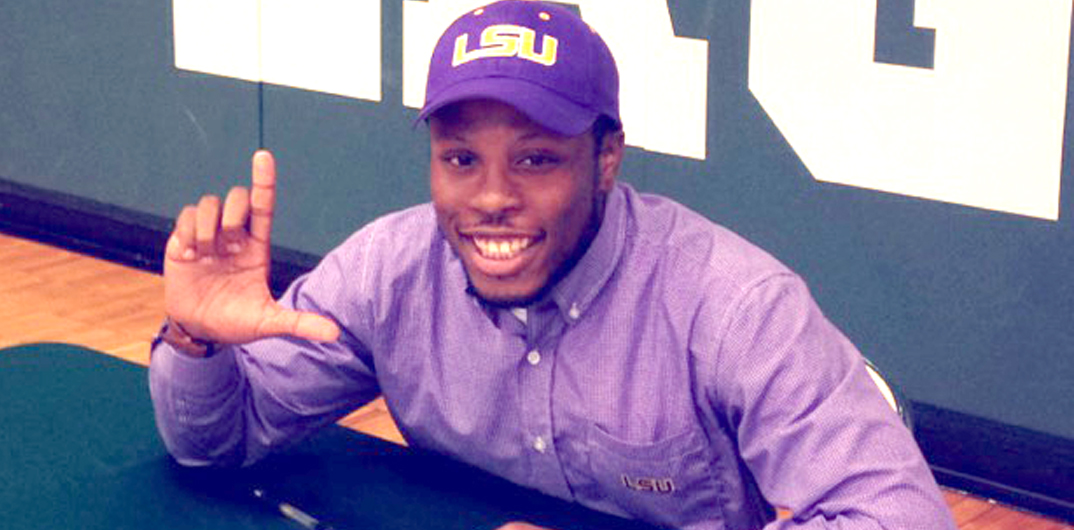 MERIDIAN, Miss. – Former Lakeside and current Meridian Community College sprinter, Chris Lewis, has signed a scholarship to run track for the LSU Tigers.
Lewis, a 2014 graduate of Lakeside, signed with Meridian out of high school where he has excelled. Schools throughout the country began taking notice of his speed, and when the Tigers came calling, it was an easy decision.
"It's a dream come true," Lewis said. "It really means a lot to me. I remember having a lot of doubters. There were people who said I'd never be fast enough to run for LSU. Right now, I feel great."
Lewis is a life-long Tiger fan, and knows running for LSU means being in the national spotlight. The Tiger track team is always a factor in the national championship discussion, and now Lewis will have a chance to win one for his home state.
"I remember being young and watching LSU run on TV," he said. "I remember being in ninth grade, crossing the bridge going into Baton Rouge, seeing the big 'LSU' sign from the football stadium and saying 'That's my school.'"
Lewis, who thanked his parents and coaches for all his success, has put in the work to reach this level of success.
"There were some points where I just wanted to give up," Lewis said. "But my mother, my father and my coaches pushed me to keep going and pursue this dream. Now I know that anything can happen if I put my mind to it."
Lewis will enroll at LSU in the summer, but what is the speedster going to try and tackle next?
"I will be going to Eugene, Oregon in July to try and earn a spot on the USA team for the 2016 Olympics in Brazil," Lewis said.
Before then, Tiger fans and Lewis fans alike can make the trip to Baton Rouge on January 8, 2016, to watch Lewis and his Meridian Community College teammates run at LSU.