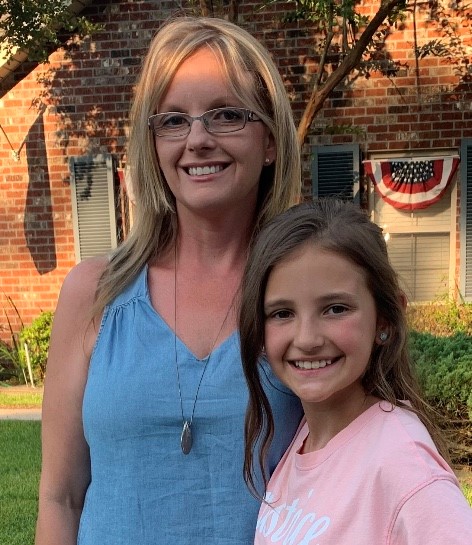 Funeral services celebrating the lives of Christy Michelle Myers Scott and Hailey Jade Scott will be held Friday, July 24, 2020 at 10:00 a.m. at City On The Hill, First United Pentecostal Church in Minden Louisiana with Rev. Jeff Ramsey, Rev. Marvin Poole, Rev. Bill Mills, Rev. Jimbo Yocom, and her sister Ryleigh Myers officiating. Interment will follow at Tulip Cemetery in Athens, Louisiana under the direction of Rose-Neath Funeral Home in Minden, Louisiana. The family will receive friends from 5:00 until 7:00 p.m. Thursday, July 23, 2020 at the church.
Christy and Hailey entered the gates of Heaven together July 19, 2020 in Clinton, Arkansas. Christy was born April 15, 1978 in Bossier City, Louisiana and Hailey was born October 16, 2009 in Minden, Louisiana. Christy was a self-employed Registered Nurse and Hailey had completed the fourth grade. They both attended The Harbor Church in Hammond, Louisiana.
Christy is survived by her husband Jeremy Scott of Hammond, daughter Ryleigh Myers of Hammond, mother Vicki Myers and father Robert Myers of Homer and sister Candi Myers of Springer, NM. and nephews A.J. and Lee.
Hailey is survived by her father Jeremy Scott of Hammond, sister Ryleigh Myers of Hammond, grandparents Vicki and Robert Myers of Homer, and Robin and Dwayne Reeves of Cotton Valley, aunts RaeLyn Reeves and her children Karlie and Lakelyn of Cotton Valley, and Sheri Walsh and her child Morgan of Springfield, MO.
Pallbearers will be Tony Holtzclaw, Jeremy Rhymes, Andrew Miller, Gavin Hall, Jeremy Scott, and Dwayne Reeves.
Rose-Neath Funeral Home
211 Murrell Street
Minden, Louisiana 71055
(318) 377-3412