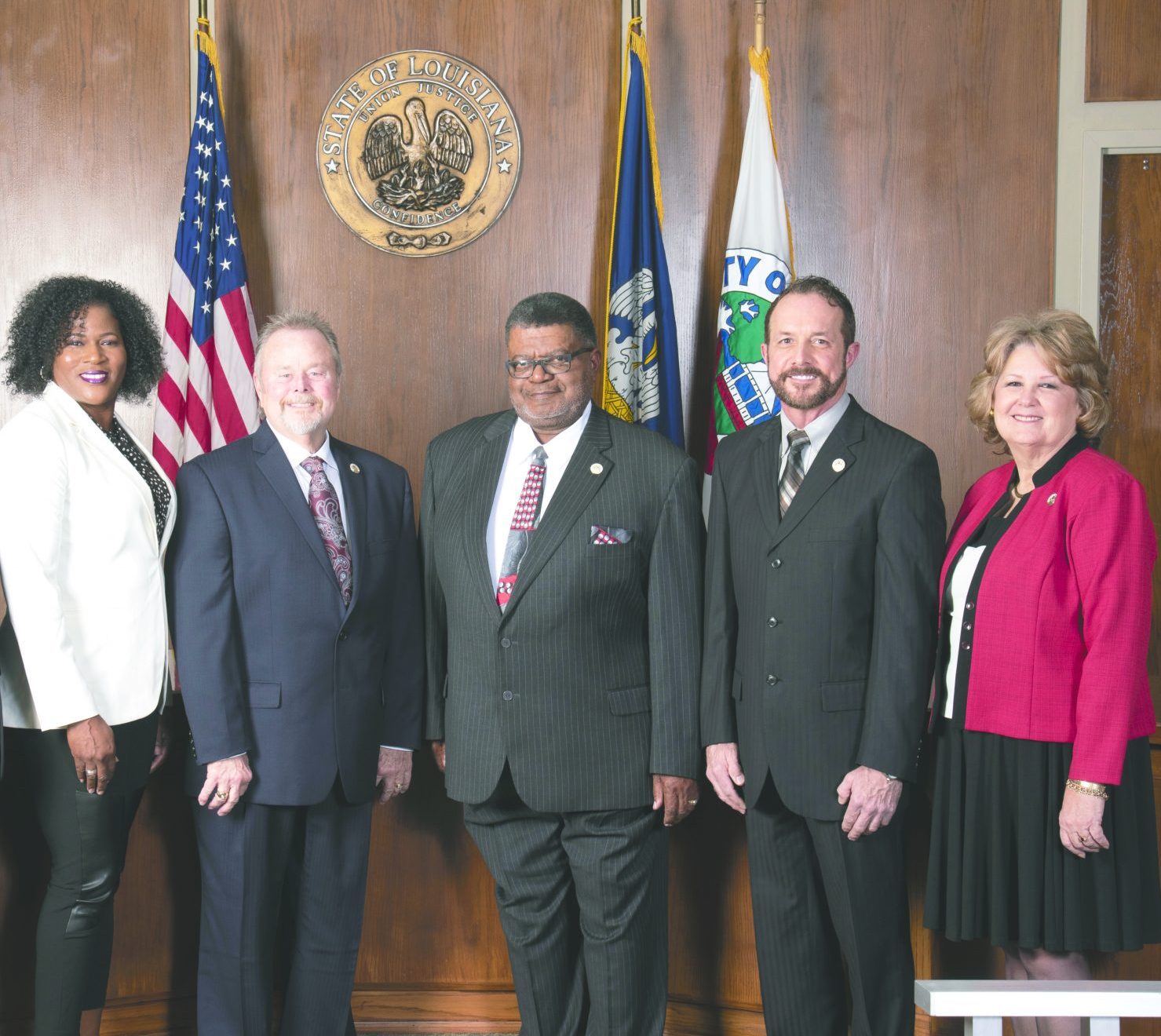 UPDATE: Mayor Terry Gardner has issued a veto letter regarding the vote to block two hires for the Minden Police Department.
Procedural debate ends in split vote
William Wright and Lowell Lister expected to be Minden Police officers today. However, their employment was blocked in a 3-2 vote of the Minden City Council Monday night.
The two men were presented to the council for confirmation following approvals from civil service and the city's personnel committee, Chief Steve Cropper said during the introduction of the agenda item to approve them.
"L.J. [Lister] will start Friday morning," Cropper said. "Will, if they are voted in tonight, will start tomorrow morning. I think both of them will make good police officers."
Prior to a motion, District A Councilman Herbert Taylor raised concerns about the hires. "I would like to amend the action," Taylor said, followed by a second from District C Councilman Vincen Bradford.
When asked about the amendment, Bradford said, "I don't think both of them should have been put together."
Taylor then clarified his amendment, at the behest of District D Councilman Keith Beard. "My amendment is to delay the recommendation of the officers in light of recent things in the community with officers."
Mayor Terry Gardner asked, "Does that have anything to do with the two new hires?"
District B Councilman Terrika Williams-Walker echoed similar concerns. "We want to make sure, with everything that has been happening, we have the best officers for our community," she said. "I agree with deferring the recommendations."
District E. Councilman Pam Bloxom asked for a recommendation on how to proceed. "Personnel has recommended it," Bloxom said. "What do you want to do? Send it back to personnel?"
"Their background checks have been performed. They passed their drug screens," Gardner said.
"I'm pretty set on my decision as far as the amendment we are discussing," Taylor said.
Mayor Gardner's secretary Wanda Pittman asked for clarification of the amendment for the meeting minutes.
"We can't really amend the motion until we make a motion," Beard said.
"I made a motion to amend it, and it was seconded," Taylor said.
"So we're going to postpone this?" Gardner asked. "Ok, we're going to table this."
"Don't we need to vote on that amendment?" Pittman asked.
Bloxom pointed out parliamentary procedure was not being followed. "You have to have a motion before you can amend it," she said.
After a moment of inaction, Bloxom spoke up. "I'll make a motion to confirm these two gentlemen for the police department based on the Personnel Committee's recommendations." Beard seconded.
Gardner call for a vote and the measure failed 3-2 with ayes from Beard and Bloxom, and nays from Taylor, Williams-Walker, and Bradford.
"So are y'all going to start hiring the police officers?" Cropper asked.
"Are we going to need to change some procedures here?" Beard asked.
"I amended to table it until later," Taylor said. "You guys went on with the motion."
"Well, that is the way that it is," Beard said. "Now we vote on the amendment."
"No, there is no amendment now," Taylor said. "The motion was denied."
"We're going to table it and take it back to personnel," Gardner said.
Bloxom expressed frustration over the proceedings. "The personnel committee recommends to the council," she said. "And then, we act on their recommendation."
"We're against it now," Taylor said.
"Are y'all going to intervene with the personnel committee?" Bloxom asked.
"We want to make sure everything is done decent and in order," Williams-Walker said. "That everyone is given a fair opportunity. We don't know who all applied for the positions."
"Civil Service Board has every application we take," Cropper said.
"We're going to table it until the next workshop, and we will discuss it then," Williams-Walker said.
"So, we are going to go against the recommendation of the Personnel Committee, and we're going to table this until later," Gardner said.
"It's not tabled, if they," Pittman started to say.
"I realize that," Gardner said. "Guys. Sorry. We'll have to come back to y'all."
Cropper was quick to offer apologies to Wright and Lister.
"Gentlemen, I apologize to both of you. I know both of you have other jobs, and you were told you would be hired tonight. I don't know what's going on."