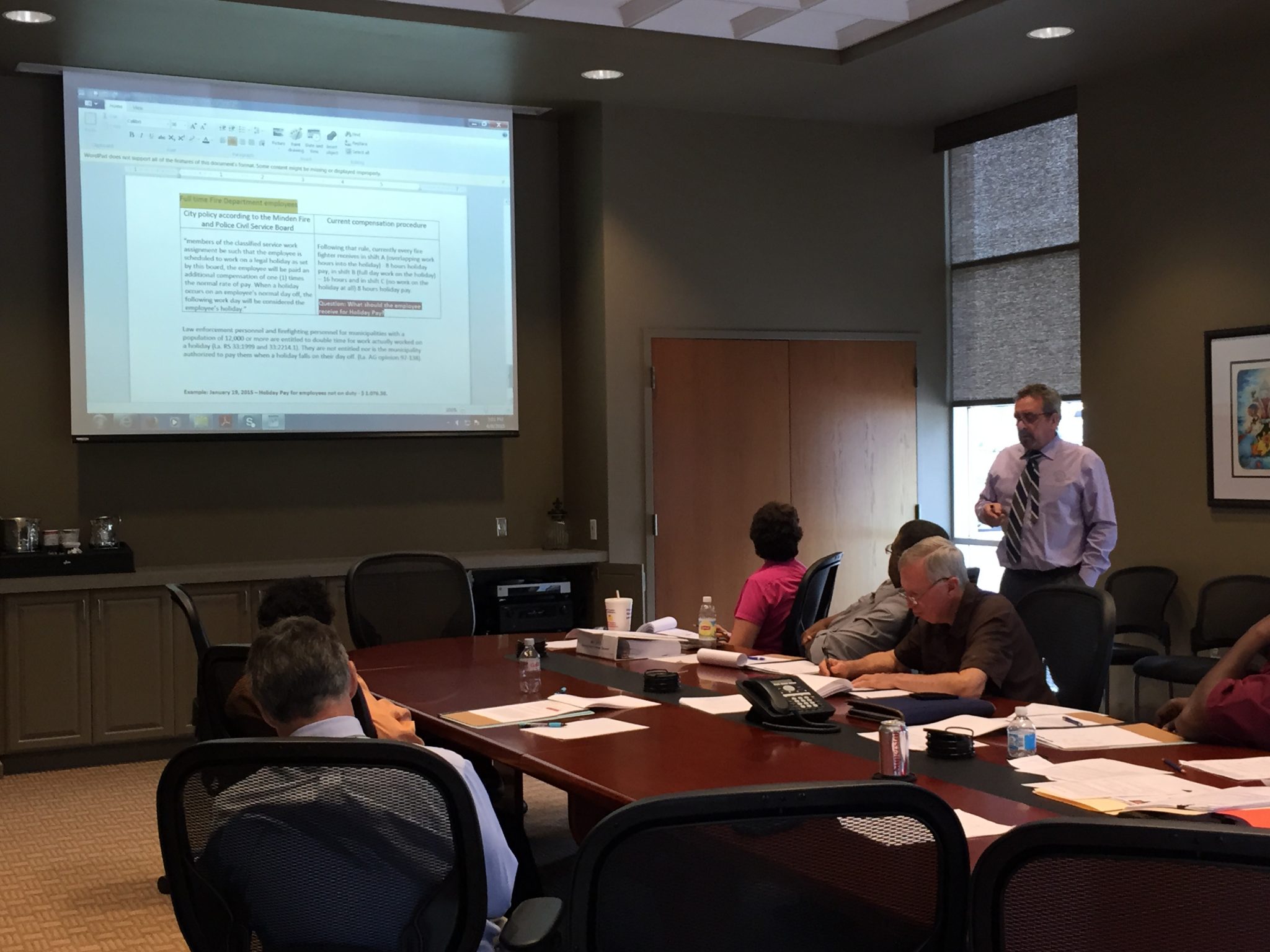 The City of Minden is facing a tight budget for the 2015-16 fiscal year.
City Clerk Michael Fluhr gave council members and department heads an idea of what's coming up for the 2015-16 budget in a workshop Monday, and
while revenue has remained steady over the last few years, expenses are ever increasing.
Mayor Tommy Davis says out of a roughly $30 million budget, $10.8 million of that strictly covers salaries and benefits, which was the main focus of the workshop.
"With every city our size that we talk to, they are facing the same situation financially," Davis said. "The employees – it's a third of the budget. We're about as lean as we can be on employees."
With a two percent increase in the new budget, that means there is a roughly $140,000 difference, Fluhr says. If the new budget is passed as it stands with a two percent increase, it adds up to roughly $140,000 more than 2015.
He says with this two percent increase, that means Minden police officers could see about $300 more in their paychecks per month and Minden firefighters could see about $173 more in theirs. Together, this adds up to about $230,000 more for the year for the police department than in 2015.
Part of the reason for higher raises for police, Davis says, is so they can start keeping police officers. Right now the force has a little more than 30 officers and it has a high turnover rate.
Fluhr says in the areas of water, utilities and electricity, the city is doing fine. The city just implemented a raise in the minimum for water, and even though the council voted to raise sewer rates, it has not yet been implemented – hence the reason sewer is behind.
Councilman Mike Toland says last year's budget was roughly $2 million short when they got the proposals. And he's aware of the city's money crunch.
"Our revenue is basically flat and it has been flat for the last several years," he said, addressing department heads. "(The late) Mayor (Bill) Robertson had money in the bank, and now that's all gone. Expenses have gone up, and last year, there we were $2 million short. The last thing I want to do is stop employee raises. When you're $2 million short going in, if we do what's proposed, that's $270,000 right off the bat without raising revenue."
The department heads were asked if the police were to get the raises being asked for if it would cause animosity in other departments to the point some would leave. One of the department heads said, "I think so." Councilman Benny Gray asked then, if the city bit the bullet and nobody got a two percent raise, would they feel any better?
Due to a scheduling conflict, Police Chief Steve Cropper could not be in attendance.
Councilman Wayne Edwards said "The bottom line is we don't have enough money to fund all our projects and give a decent raise. I think we need to keep our focus on making sure the city operates. That's our first obligation."
The fiscal year begins in October. The final draft of the 2015-16 budget will come to a vote before the city council during its September meeting.