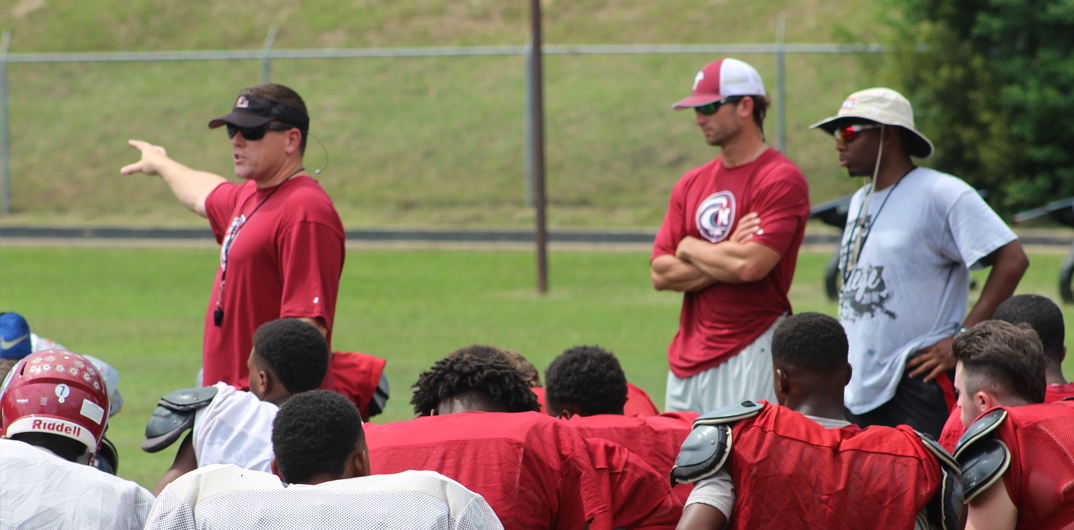 You can hear it in his voice. Spencer Heard knows this season could be special.
The Minden Crimson Tide were on the field for their first practice of the school year Tuesday afternoon. After an offseason swirling with uncertainty around Minden's W.W. Williams Stadium, or The Pit as it's affectionately known, the arrival of fall practice and a new school year have the community buzzing about football again.
"The important thing is we are going to play in The Pit," head coach Spencer Heard said.
"Originally, that was the main concern of the coaches and players and everyone, was where are we going to play? Once we found out we were playing here it eased everybody's mind. It's going to look different, but it's still the same field. It's coming along and we're seeing progress; it hasn't been a major obstacle."
Heard said he feels good about the roster's returning talent, adding it's nice to be back in his element.
"It's always exciting this time of year," Heard said. "It's always the same feeling. I think this year with this group of guys, led by seniors who've played a lot and the coaching staff we have in place, everybody's ready to get going. There's a buzz in the community, but we can't get caught up in that. We have to do what we do and stick to the daily grind, so to speak."
Wide receivers coach Brian Fowler left Minden for the head baseball job at North Webster over the summer, prompting Minden to hire former Tide quarterback Hunter Leppert to coach that unit. Leppert also brings another offensive mind to the table and can serve Heard well in the film room and coming up with gameplans. Leppert will also be a shoulder for third-year starting quarterback Antonio Rivette to lean on.
"When coach Fowler told me that was offered to him I knew it was a good deal for him," Heard said. "Definitely the right decision for him. Getting (Leppert) on board is going to be good. I have him tabbed as a receivers coach but he can really tell Tony (Rivette) and the other quarterbacks a lot of things from having played quarterback as long as he have. He'll be a good pair of eyes during games and a great asset for us overall."
Minden returns 16 starters from last year's team that finished 9-3 and was eliminated in round two of the Class 4A playoffs by Franklinton, 35-34. Minden's average margin of defeat in their three losses (Haughton, Benton, Franklinton) was five points. All of this to say, the Tide were a couple of lucky breaks away from contending for a 4A title shot.
The Tide have the look of a team ready to take the next step, and with a veteran-laden senior class, leadership and talent are all over the field. Talented youngsters are part of the fray as well, with Minden likely to slot 2-3 sophomores into the starting lineup for departed seniors.
The last two seasons, Minden has improved dramatically on defense. In 2016, the Tide might be fielding one of 4A's best defenses.
"We have Zi (Zi'Kerrion Baker) and Cam (Cameron Morgan) back," Heard said. "Those two and Ty'Christopher Harris have to be the best three linebackers I've ever seen together on one team."
The defensive line is in good hands with the return of Kendall Allums and Ethan Culp. Both Allums and Culp will line up at defensive end, but Allums has the versatility to line up inside if called upon. In the middle of that line, a pair of sophomores are expected to start.
"Braxton Jackson and Jwan Pickens will play a lot of snaps," Heard said. "Braxton is about 6-foot-2, 260-pounds and Jwan is about 6-foot-1, 270-pounds."
"That was one thing last year we really didn't have. When you get to a certain point you need to have that size inside, or it will show. We're excited to have those guys inside."
The defensive backfield lost senior safeties Dekeltric Freelon and Kenneth Francis, but return a rising senior in Ventavious Williams.
"If the spring game is any indication of what he's going to do this year, he's going to have a really big year," Heard said. "He was lights out in the spring game. Then we have Leonardo McCarter at one corner spot. Rodney Johnson is going to be at free safety. It's going to be his first time starting, but he's looked good throughout the course of the summer and I think he'll be a good one. "
The other corner spot will be manned by another newcomer, Jacareon Lathan.
"He's kind of a long kid," Heard said. "He's about 6-foot-1. We like to have that kind of size in the secondary."
Heard also mentioned Demarcus Hamilton and Rykarrian Robinson as players who could earn snaps in the secondary.
Offensively, Minden came on strong down the stretch last season, led by L'Jarius Sneed – now playing at Louisiana Tech – and Rivette.
In the last four games of the season and with teams beginning to key on Sneed, Rivette found equal chemistry with returning targets Tavarius Edwards and tight end Kelcey Miller. He also hooked up for a touchdown with Adrian Flournoy, an athletic, big-bodied senior ready to make an impact.
"It starts with Tony at quarterback," Heard said. "He's put on a little more weight over the summer. That kid looks good. He's more mature and he's seeing everything well. I expect him to have a great year with the skill guys we have back."
Kolby Jackson returns at running back for the Tide after a junior season that didn't go as planned. Jackson was explosive in his sophomore campaign and still has the burst to make big plays.
"Kolby will be back," Heard said. "Another kid who's looked good when I've put him in their is Jamin Oliver. He's low to the ground (5-foot-7, 190-pounds) and runs hard."
Heard's son Patrick Heard is making a move to wide receiver. Expect the speedy junior to get his share of touches on screens and sweeps.
Darian Mitchell is slotted in at right tackle, Brandon Jackson returns at right guard and An'rhonde Walker will get the nod at left guard. Position battles will play out in camp at center and left tackle.
"Noah Peters and Tyler Barnes are battling at center," Heard said. "A couple of sophomores."
Ricky Stevenson, Cedric Sneed and Johnathan Rhodes are all factors in the battle for the left tackle spot. It will be interesting to see who wins the fight to protect Rivette's blind side.
"I think when we get out here and have more practices under our belt, it's going to come down to who executes," Heard said. "We'll look at who comes off hardest, makes the least mistakes; and it may change. Sometimes when the lights come on things are different than they looked in practice. We'll see how it pans out."
Minden's first live test of the year will be August 19 when the Captain Shreve Gators visits The Pit for a scrimmage at 6 p.m.