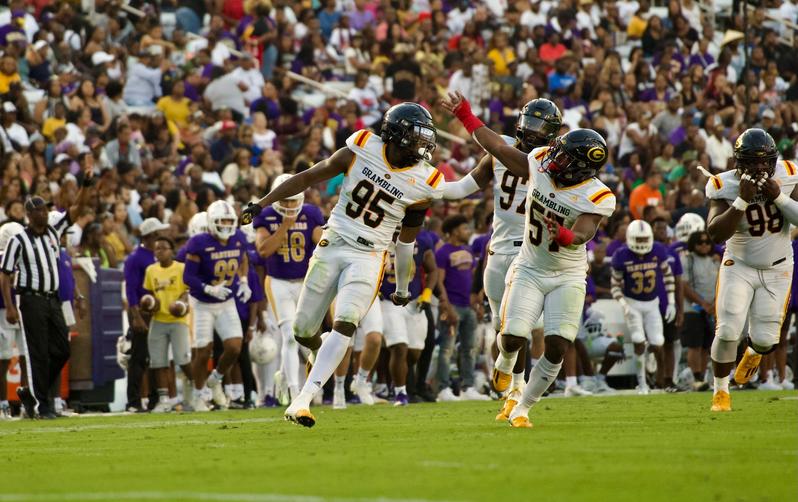 By Curtis Ford, Grambling State Assistant AD for Athletic Communications; featured photo by Marcus Plummer
DALLAS — For the first time since 2017, Grambling State can lay claim to a victory over Prairie View A&M in State Fair Classic. GSU sailed past PVAMU 35-20 on Saturday night at the Cotton Bowl. 
The win improved Grambling State to 3-2 overall and 2-0 in the Southwestern Athletic Conference (SWAC). Prairie View A&M dropped to 2-3 and 2-1 in conference.
Myles Crawley continued to show why he's one of the top quarterbacks in the SWAC, throwing for 241 yards and two touchdowns on 25-of-40 passing. He connected with eight different receivers in the win.
The Grambling rushing attack was strong once again, running for over 200 yards against a SWAC opponent for the second week in a row. Floyd Chalk was the leading rusher for the Tigers, gaining 84 yards on 15 carries with a touchdown. Chance Williams was also strong for GSU, carrying the ball 16 times for 75 yards and a TD.
As a team, GSU gained 451 total yards.
Defensively, Lewis Matthews and Javon Carter made life hard for the Panthers.
Matthews made a game-high nine tackles, while Carter made eight stops with two sacks. The G-Men defense also recorded a season-high four sacks.
Tanner Rinker accounted for all of Grambling State scoring in the first quarter, nailing a pair of field goals of 28 and 32 yards. The Tigers trailed PVAMU 7-6 heading into the second quarter.
With the Panthers leading 10-9, Grambling State took over at its own 48-yard line with 6:38 to go in the half. The Tigers marched the ball down to the PVAMU 12-yard line. Crawley found Lyndon Rash in the right side of the of the end zone. Rinker added the PAT, giving GSU a 16-10 lead with 1:18 remaining in the half.
Prairie View A&M moved quickly moved the ball to the GSU 5-yard line on the ensuing drive, but Carlos Vallagomez missed a 22-yard field goal attempt wide-left, keeping the Tigers in front heading into the locker room.
In the third quarter, PVAMU's Villagomez trimmed GSU's lead to 16-13 on a 42-yard field goal with 6:18 to go in the period. Crawley saddled up and led Grambling on an 11-play, 87-yard drive that ran 5:02 off the clock. The redshirt-junior gunslinger connected with Rash once again for 6-yard TD pass this time. The 2-point conversion failed, giving the Tigers a 22-13 lead at the 1:06 mark.
Prairie View A&M struck back immediately when Conner Wisham broke loose for a 53-yard touchdown run, making it 22-20 GSU with 10 seconds to go in the third.
On GSU's first drive of the fourth quarter, Crawley continued to dice up the PVAMU secondary, moving into Panther territory with a 30-yard pass to Rash, placing the ball at the Prairie View 28-yard line. Javon Robinson turned a short pass into a 16-yard reception, giving the Tigers a first and 10 at the 11-yard line. Two plays later, Chance Williams ran into the end zone for a 4-yard TD, stretching the lead to 29-20 with 12:44 remaining.
Cedric Anderson notched his team-leading second interception of the year, picking off a pass with 8:12 to play.
Floyd Chalk put the game away for good with a 3-yard touchdown gallop with 39 seconds left.
Prairie View A&M was led by starting QB Trazon Connley who completed 11-of-23 passes for 223 yards and an interception. As a team, PVAMU gained 365 yards of offense.
MORE FROM THE BOX SCORE
Grambling State gained 451 yards of total offense. GSU ran the ball 39 times for 210 yards.
GSU picked up 26 first downs.
Grambling State dominated time of possession, possessing the ball for 37:22 to PVAMU's 22:38.
GSU committed 11 penalties for 70 yards.
Grambling State was 7-of-18 on 3rddowns.
The Tigers were 3-of-3 on 4th down conversions.
GSU was perfect inside the red zone, scoring on all six trips.
Javon Robinson led the Grambling State receiving corps with seven receptions for 64 yards.
Prairie View A&M registered 15 first downs.
The Panthers gained 365 yards of offense.
Tre'Jon Spiller led PVAMU with four catches for 108 yards.
PVAMU was 3-of-11 on 3rd downs.
UP NEXT
Grambling State travels to Lorman, Miss. to take on Alcorn State in a pivotal SWAC match-up on Oct. 7. Kickoff is sched