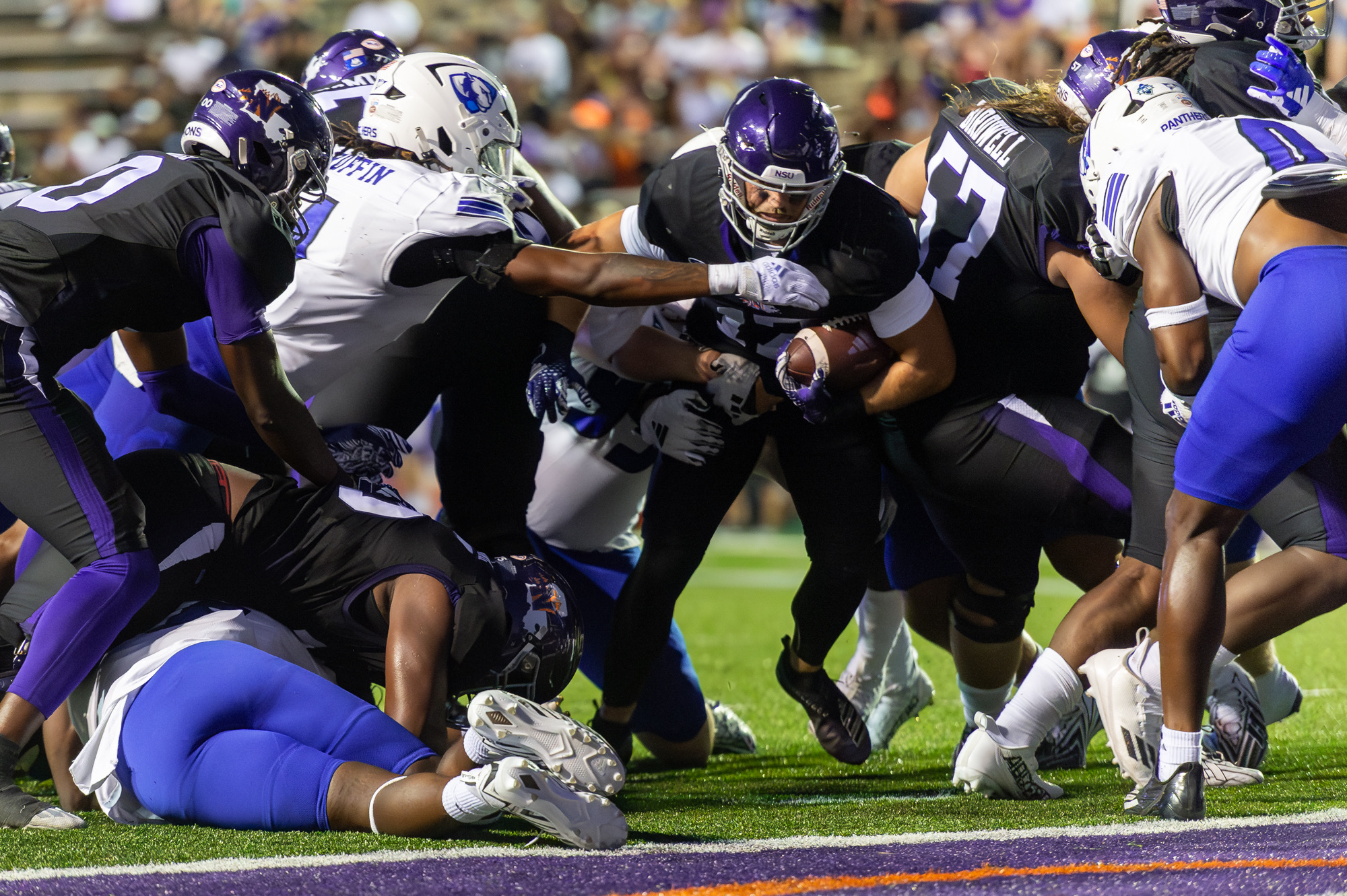 By Jason Pugh, Northwestern State Associate Athletic Director for Media Relations; featured photo by Chris Reich, NSU Photographic Services
NATCHITOCHES – The Northwestern State football team had its chances Saturday night to write the ending it wanted.
Decked out in all-black uniforms, the Demons could not capitalize on a strong defensive effort as visiting Eastern Illinois pitched a second-half shutout, scoring the only nine points of the final two quarters to grab a 19-10 road win at Turpin Stadium.
"It was a disappointing ending," sixth-year head coach Brad Laird said. "We had a really good week of practice. This team took strides. Sometimes that's hard to see when you feel like the coaches and players do after a loss. Sometimes, it's hard to see the strides you make from game three to game four, but there were opportunities tonight to beat a good football team."
Northwestern State (0-4) had plenty of chances to corral its first win of the season as the Panthers (4-1) missed a pair of second-half field goals and saw Nazir Sy block an EIU extra point.
While the Panthers scuffled in the kicking game, their defense forced three Demon turnovers – two in the second half – leading to a plus-two advantage in the turnover battle.
Two of the Demon turnovers gave Eastern Illinois the ball inside the Northwestern State 35-yard line, and the Panthers converted those into a pair of field goals – including Stone Galloway's 22-yarder that gave EIU a nine-point lead with 8:03 to play.
"You can't make those mistakes," Laird said. "You can't start the way we did in the second half, giving up a long drive. They had two drives right after that where they started in plus territory, and our defense did a great job to give up nothing. We gave ourselves a chance to win the football game, but we didn't execute and make the plays at the end to win it."
Northwestern State struck first in a game for the first time this season as Brett Money capped a 12-play, 50-yard drive with a 23-yard field goal with 6:43 to play in the first quarter.
That drive and the Demons' seven-play, 90-yard touchdown drive capped by a 1-yard Chance Newman touchdown run to tie the game at 10 were NSU's brightest spots offensively.
Northwestern State had five drives of double-figure plays but managed points on only the first. Three others ended on fourth-down attempts while the final drive came at the end of the game.
"The outcome wasn't what we wanted," said senior quarterback Quaterius Hawkins, who threw for 281 yards and an interception in his first NSU start. "From the offensive side of the ball, we've got to eliminate the penalties and the turnovers and finish."
Following Galloway's third miss of the game – on a 25-yard field goal with 11:28 to play in the game – the Demons committed their third turnover of the game as Blake Ruffin snared a Hawkins pass at the NSU 30, setting up Galloway's sealing kick.
NSU outgained Eastern Illinois, 350-349, and the Demon defense limited the Panthers to one touchdown in seven red-zone visits.
Included in those six stops was a Donovan Green fumble recovery at the 1-yard line that kept the Demons within six midway through the third quarter.
"Our defensive line coach, (Chris) Gistorb, coached us all week, and said, 'If they go quarterback sneak to swipe at the center's hands, and it will mess with his ability to snap the ball,'" said Green, who had four tackles along with the forced and recovered fumble. "I swiped his hands and fell on the ball to recover it. It was a game-changer for us."
The Demons return to action next Saturday when they open Southland Conference play at Lamar. Kickoff is set for 3 p.m. in Beaumont, Texas.