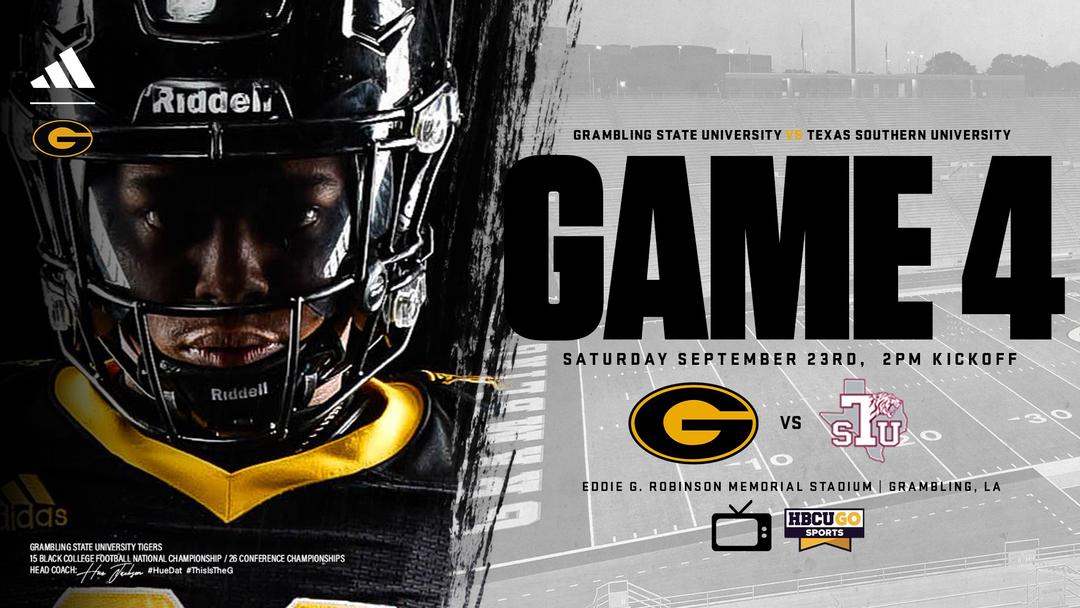 By Curtis Ford, Grambling State Assistant AD for Athletic Communications
GRAMBLING — Grambling State looks to get off to a fast start in Southwestern Athletic Conference play as GSU welcomes Texas Southern to Eddie G. Robinson Stadium on Saturday afternoon for its conference opener. 
Kickoff is scheduled for 2 p.m. and will be broadcast on HBCU Go.
GSU enters the contest with a 1-2 record overall after defeating Florida Memorial 58-22 last weekend. In that game, Grambling State racked up 403 yards of offense. Starting quarterback Myles Crawley was 14-of-27 for 220 yards and three touchdowns. The GSU rushing attack was also strong in the home opener, gashing the Lions for 183 yards and four scores.
Currently, Grambling State boasts the best scoring offense in the SWAC, averaging 33.0 points per game.
Defensively, GSU will look to improve on last week's performance. Although the Tigers forced five turnovers, they allowed FMU to gain 443 yards of offense. Currently GSU ranks near at the bottom of the conference in total and rushing defense.
Lewis Matthews paced Grambling's defense last weekend, making a game-high 11 tackles and returned an interception for a touchdown.
On the opposing sideline, Texas Southern has struggled out the gate, starting the season 0-3.
TSU is 10th in the conference in scoring averaging 14.7 points per game. On the other side of the ball, Texas Southern is allowing a league-worst 55.7 ppg.
Andrew Body entered the season as TSU's starting QB, but injuries have slowed him this season. In Texas Southern's season-opening overtime 37-34 loss to Prairie View A&M, he went 18-for-38 for 286 yards, three touchdowns and three interceptions.
Jace Wilson has filled his role since then, going 17-of-39 for 196 yards, a touchdown and an interception.
ABOUT THE GAME
This game is the Southwestern Athletic Conference (SWAC) opener for Grambling State
GSU looks to avenge last season's 41-7 loss at Texas Southern.
GSU leads the overall series with TSU 47-19-3. Grambling State has won six of the previous 10 games between the two programs
The last time GSU and TSU faced each other in Eddie G. Robinson Memorial Stadium was in 2021. Grambling State won 34-20
GSU was predicted to finish fourth in the SWAC preseason West Division poll.
TSU was chosen to finish third in the SWAC West.
ABOUT GRAMBLING STATE
Grambling State enters Saturday's contest after defeating Florida Memorial 58-22.
The GSU offesne racked up 403 total yards of offense. Starting QB Myles Crawley threw for 220 yards and three TDs and completing 14-of-27 passes.
The Grambling State defense forced five turnovers, including a pick six by Lewis Matthews. Matthews also led the GSU defense with 11 total tackles.
Lewis Matthews and Tylon Williamsearned SWAC Weekly honors for GSU. Matthews was named SWAC Defensive Player of the Week. Williams was tabbed as the SWAC Newcomer of the Week.
The Tigers placed six players on the Preseason All-SWAC teams. Sundiata Anderson, Lewis Matthews, Lyndon Rash, Kevin Thomas, Quincy Mitchell and Jimmy Iles
ABOUT TEXAS SOUTHERN
Texas Southern is seaching for its first win of the season. TSU is coming off a 59-7 loss to Rice.
TSU was held to 185 yards of offesne in the game.