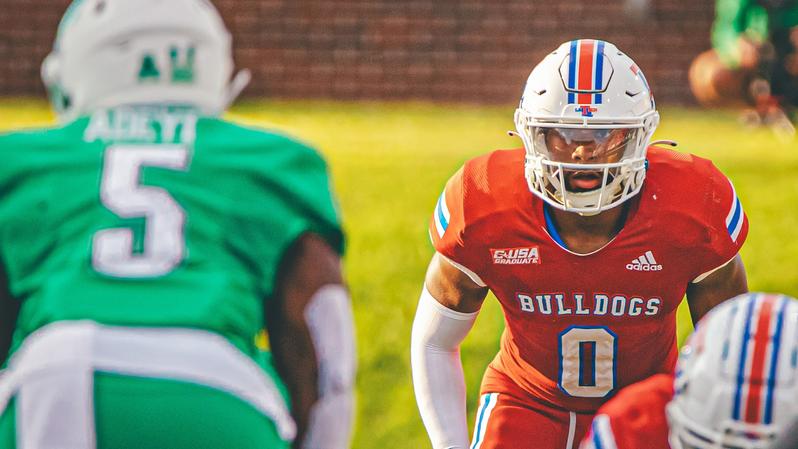 Louisiana Tech Athletic Communications; featured photo by Josh McDaniel
Louisiana Tech closes its non-conference slate by facing the Nebraska Cornhuskers on Saturday at 2:40 p.m. in Lincoln, Neb. The game will be televised on the Big Ten Network.
 
GAMEDAY INFORMATION
Date: Saturday, Sept. 23
Time: 2:40 p.m. (CT)
Location: Lincoln, Neb. (Memorial Stadium)
Live Stats: LaTechSports.com/stats
Radio: LA Tech Sports Network (KXKZ 107.5 FM)
TV: Big Ten Network 
 
SERIES HISTORY
Series: Nebraska leads, 2-0
In Ruston: N/A
In Lincoln: Nebraska leads, 2-0
Neutral: N/A
 
ABOUT LA TECH (2-2)
Louisiana Tech is 2-2 this season and coming off a heartbreaking 40-37 loss to North Texas. Tech trailed by 10 points with just 6:27 left in the game. Jacob Barnes made a 30-yard field goal to cut the deficit to seven before converting an onside kick. The Bulldogs tied the game with 1:04 left in the contest on a 36-yard touchdown pass from Jack Turner to Smoke Harris before North Texas marched down the field and won the game with a 31-yard field goal with three seconds on the clock. Turner was impressive off the bench in replacement of an injured Hank Bachmeier, completing nine of 14 passes for 145 yards and a touchdown while rushing three times for 15 yards and a touchdown.
 
Harris is the Bulldogs' most dangerous weapon on offense. He is coming off an impressive performance against North Texas as the redshirt senior recorded four receptions for 77 yards and two touchdowns. He has tallied a reception in each of the past 36 games, which is the sixth-longest active streak among all FBS players. He currently ranks among the FBS active career leaders in receptions (2nd, 248), all-purpose yards (2nd, 4,012), punt return yards (4th, 625) and receiving touchdowns (5th, 22). He has registered a touchdown reception in each of the last six seasons. Harris has tallied 20 receptions for 211 yards and a touchdown this season. The St. Francisville native is the only active FBS player with 2,000 receiving yards, 800 kickoff return yards, and 600 punt return yards in a career.
 
Cyrus Allen is the Bulldogs' second-leading receiver with 11 catches for 144 yards. Allen led the Bulldogs in receiving during the loss to North Texas, catching five passes for 82 yards and a touchdown.
 
Quarterback Hank Bachmeier is the leader of the Tech offense. The Boise State transfer has completed 70 of his 106 passing attempts for 756 yards and five touchdowns with two interceptions. Bachmeier holds a career record of 22-11 as a starting quarterback and ranks in the top 50 nationally in passing yards (756) and passing touchdowns (5).
 
Running back Tyre Shelton has made an immediate impact in his first two games as a Bulldog after transferring from Miami (Ohio). Shelton ranks fourth nationally in runs over 40 yards with two. Against North Texas, he became the 62nd Bulldog in program history to rush for over 100 yards in a single game, rushing for a game-high 152 yards on just 16 carries.
The Bulldog offense ranks second nationally in plays from scrimmage over 40 yards (8) and third in plays from scrimmage over 50 yards (3).
 
Safety Myles Heard has been the star of the Bulldog defense since transferring from Stephen F. Austin. Heard leads the Dogs with 44 total tackles, including 2.5 for loss. Heard ranks eighth nationally in tackles per game with 11.0 a contest. 
 
Linebacker Brevin Randle is the second-leading tackler for Tech with 32 total stops, including three for loss. Linebacker Jeslord Boateng leads the Bulldogs in tackles for loss this season with five, while Deshon Hall possesses a team-best two sacks.
 
LA Tech ranks eighth nationally with 19 passes defended this season. Willie Roberts is ranked third nationally in passes defended (5), while Michael Richard leads all freshmen with four passes defended.
 
Kicker Jacob Barnes ranks third nationally in field goals made this season with seven.
 
Head Coach Sonny Cumbie is in his second season at the helm of the LA Tech football program with a record of 5-11. As a senior, while playing at Texas Tech in 2004, Cumbie threw for 436 yards and five touchdowns against the Cornhuskers as Red Raiders defeated Nebraska 70-10. The 60-point margin of victory still stands as the largest margin of victory all-time by a Nebraska opponent.
 
ABOUT NEBRASKA (1-2)
The Cornhuskers are coming off a 35-11 win over Northern Illinois in their home opener. Quarterback Heinrich Haarberg was effective in his first start, throwing for 158 yards and two touchdowns while rushing for 98 yards and a touchdown. Haarberg has completed 16 of 30 passes for 171 yards and three touchdowns on the season.
 
Haarberg and Jeff Sims were listed atop the Huskers depth chart heading into game week. Sims started in losses to Minnesota (13-10) and Colorado (36-14). He has completed 20 of his 34 passing attempts for 220 yards and a touchdown. Sims also has dual-threat ability with 158 rushing yards and a touchdown on 29 carries.
 
Running back Gabe Ervin Jr. has tallied 38 carries for 196 yards and a touchdown to lead the Cornhuskers in rushing.
 
Wide receivers Alex Bullock and Marcus Washington are the Huskers' favorite targets. Bullock has four receptions for 80 yards and a touchdown, while Washington has hauled in six passes for 81 yards this season.
  
Defensively, the Huskers rank second nationally in rushing, as opponents are averaging just 46.3 yards per game on the ground against them this season. Nebraska has held each of their first three opponents under 60 yards of rushing this season, marking the first time since 2008 that the Huskers have held three straight opponents to under 60 yards. Defensive back Isaac Gifford leads Nebraska with 16 total tackles this season. Linebacker Luke Reimer has been a mainstay in the Huskers defense throughout his career. The senior ranks 10th in program history with 257 stops. Reimer has tallied 12 tackles this season with a team-leading 2.5 sacks.
 
Matt Rhule is in his inaugural season at the helm in Lincoln after spending three years in the NFL as head coach of the Carolina Panthers (2020-22). Before his stint in the NFL, Rhule was the head coach at Baylor (2017-2019) and Temple (2013-2016). He owns a collegiate head coaching record of 48-45.
 
For all the latest in Bulldog Football, follow them on Twitter (@LATechFB), Instagram (@LATechFB) and Facebook (LATechFootball) or visit the official website at LATechSports.com.