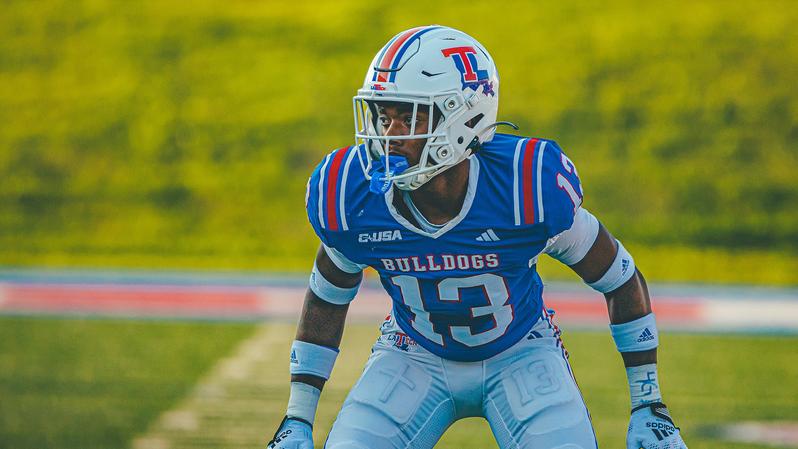 Louisiana Tech Athletic Communications; featured photo by Josh McDaniel
RUSTON — Louisiana Tech its homestand by hosting North Texas on Saturday at 6:02 p.m. The game will be streamed on ESPN+.
GAMEDAY INFORMATION
Date: Saturday, Sept. 16
Time: 6:02 p.m. (CT)
Location: Ruston, La. (Joe Aillet Stadium)
Live Stats: LaTechSports.com/stats
Radio: LA Tech Sports Network (KXKZ 107.5 FM)
TV: ESPN+
SERIES HISTORY
Series: LA Tech leads, 13-8
In Ruston: LA Tech leads, 6-3
In Denton: LA Tech leads, 7-2
Neutral: North Texas leads, 3-0
ABOUT LA TECH (2-1)
Louisiana Tech is 2-1 this season and coming off a dominant 51-21 victory over Northwestern State. Tech rushed for 381 yards in the contest, led by true freshman Keith Willis Jr. with 188 yards and two touchdowns. Cedric Woods had a pick-six, and Willie Roberts and Jhamal Shelby Jr. also recorded interceptions in the contest.
The LA Tech defense has been impressive this season. The Bulldogs have allowed 963 yards of total offense through the first three games this season, the lowest mark since 2002. Tech ranks fourth among all FBS programs with 22 tackles for loss this season. The Bulldogs are allowing just 130.3 passing yards a contest, which ranks 12th nationally while ranking 20th in team passing efficiency defense (98.79). The four interceptions by Tech this season are tied for the sixth-most nationally. LA Tech is one of eight teams with a defensive touchdown this season courtesy of Cedric Woods' 52-yard interception return for a touchdown in the win over NSU.
Smoke Harris is the Bulldogs' most dangerous weapon on offense. He has tallied a reception in each of the past 35 games, which is the sixth-longest active streak among all FBS players. He currently ranks among the FBS active career leaders in receptions (2nd, 244), all-purpose yards (2nd, 3,945), punt return yards (4th, 625) and receiving touchdowns (6th, 20). The redshirt senior has registered a touchdown reception in each of the last six seasons. Harris has tallied 20 receptions for 211 yards and a touchdown this season. He is the only active FBS player with 2,000 receiving yards, 800 kickoff return yards, and 600 punt return yards in a career.
Kyle Maxwell is the Bulldogs' second-leading receiver with five catches for 113 yards. Maxwell had a 42-yard reception in the win over Northwestern State, marking the second-straight game he had a reception over 30 yards.
Quarterback Hank Bachmeier is the leader of the Tech offense. The Boise State transfer has completed 64 of his 95 passing attempts for 684 yards and three touchdowns with two interceptions. His 684 passing yards rank ninth nationally. Bachmeier holds a career record of 22-10 as a starting quarterback.
Freshman Keith Willis Jr. leads the Bulldogs in rushing with 216 yards and three touchdowns this season. The Houston native rushed 14 times for 188 yards and three touchdowns during the win over Northwestern State. Willis Jr. leads all FBS freshmen in rushing yards this season.
The Bulldog offense ranks third nationally in plays from scrimmage over 30 yards (10) and second nationally in plays over 50 yards (4).
Safety Myles Heard has led the LA Tech defense in 2023. The Stephen F. Austin transfer leads the Dogs with 30 total tackles, including 2.5 for loss. Heard ranks 24th nationally in tackles per game with 10.0 a contest.
LA Tech ranks 10th nationally with 14 passes defended this season. Willie Roberts ranks third nationally in passes defended (5), while Michael Richard ranks 11th (4).
Kicker Jacob Barnes is tied for the national lead with six field goals made this season. Barnes connected on field goals of 22, 36, and 32 yards while making six point after attempts during the Dogs' victory over Northwestern State on Sept. 9, marking the sixth time in his career that he has made at least three field goals in a single game. As a result of his efforts, he was named CUSA Special Teams Player of the Week.
Head Coach Sonny Cumbie is in his second season at the helm of the LA Tech football program with a record of 5-10.
ABOUT NORTH TEXAS (0-2)
The Mean Green opened their season with losses to Cal (58-21) and FIU (46-39) in head coach Eric Morris's inaugural season.
Quarterback Stone Earle has completed 22 of 39 passes for 274 yards and four touchdowns with four interceptions. On the ground, he has made an impact, rushing for 63 yards on 15 carries.
Running back Oscar Adaway III totaled 18 carries for 73 yards and a touchdown to lead the Mean Green in rushing.
Wide receiver Ja'Mori Maclin has been impressive so far, with seven catches for 183 yards and three touchdowns. His three receiving touchdowns rank seventh nationally.
Defensively, North Texas is allowing 598.5 yards per contest and 292 rushing yards a game, both of which rank last among all 132 FBS programs. Safety Logan Wilson leads the Mean Green with 15 tackles (10 solo, five assisted). Linebacker Ethan Wesloski leads North Texas with three tackles for loss. The redshirt freshman has totaled 11 tackles this season.
Morris is in his first season leading North Texas. He has a career record of 24-20 and served as the head coach for four seasons at Incarnate Word (2018-2021) before his time in Denton. A Texas Tech graduate, Morris was a redshirt freshman wide receiver with the Red Raiders when Cumbie was the starting quarterback in 2004.
For all the latest in Bulldog Football, follow them on Twitter (@LATechFB), Instagram (@LATechFB) and Facebook (LATechFootball) or visit the official website at LATechSports.com.