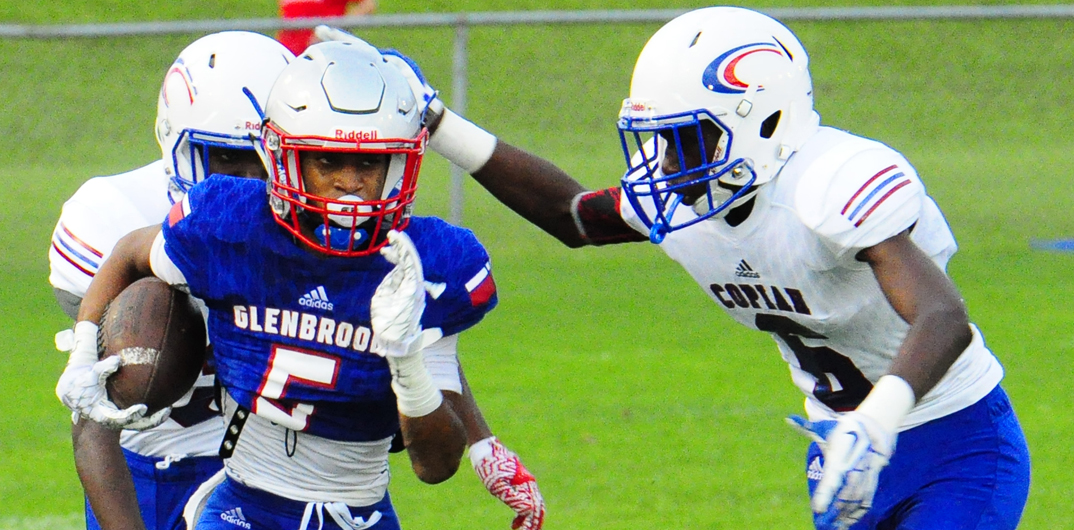 It would be fair to say Copiah Academy was the proverbial rain that fell on Glenbrook's season-opening parade Friday night in Minden.
But then again, there was plenty of actual rain, and lightning to do that as well.
The Apaches fought hard early and battled throughout, but on a slow track against a physically-imposing Colonels team, there was not much they could do, as Glenbrook ended up falling 41-0 at home to start the season.
"The biggests story was how they won that football game up front," Glenbrook head coach Caleb Carmikle said. "They were physically imposing their will on us and we didn't play particularly well up front I thought. Offensively, they spent the entire night in our backfield and we could never get anything going because of it. We had a few mismatches outside but we never had time to get them the ball."
Carmikle was disappointed with the poor first outing, but said Copiah forced many of the Glenbrook mistakes.
"A lot of it had to do with how good Copiah is," he said. "That's a very, very good football team. They're well-coached. They didn't play a jamboree or scrimmage and they didn't make many mistakes. They were a much more talented football team than anyone we've faced. I told the guys that was the best football team we'll see this year, hands down."
The wet conditions certainly had a role in Glenbrook's offensive struggles. The Apaches' offense, centered around quarterback Seth Tyler getting the ball to perimeter weapons like Joseph Windham, Da'maza Robinson, Mason Hood and Lemoris 'Wudy' Jackson Jr.
On the rain-soaked field at Apache Stadium and with pressure coming constantly from a vicious Colonel pass rush, Tyler was only able to complete eight passes on the night, four of them to his favorite target, Windham.
"We never could get a good grip on the ball or keep a dry ball in play," Carmikle said. "Seth did a good job of dinking and dunking a little bit, but the big plays we made in the jamboree were stopped for 5-yard gains against these guys."
Luckily for the Apaches, they now move back down to face schools their size after the daunting opener against Class AAAA Copiah.
Glenbrook will go back to the drawing board and regroup for next week's contest against Porter's Chapel.
"Our kids see we can't come out and out-athlete everybody," Carmikle said. "This will be a good teaching tool for us; could be a good wake-up call going into the rest of the season. I still think we have a very good football team."