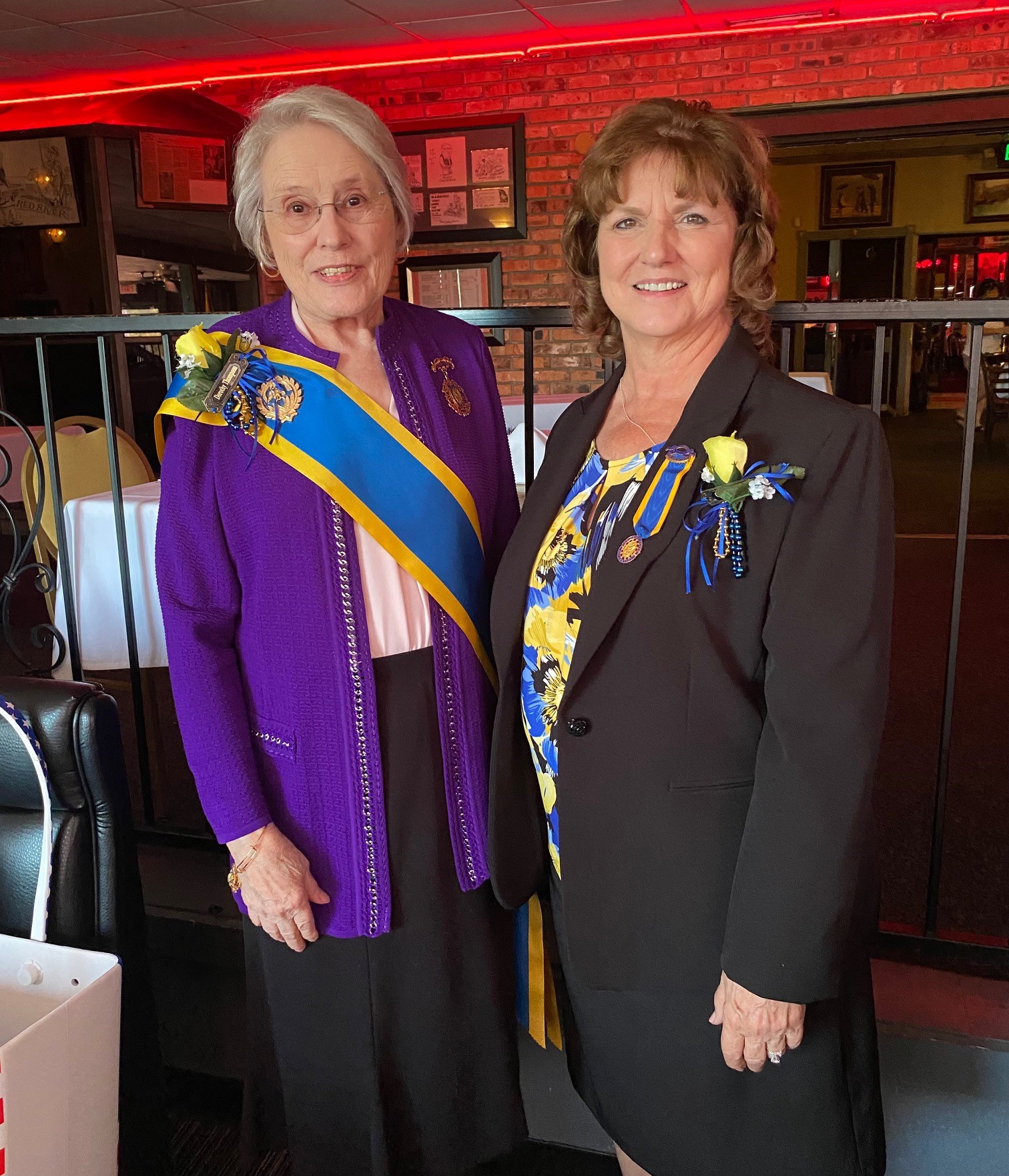 Susan Constant Chapter Colonial Dames 17th Century celebrated its 55th anniversary at Ernest's Orleans Restaurant in Shreveport. The restaurant was decorated with beautiful arrangements of yellow roses and blue ribbon, which were donated to local veterans' homes after the luncheon. Cindy Madden, President of Susan Constant Chapter, created corsage nametags of the same flower and ribbon for each luncheon guest. Mrs. Madden also gave the guests favor boxes of Lemon Delight cookies that she brought back from her recent trip to Prague.
We were honored to have in attendance President General Dorothy Thompson, and Honorary Louisiana Past Presidents Leslie Breaux, Patricia Gallagher, and Lora McDaniel. Louisiana State Officers in attendance were State President Carol Steinmuller, State Treasurer Dianne Lawrence, State Historian Cindy Madden, and Pocahontas Project Chair Leona Connell. Louisiana Chapter Presidents in attendance were Leslie Breaux of Robert Ruffin Chapter and Dianne Lawrence of Sir John Payne chapter.
Susan Constant Chapter members in attendance were Kathryn Abney, Peggy Caraway, Barbara Chaffin, Leona Connell, Linnye Daily, Sue Jackson, Margaret Pou, Donna Sutton, Diane Temple, Martha Thompson, Mary Wark, and Emily Wofford. Many of these members are chapter officers and chapter committee chairs.
During the presentation, we learned that Susan Constant Chapter won 21 state awards this year. The award certificates were presented by State President Carol Steinmuller. Sue Jackson presented a Proclamation designating May 2022 as Susan Constant Chapter Colonial Dames 17th Century Month from Shreveport Mayor Adrian Perkins. We also welcomed Margaret Bird as a new member to our chapter.
Colonial Dames is a women's historical preservation society. Any woman of at least 18 years of age who is a lineal bloodline descendant of an ancestor who lived or served prior to 1701 in one of the original colonies of the present United States is eligible to apply for membership. For more information, contact Cindy Madden at cmaddenmusic@yahoo.com.