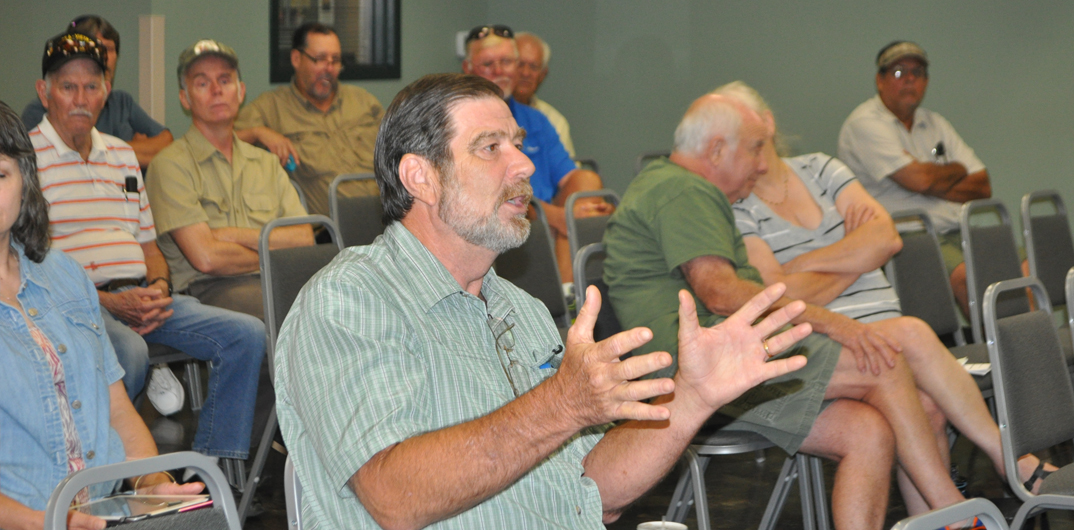 Residents around Lake Bistineau are questioning why the drawdown has been pushed back to Aug. 15.
At a meeting hosted by the Louisiana Department of Wildlife and Fisheries, several residents in attendance showed their support for the drawdown, saying it is the best thing for not just the lake but its continued recreational use.
Assistant Secretary of Fisheries Patrick Banks, who came from Baton Rouge, was in attendance and says he came to get a feel for what people want for the lake and how they feel about their home.
"My purpose for being here is to listen to the concerns of the residents of the lake and those who use the lake to try to understand where they are coming from on the drawdown, what their feelings are on the delay of the drawdown," he said. "I also wanted folks up here to realize that our biologists are giving very good biological recommendations, and that they did not recommend a delay in the drawdown."
He will take what he heard Tuesday back to Baton Rouge, and he says it will be a factor in what they do in the future, although it will not likely change the date of this year's drawdown.
"It helps educate me, and it will help educate our upper administration so that we know what all the users want on this lake," he said. "We hear from user groups, and we recognize that we don't necessarily hear from everybody, but this was an opportunity for us to hear from another set of users from the lake."
Curtis Farmer, a resident who lives on Lake Bistineau, says the drawdown should not have been delayed.
"I feel that we need to drop (the lake) because it's growing so fast right now," he said. "I'm not sure why we postponed it. We need to get it down. Right now is the hottest part of the season, and it needs to get down and get burned. If we do it this way this year, we're not going to see July 4."
Jeff Bailey, also a lake resident, says he's heavily involved in social media and he feels the reason for the delay is political.
"We know it's political, they've got a politician or two in their back pockets and they do not want the drawdown at all," he said. "I no longer work with them due to differences of opinion. I've learned about the drawdowns. The drawdowns work. There's no doubt. If everybody out there would come to these meetings and listen, they would understand that. There's nobody from that group here."
Banks says he agrees with the recommendations of Wildlife Biologist Manager Jeff Sibley, Region 1, to drawdown the lake in July, but it came down to a compromise between LDWF and some "user groups" to allow longer usage of the lake.
"It was something that we gave a little bit on the biology so that we could allow some additional public use and that's exactly what we have in this case," he said. "We have a group of users who asked to push the drawdown back until Labor Day, and we didn't want to push it back that far. We did our best to merge Sibley's recommendations and what they wanted to find some kind of a compromise."
Farmer says opponents of the drawdown need to attend the LDWF meetings to learn the entire plan.
"We trust these guys (LDWF) and then we got a few that went to Baton Rouge and screwed the whole deal up," he said. "We had a great plan, but we got two or three people hollering, and all of a sudden we're out of this."
Sibley says the drawdown over time has been extremely beneficial to the lake in that it has increased sports fish productivity and decreased the depth of giant salvinia on the lake.
"In 2004-05, we had a decline in fish population, and every basic measurement that we do looking at the fishery shows an improvement in fish population," he said, adding that since drawdowns began, the fish population has increased significantly over the years.
"Our fish are healthy, and healthy fish translates into lots of reproduction," he said.
Sibley explained that late June through August is the best time to draw down the lake, because it is the hottest and driest part of the year, which means they will get better results in not only killing off salvinia, but drying out rotting organic materials on the lakebed. He says the more oxygen the rotting material gets, the better the chances of complete decomposition.
LDWF is also combatting the invasive aquatic weed through herbicide spraying and will continue to use that in combination with the drawdowns to combat giant salvinia as well as promote complete decomposition of organic material at the bottom of the lake.