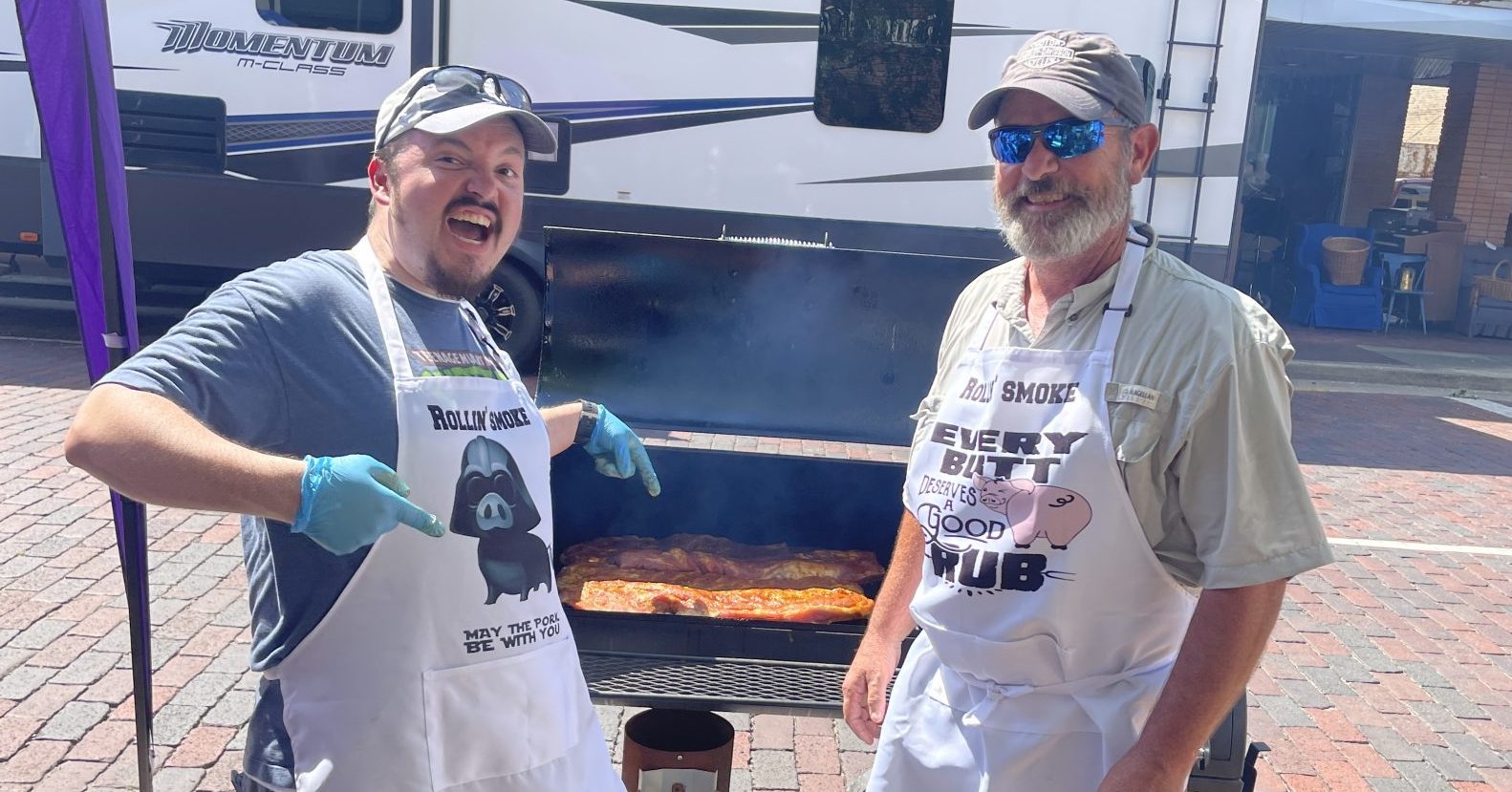 The return of Grilling on Main was a rousing success, seeing over thirty-six teams coming from all over entering the grilling competitions and countless visitors coming out to enjoy what the event had to offer.
"Minden's signature festival, Grilling On Main, was a huge success. Grillers from around the Ark-La-Tex came out and enjoyed music, grilling, crafts, and most importantly, a community that enjoys each other's company on a beautiful weekend," said Mayor Terry Gardner of the event.
Main Street Director Mahala Hutto said, "We're really proud of the event that the Mainstreet Board and Volunteers put on this weekend. Thank You to our sponsors and volunteers who helped make this event possible, as well as the grillers and anyone else who came out to enjoy Grilling on Main. It was a great event."
While many were at the event to relax, others sought out the thrill of competition, without countless contests for all ages to enjoy.
New this year is the "Little Grillers" competition, where younger grillers cooked pork chops, with some help from mom and pop, to be presented to judges for tasting. The competition was sponsored by Ace Hardware, providing a grill, bag of charcoal, lighter cubes, and a chimney starter contestants could take home.
Jackson Cartrite won first place in the 6-12 age group and Colton Jellum placed second. Ethan Valley placed first in the 13-18 age group.
For those that wanted the heat of competition without the heat of the grill, a Corhole Tournament, sponsored by Gibsland Bank & Trust, was held Friday evening. Bean bags were flying left and right in a blur as the competition progressed. The Final placements were The Closers, team members Hunter Cavalier and Kevin Cavalier, in 4th place, Brian Smith and Haxon Smith in 3rd place, team Worcestershire Sauce, team members Jacob White and Trace Francis, in 2nd place, and team Stay Tuned, team members Ethan Perot and Kurtis Jones, taking 1st place.
Of course it wouldn't be Grilling On Main without the grilling competition in which 36 teams competed in different categories including chicken, brisket, ribs, and pork butt. These categories also had two sets of winners, one that included all competitors, and one that was strictly for locals.
The winners of each category can be found below:
People's Choice
East Texas Smokers with Team Captains Scotty & Anna Bryce
Chicken
1st – East Texas Smokers with Team Captains Scotty & Anna Bryce
2nd – Tipsy Texans BBQ with Team Captain Joshua Campbell
3rd – Chillin -n- Grillin with Team Captain Keith Sharp
Chicken – Local Finishers
1st – The Roosters with Team Captain Jordan Cupples
2nd – Big Poppa Q with Team Captain Slade Firth
3rd – Wildhogs Cooking with Team Captain Greg Lilly
Ribs
1st – Tipsy Texans BBQ with Team Captain Joshua Campbell
2nd – Real Smoke BBQ with Team Captain Duane Anderson
3rd – Bayou BBQ with Team Captain Benjy Lewis
Ribs – Local Finishers
1st – The Newboys with Team Captain Drew White
2nd – Joe Weaver BBQ with Joe and Kelly Weaver
3rd – Wildhogs Cooking with Team Captain Greg Lilly
Brisket
1st – The Roosters with Team Captain Jordan Cupples
2nd – Pigs & Cows Gone Wild with Team Captain Mike Steele
3rd – Galaxy BBQ with Team Captain Bob Zannini
Brisket – Local Finishers
1st – The Roosters with Team Captains Jordan Cupples and Steven Paul
2nd – Holmont with Team Captain Mark Griffith
3rd – Big Poppa Q with Team Captain Slade Firth
Grand Champion – Pigs & Cows Gone Wild with Team Captain Mike Steele
Reserve Grand Champion – Real Smoke BBQ with Team Captain Duane Anderson