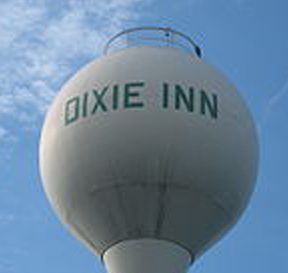 On May 18, a special session was held for the Village of Dixie Inn to discuss their annual budget as well as discussing possible changes to be made to the area that local law enforcement has been using as a shooting range.
With only some minor checks to make sure that the budget included funding for new tasers with accompanying incidentals such as taser holsters, the proposed budget was agreed upon. It is available for the public to review until it is officially adopted on June 13 at 5 PM. While a new police vehicle was requested, the council decided to delay that purchase until next year.
The area near the sewer plant that officers have been using as a shooting range since an ordinance was passed in 2010 has become a hot topic in Dixie Inn. Neighboring property owner, Kay Stratton, asserts that it is not an official shooting range and never has been.
"The shooting range wasn't there in 2010," said Stratton. "We bought the property after they cleared the property in 2015. Up until that time, it was just a wooded area."
Officer James Edwards stated, "We had a berm there. It was recognized as a POST [Peace Officers Standards and Training] shooting range."
Stratton asserts that, according to law, a shooting range must meet certain design qualifications that this area does not meet. She is concerned about danger to herself, her family, and her friends who come to visit. She is concerned about littering and the lead from discharged bullets in the soil. She also stated that, in the past, only a few officers would come out to shoot, but now there are larger groups using the area for longer periods of time.
"There was never a designated shooting range down there," said Stratton. "They just went down in the woods and shot their guns.
"From the Louisiana Peace Officers Standards and Training council, they have firing range standards. A lot of the things are not there. You don't have public drinking water down there. You don't have bathrooms down there. And a lot of other things," Stratton stated.
The council is considering how to rectify this situation. There was talk of installing more berms and a locking fence, having designated parking with signs indicating where private property begins, and having visiting officers sign waivers. Alderman Millligan feels that having a place for officers to practice their marksmanship as well as build camaraderie between law enforcement agencies is important.
"I think that there's a lot of ways that Dixie Inn could benefit from having a certified range," said Milligan. "But I also want to know that you feel safe."
At this time, the council plans to do some research and address this topic when they have more information.