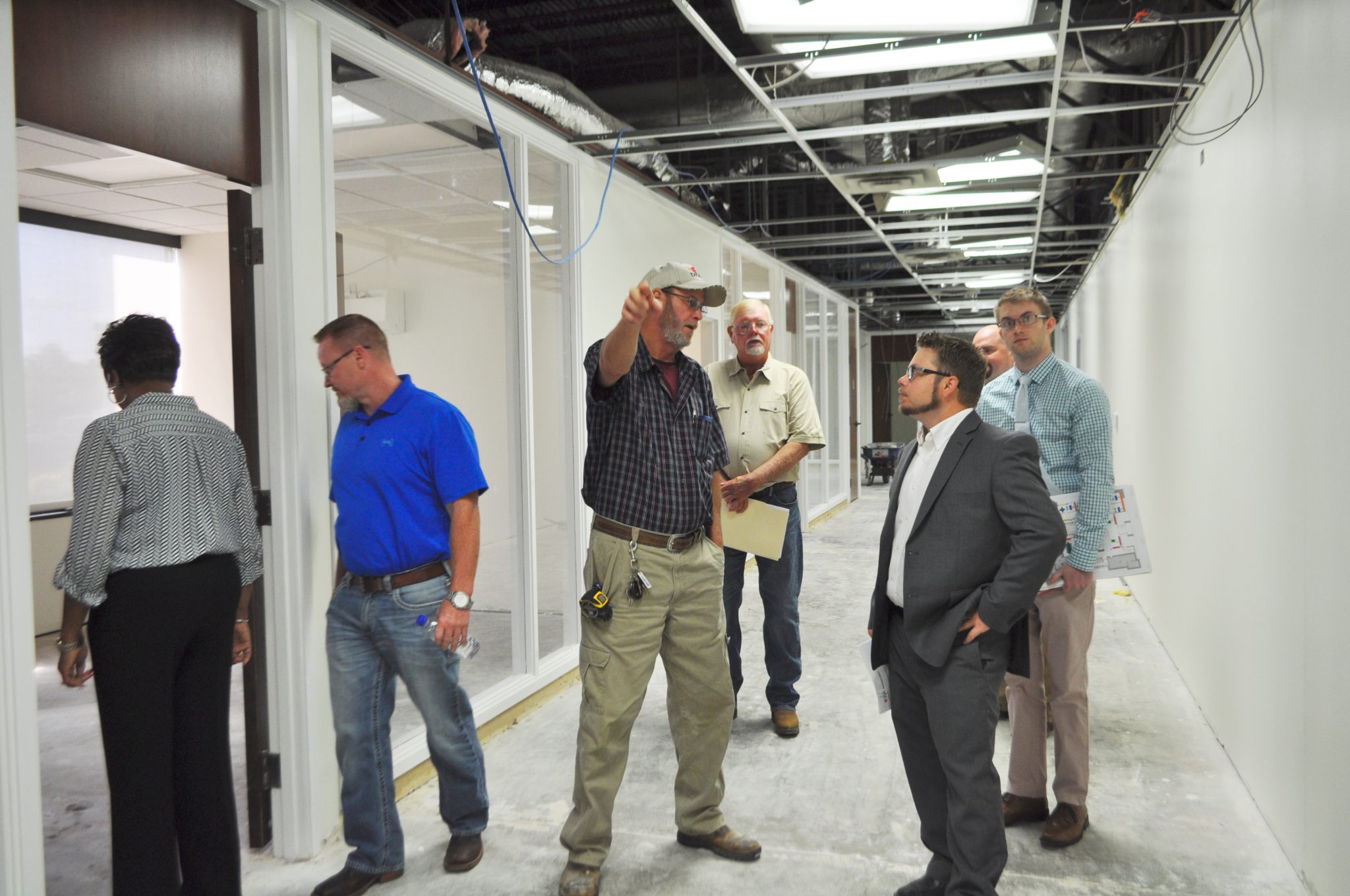 A true picture of what the new Webster Parish Police Jury office will look like is beginning to come together as renovations of the courthouse annex continue.
Between the committee meetings and the regular meeting Tuesday, police jurors walked through the building as architects from Mike Swain Architects answered questions. Walls have gone up, the police jury room for the public meetings, office space, restrooms and the lobby area are all taking shape, and the police jury agreed to a full update of its technology.
As part of the contract, they are getting a technology upgrade that will include 16 microphones, voting panels for the 12 jurors with monitors at each station and two big screens on each side of the room for the public.
"There's no need for us to have a voting panel," Secretary Treasurer Ronda Carnahan said. "You still have to have the software."
The additional four microphones will be for Carnahan, the assistant secretary, public works director and the parish attorney.
It will also include recording equipment, which will make obsolete the need for a digital recorder. The recordings will then be automatically downloaded to Carnahan's computer.
"I have had someone in the past call me later and say, 'You do know I voted no on that or I abstained on that,'" she said.
Nick Cox, District 8, said he felt they should move forward with getting the technology.
"The last equipment lasted us for 50 years, so let's go ahead and get this done and get this done right," he said. "That way we won't have to worry about it anymore."
They will also have equipment for the hearing impaired, Carnahan said.
In the audience section of the public meeting room, they will have chairs instead of pews as is in the current police jury room. Originally, they had factored in pews, but the chairs would better meet the requirements of the Americans with Disabilities Act.
Carnahan also went through updates with the courthouse repairs following the flooding from a pipe break in May. She said they'd received partial payment from insurance and they would submit invoices for reimbursement as they come in for additional repairs.
The tile floors in the Clerk of Court's office will soon be laid, and repairs are already underway in judges' offices on the second floor.
Repairs to the police jury room will be pushed back until the police jury moves into the annex across the street.
Carnahan said repairs to the police jury office on the third floor will be made once the district attorney's office moves in so they can get what they want.