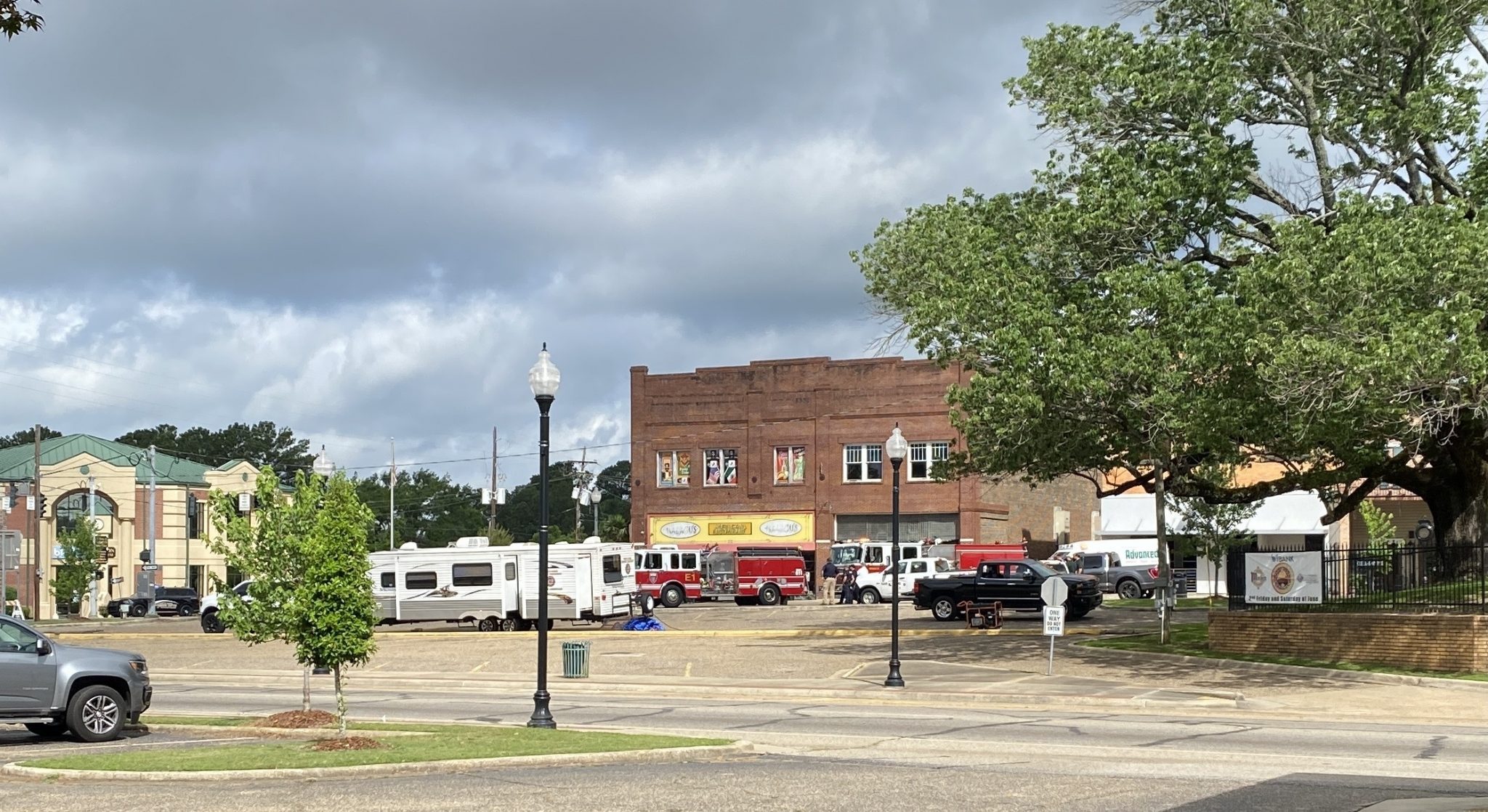 A suspicious suitcase with an American flag sticking out of it was found on the steps of the Webster Parish Courthouse Tuesday morning. Webster Parish Sheriff, Jason Parker, stated that it had been left at the courthouse Memorial Day evening. Given that most people were out for the holiday, it wasn't until it was discovered that the suitcase had remained there overnight that the Webster Parish Sheriff's Office saw fit to intervene.
"For such a thing to still be there the day after Memorial Day, it was very unusual," said Parker. Public safety being the utmost priority, Tuesday morning citizens and employees of the courthouse were asked to leave the premises while the WPSO set up a perimeter around the suitcase.
Parker coordinated with the Bossier police/fire departments' bomb squad in order to better handle the situation. "We're thankful to the bomb sqaud for helping us deal with the situation as safely as possible," said Parker.
"Once they did that X-ray, they saw something in there that made them uncomfortable to go up and handle the package. The decision was made to detonate it in a controlled manner. Every precaution was taken. A lot of knowledgeable people were on scene to make sure that our radius was large enough to do what we had to do safely. Once it was detonated, the front of the courthouse was just a big crime scene."
The evidence was gathered, and Parker also stated that there is video evidence of the suitcase being dropped off. The Minden Police Department is currently undergoing the investigation to apprehend the individual who left the suitcase.
Parker extended his thanks to the different law enforcement agencies that aided them in handling this situation, those being the Minden Police Department, Louisiana State Police Hazmat Unit, ATF, and of course the Bossier Fire Department's bomb squad.
"I want to give a big thank-you to all the agencies that responded. In my 28 years of law enforcement experience, I can't say dealing with explosives is something that I personally have a lot of experience with. Anytime we need some assistance, other agencies are always willing and able to help. We called in to get the Bossier bomb squad out here, and they were en route twenty minutes later, which is unbelievable. The communication and cooperation we have with other agencies couldn't be better. We're like one big family," said Parker.
While the rest of the case will be carried out by MPD, Parker wants to ensure citizens that he and his office, "will remain vigilant to be aware of our surroundings and do what we can to keep our people safe."