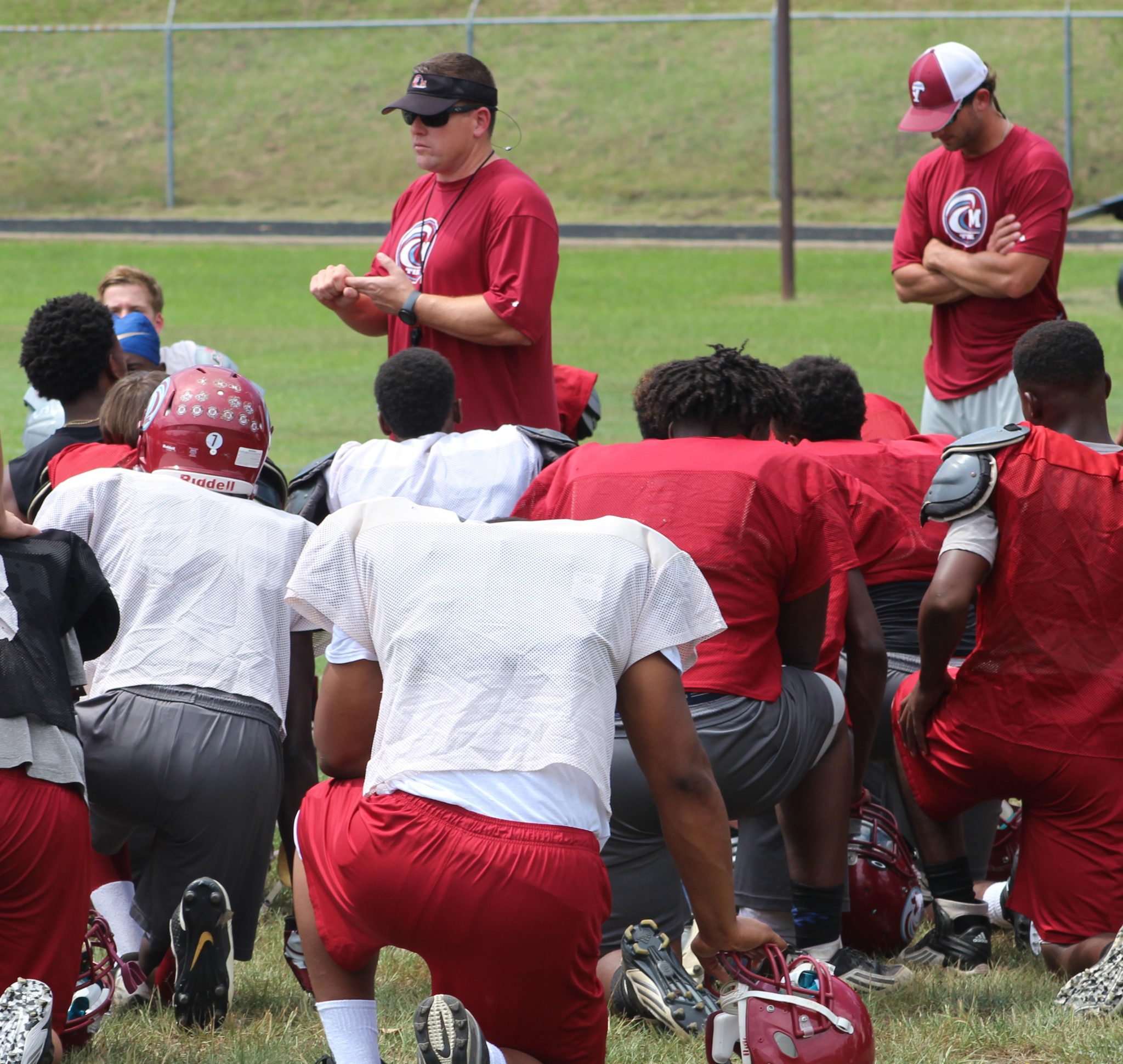 Spring practice can be one of two things for a football team.
A casual reintroduction to the sport, aimed at reacclimating players to things like heat and contact, or a proving ground, where athletes begin competing to catch the eye of coaches and earn a starting spot.
At Minden, it's the latter.
Crimson Tide head coach Spencer Heard enters his fifth year and fourth spring trying to identify the players who will fill key positions vacated by the 28-man senior class of 2017.
Heard said while it is exciting to be back on the field, the intensity has increased this spring as players jockey for positions.
"It's been really competitive," Heard said. "There's been guys flying around and some good hitting going on. We've been rolling guys in and out, trying to see which guys are going to be the guys. But, it's definitely good to be back on the field. We have a lot of teaching going on."
Minden began practicing April 24. The team has had five practice sessions to evaluate players at each position.
Offensively, the Tide are starting over after the loss of three-year starters: quarterback Antonio Rivette, wide receiver Tavarius Edwards, pass-catching tight end Kelcey Miller and running back Kolby Jackson; offensive linemen Darian Mitchell and Brandon Jackson Jr. were also lost to graduation.
At quarterback, Glenbrook transfer Seth Tyler has been calling the signals. Tyler originally transferred to Minden the summer before his sophomore year, but returned to Glenbrook before ever stepping foot in The Pit. He was named Offensive MVP of District 6AA last season as a junior at Glenbrook.
Now, Tyler is trying to win over a new lockerroom, learn a new offense and see if he can successfully make the jump from AA MAIS play to LHSAA's Class 4A.
"He's done a good job so far," Heard said. "He's picking up all of our stuff and making it mesh. He's shown the ability to run and throw, and from a cognitive standpoint he's really grasping it well."
A plethora of Tiders are in the mix at receiver, led by Marcus Smith, DeMarcus Hamilton, Decorian Brim and Lemoris Jackson Jr., another Glenbrook addition.
Heard also likes what he's seen from newcomer Wesley Dennis in the slot and a second-year player, Zack Gage, is making an impression on Heard in the backfield.
"We like to get guys in and out, let them roll," Heard said. "We've told them this is the time to make a move. It's not the same spring as last year on offense."
Defensively, Heard said Minden should be fine along the defensive line with pluggers like Jwan Pickens and Braxton Jackson back to shut down any attempts to run between the tackles. Heard is still waiting to see who will provide depth behind them, and he's also searching for the heir-apparents to Zi'Kerrion Baker and Cameron Morgan.
Two of the best and most-decorated defensive players in Minden's rich football history will not be easily replaced on the field; not to mention the leadership and intangibles both displayed as three-year starters.
Someone has to be the guy to come after the guy, and Heard said, early on at least, it appears Bobby Britton will be one of them.
"We like what he can do from a physical standpoint," Heard said. "He's a young guy we think is going to be a good player. We have Ty'Christopher Harris back at one linebacker spot, and he was flying around the first week before tweaking an ankle. He's fine, but we may not play him in the spring game."
In the secondary, Jacareon Lathan, Kentravion Rogers and Rodney Johnson return to form part of what should be a ball-hawking secondary after all three players gained starting experience.
Assessing offense and defense together, Minden returns 11 of 22 starters.
While another 11-win season seems farfetched, Minden should still factor heavily into the 1-4A title discussion.
"There's more experience and talent on this team than people think," Heard said. "When you graduate a bunch of three-year starters, it kind of leads people to think the cupboard is empty, but we feel fine about this team. We just have to continue to put in the work and have a productive spring game and summer."
Minden travels to Richwood for their spring game, Friday at 6 p.m.