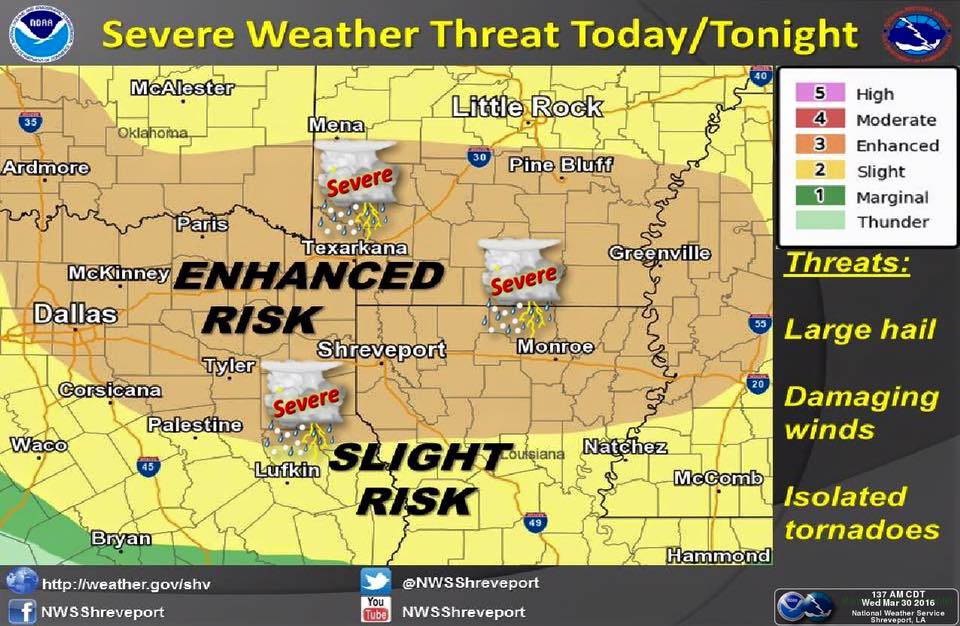 NEW ORLEANS — Strong storms could spawn some tornadoes as they dump heavy rain on several states across the South through Friday, forecasters predict.
Nearly 9 million people in parts of Texas, Oklahoma, Louisiana and Arkansas are in an enhanced area of risk Wednesday, putting them in the bull's eye for some of the strongest storms, the national Storm Prediction Center reported. The area of highest risk includes the Dallas-Fort Worth metropolitan area.
In Louisiana, the National Weather service has already issued a flash flood watch for northern parts of the state until 7 p.m. Thursday. Forecasters say multiple rounds of strong to severe thunderstorms will produce 2 to 4 inches of rain — and perhaps 6 inches in some parts of the state.
"Heavy rain from waves of storms could renew flooding over north Louisiana," said Cynthia Palmer, a forecaster at the weather service's office in Shreveport, Louisiana.
The ground remains saturated in that part of the state, which saw record flooding earlier this month, Palmer said.
"We will see the heaviest rain in the Monroe area of northeast Louisiana starting late this afternoon and evening and another wave on Thursday," Palmer said Wednesday morning. "This is the area that could see up of 6 inches."
In northern Mississippi, forecasters said thunderstorms would bring rainfall amounts of 2 to 4 inches. A flash flood watch was in effect through Thursday evening.
As the system moves east, strong storms were expected to develop early Thursday over Alabama, where forecasters say the main threats will be tornadoes, winds of up to 70 mph, quarter-sized hail and heavy rains.
In Georgia, forecasters said more than 4 inches of rain could fall in western parts of the state.