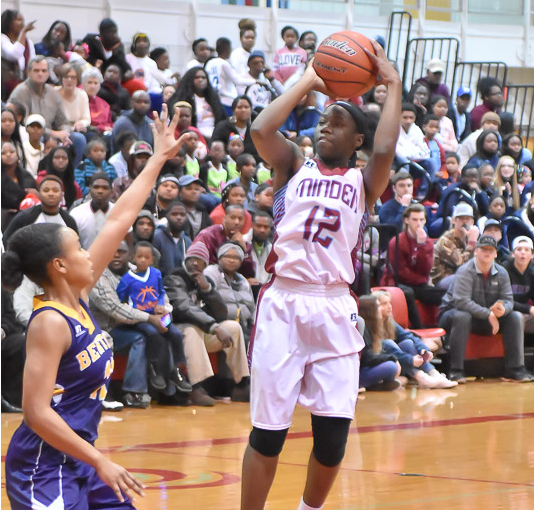 "Roll Tide Roll, Roll Tide Roll!"
The chant, led by legions of raucous Lady Tider fans who turned out for a marquee matchup, resonated throughout Minden's expansive home gym, The Palace, well before and long after the home squad's resounding victory over Class 4A's No. 1 team, the Benton Lady Tigers.
Minden (24-1, 5-1) called it up with a "1-2-3, defense," seconds before the opening tip and that's exactly what they used to get the job done, flustering Benton's backcourt and star point-forward Emily Ward en route to a 49-39 triumph.
Both teams came out energized by the electric atmosphere, but it was Minden's athleticism that ultimately made the difference. At times, Benton appeared to be in slow motion working against the speed and length of the Lady Tiders.
"I know our girls were excited to see a packed gym," Lady Tider head coach Jacob Brown said. "It meant a lot and it made for a great environment. It makes our gym a tough place to play; that's part of sports, to make the environment as tough as possible.
"I thought our girls played with a lot of energy and executed pretty well throughout the night. "
Minden's Destini Powell opened the scoring on a slick pass from Bre Rodgers and Derrica Gilbert followed that with a contested finish in the paint to put Minden up 4-0. Benton answered with a 5-0 run keyed by Ward getting to the rim, but Minden reclaimed the lead on Powell's second bucket of the game and extended it when Powell drove baseline and found a cutting Derrica Gilbert who finished through a foul and converted the and-1 opportunity.
Minden would lead 12-7 after one quarter.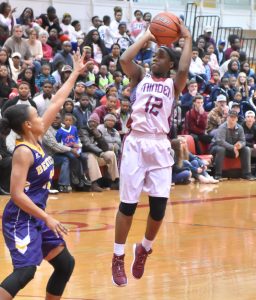 As second quarter play began, the game was stopped for three minutes as the fire alarm went off inside The Palace. Following the brief stoppage, Bre Rodgers took over, knocking home a 3-pointer, hitting a floater and finding Powell with a silky-smooth feed in the lane to propel Minden to a 21-15 halftime lead.
After scoring two first half points, Sha'Terra "Strawberry" Batton began to assert herself for the Lady Tiders, grabbing a steal and converting in traffic, followed by an and-1 coming off an offensive rebound and put-back.
Ward kept Benton in contention, knocking down a 3-pointer to cut Minden's lead to 6 points at 28-22.
From that point on, the Lady Tiders decided this night was their night.
Gilbert hit back-to-back shots in the paint, then Bre Rodgers converted a layup off Whitney Aubrey's theft of a Benton ball-handler to push the lead to 35-23.
Minden led 35-24 after three quarters and would push that lead to 13 points thanks to more masterful passing by Rodgers, who assisted Aubrey and Gilbert on consecutive possessions for scores.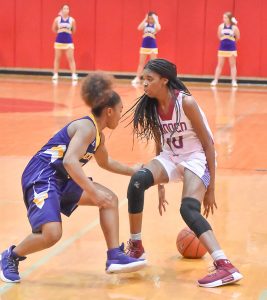 Benton made a mini-run to get within 8 points at 39-31 with 2:57 remaining in the contest, but Minden's defense put their stamp on the game with Gilbert swatting a Ward shot attempt into the hands of another Benton player, who was promptly rejected once more by Rodgers leading to a runout for Batton to push the lead back to 10.
"Our girls defended extremely well," Brown said. "We forced tough shots. At times we could have rebounded a little better; still, very pleased."
Minden was comfortable for the final two minutes, cruising to the finish line with that all-too-familiar chant hanging in the air.
There was no celebration from the Lady Tiders in the game's aftermath; they looked like a team that expected to win, hell-bent on proving they are indeed Class 4A and District 1-4A's No. 1 team.
"A special night for a special team," Brown said. "It keeps our team in the middle of a district championship race"
Batton led Minden in scoring, with 13 of her 15 points coming in the second half, followed by Gilbert with 13 points. Rodgers played one of her best games of the season, finishing with 11 points and 10 assists for a double-double. Destini Powell added 6 points, all of which came in the first half.
Minden now moves into a first-place tie with Benton for the district lead and will await the release of next week's updated power ratings to see if they've claimed 4A's top spot from the Lady Tigers.
This was the second time this season Minden has defeated the No. 1 team in Class 4A. The Lady Tiders dominated the West Ouachita Lady Chiefs in November's Haughton Jack Clayton Invitational.
Next Up: Minden will host the Huntington Lady Raiders Tuesday, Jan. 16 at 6 p.m.
Huntington's girls are currently No. 10 in the state's 4A rankings. The Lady Raiders, who defeated Bossier 32-31 Friday night, are on a 4-game winning streak. Their last loss came against Minden in the Airline "Doc" Edwards Invitational.
"This next game has the same magnitude as Friday night," Brown said. "The first game with Huntington has nothing to do with how the district race plays out. We have to come out with the same effort Tuesday night at home."