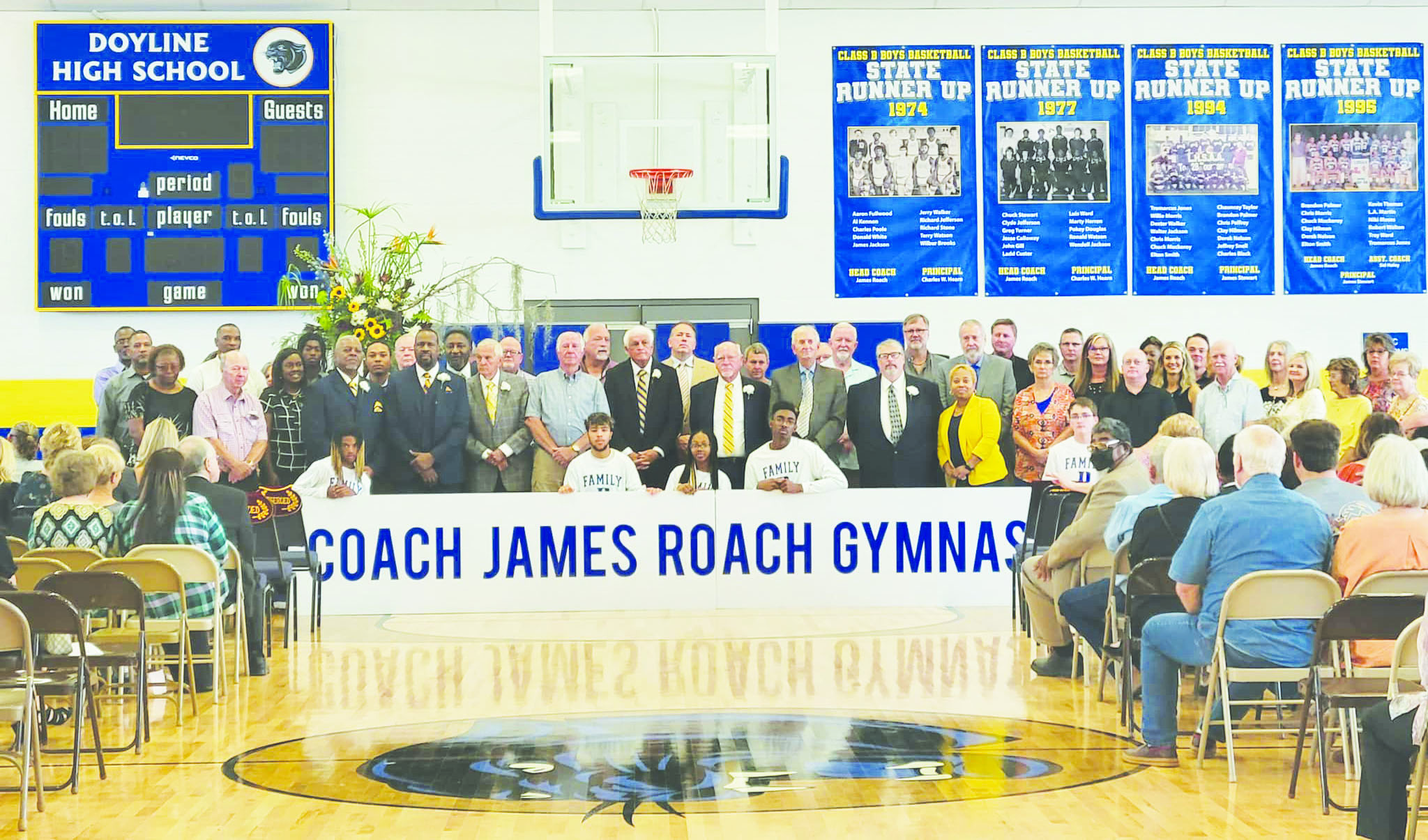 Doyline basketball coach Michael Normand had been working on a secret for years.
And last week, that secret was unveiled during a ceremony honoring late Doyline coach James Roach, who died on Aug. 6, by naming the Doyline High School Gym after him.
Roach coached at Doyline for 30 years before retiring in 1994 and led the Panthers basketball team to a state championship in 1967 while also earning four state runner-up accolades.
"You hear all the stories about him being a competitor and his intensity in the locker room and during games," Normand said during the ceremony "And at the time it amazed me how that person could also be the person I grew to know that could be such a kind and gentle soul, and I guess that's what made him special — the fact he could flip that switch from competitor to husband, father, grandfather — which is what most of us coaches would like to do, but most of us fall short.
Normand said he realized Roach's competitiveness when he asked Roach to coach a team during an alumni game at Doyline five or six years ago.
"It was all fun and game before the game with people asking what players were going to pull hamstrings and who was going to be in what hospital tomorrow," Normand said. "And then the game started. The first half was fun and games.
"About the third quarter I started seeing the intensity pick up. … It ended up being a one-point ball game. I couldn't tell you who won that game, but then I realized — could we add that to his total? I realized then how competitive he was. That fire does not go away."
Neither did Normand's fire to honor the Doyline coaching legend.
"About 10 years ago I realized I wanted to do some things for some of the guys in this town I consider to be the Mount Rushmore of Doyline basketball," Normand said. "Several years ago we retired Mr. Jerry Walker's number. You see it on the wall back there. Last year we named our basketball tournament after Mr. Jimmy Stewart.
"What I had planned for Coach wasn't as easy as what I had planned for those guys. What I planned for those guys, basically I could just make that decision. For what I had planned for Coach Roach took a couple of years because it needed school board approval. And as the process started, COVID struck and backed everything up."
But last year the request was finally passed.
"That's what I was hoping for because I was trying to keep it secret," Normand said. "I had planned to do it on Oct. 27, the date of our jamboree and it happens to be our year to host it. We decided then to keep it secret from folks and then have a big celebration on Oct. 27. But the Lord doesn't work on our time schedule."
Doyline basketball players then brought in the signing officially renaming the facility as James Roach Gymnasium.
"On April 4 of this year, it was unanimously voted by the Webster Parish School Board that the house Coach Roach built would now officially carry his name," Normand said as the crowd on hand responded with a standing ovation.