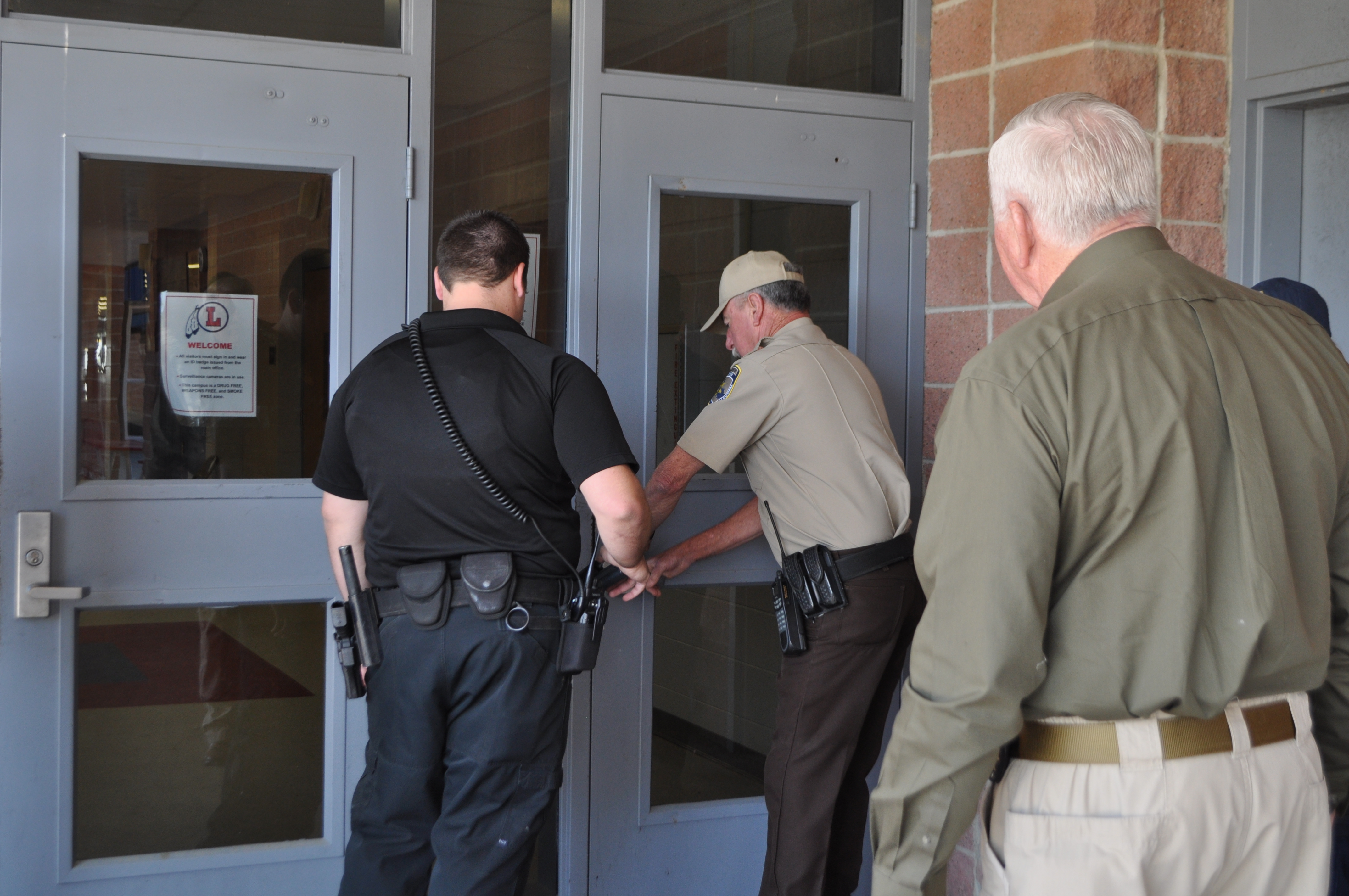 The outside doors were locked tight, classrooms were shut down and students were hidden away during a lockdown drill at Lakeside Jr./Sr. High School.
The drill tested the faculty's knowledge of the school's plan and students' knowledge of what to do during an active shooter situation. It also let Principals Johnny Rowland and Michelle Finley know where vulnerabilities still lie.
"Compared to drills we did last year, it's been a vast improvement," Rowland said.
Sibley Police Officers Cody James and Marshall Merritt were the responding officers to the school.
Following the drill, faculty and officials sat down to discuss what vulnerabilities they did find, how well students and faculty followed procedure and what could be done to further strengthen procedures that work well already.
Homeland Security director John Stanley says drills have drastically changed since the days of Columbine. Law enforcement, school faculty and students are all too aware of what can happen in an active shooter situation. In fact, law enforcement and the schools drill for this very scenario yearly.
"Lots of things have changed since Columbine to nobody went into the building to now the first guy reporting goes into the building," Stanley said. "The first officer on scene enters the building, because if he can stop the shooter, you save multiple lives. The other thing is to get medical response in the school as quickly as it's safe for them to get in."
Webster's Office of Homeland Security and Emergency Preparedness Jenny Reynolds says this is nationwide.
"The new training on the medical is they go in with a security escort too," she said. "It's for basic triage."
Stanley says the officers will first go in to eliminate the threat and then their job is to escort medical personnel.
"We can't just allow them to go into the building with no security," he said.
Reynolds says the one thing they learned following the massacre at Sandy Hook Elementary is that lives could have been saved if they'd have been able to get medical personnel in behind law enforcement as they cleared the building.
"If you can go in and clear portions of the building, and then have your secondary team to secure your first round of medical triage," she said. "Sometimes a tourniquet is all that's needed to save someone's life."
"The more often the drills occur, the better the schools' are at adapting to a scenario," Capt. Don Willis, with the Webster Parish Sheriff's Office, said.
The rules of thumb for a scenario like this, Reynolds says, is lights out, out of sight and no noise.
"And that's what this is all about – shortening the response time and minimizing injury," Stanley said.