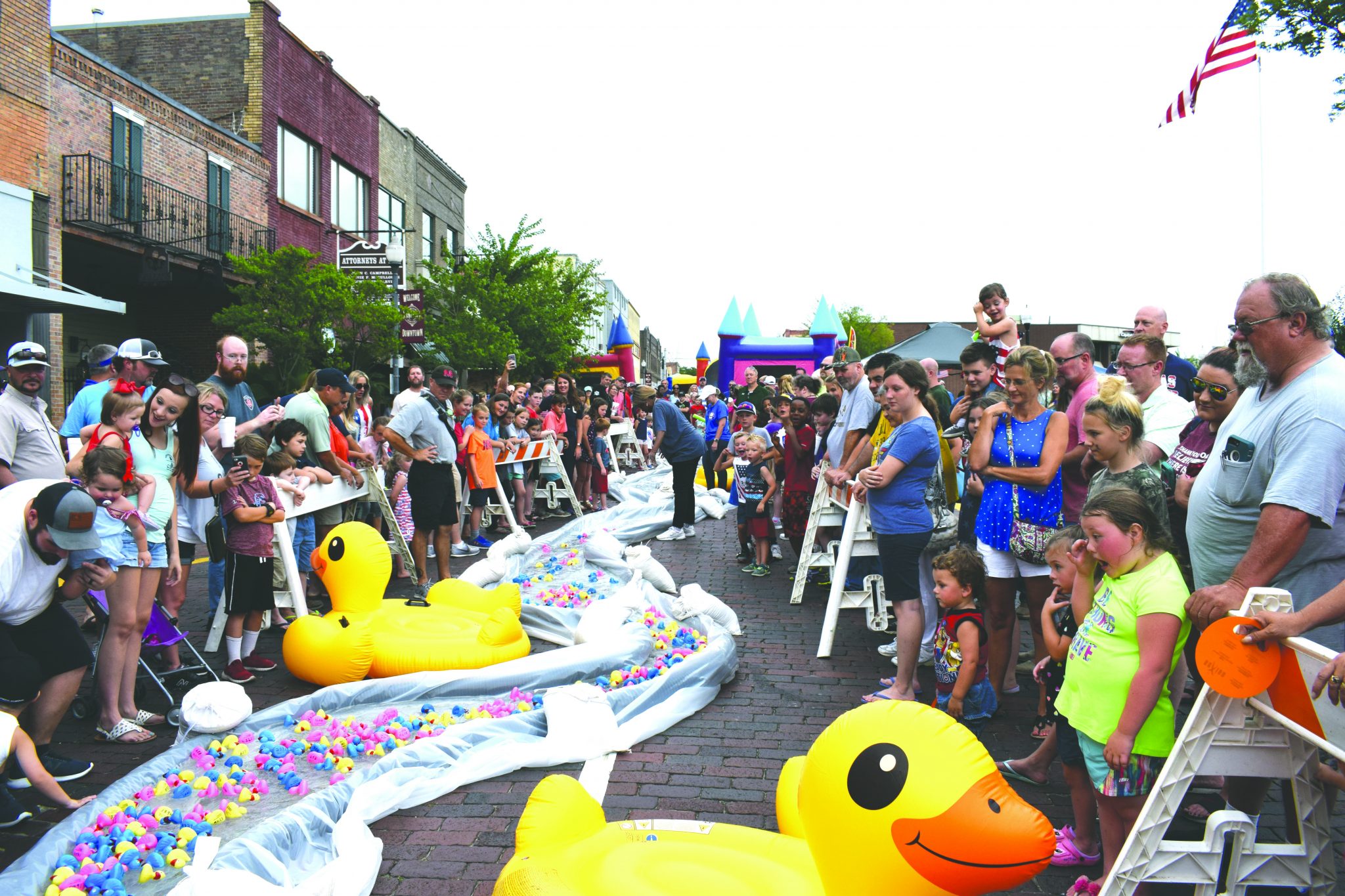 July 4th Extravaganza on July 3 was a huge success
Minden's July 4th Extravaganza took place along Main Street on Wednesday, July 3. The event hosted a variety of activities including food, music, bouncy houses, fireworks, and the first ever Duck Derby. "We would like to thank everyone who came out to celebrate with us last night in Downtown Minden. This event was held in partnership with Minden Main Street and brought to you by Gibsland Bank & Trust, Hathorn Fireworks and a host of other great sponsors and volunteers," said Stephanie Barnette, President/CEO of the Greater Minden Chamber.
The Duck Derby started promptly at 7 p.m. The race took place over multiple heats. During each heat, a portion of the 1300-plus ducks were loaded into a basket and were then put into a water slide. After the count of three the group of plastic ducks would race down the twists and turns of the waterslides, and the few to make it to the end first were the winners. Each plastic duck had a number on it, and the winners were decided by whoever had the ticket with the matching number. Barnette said, "We hope you all enjoyed our Inaugural Duck Derby as much as we did. It was so fun seeing the community rally around this event and cheer on the fastest ducks. Congratulations to our winners."
The winners of this year's Duck Derby were Steve Gilley in first place, Jimmy Hudson in second place, and Hadley Kate Thomas in third place. They each won $2000, $1000, and $500 respectively. "We are already looking forward to next year, and thinking of ways to make it bigger and better! We hope you all have a wonderful holiday weekend with your family and friends," said Barnette.
Later during the evening, there was a fireworks display put on by Licensed Pyrotechnician Brent Hunt with Bistineau Blasters Fireworks.
The title sponsors for the event were Hathorn Fireworks and Gibsland Bank & Trust, with the other sponsors being Jason Parker for Sheriff, Meadowview Health & Rehab, Walmart, Coca-Cola Bottling Company of Minden, Gardner Group, Ivan Smith Furniture, State Senator Ryan Gatti Dist. 36, and Minden Family Dental.
"Our city is very lucky to have a community of volunteers that give back to help our city grow and businesses that provide and support our activities throughout Minden," said the Mayor Terry Gardner.