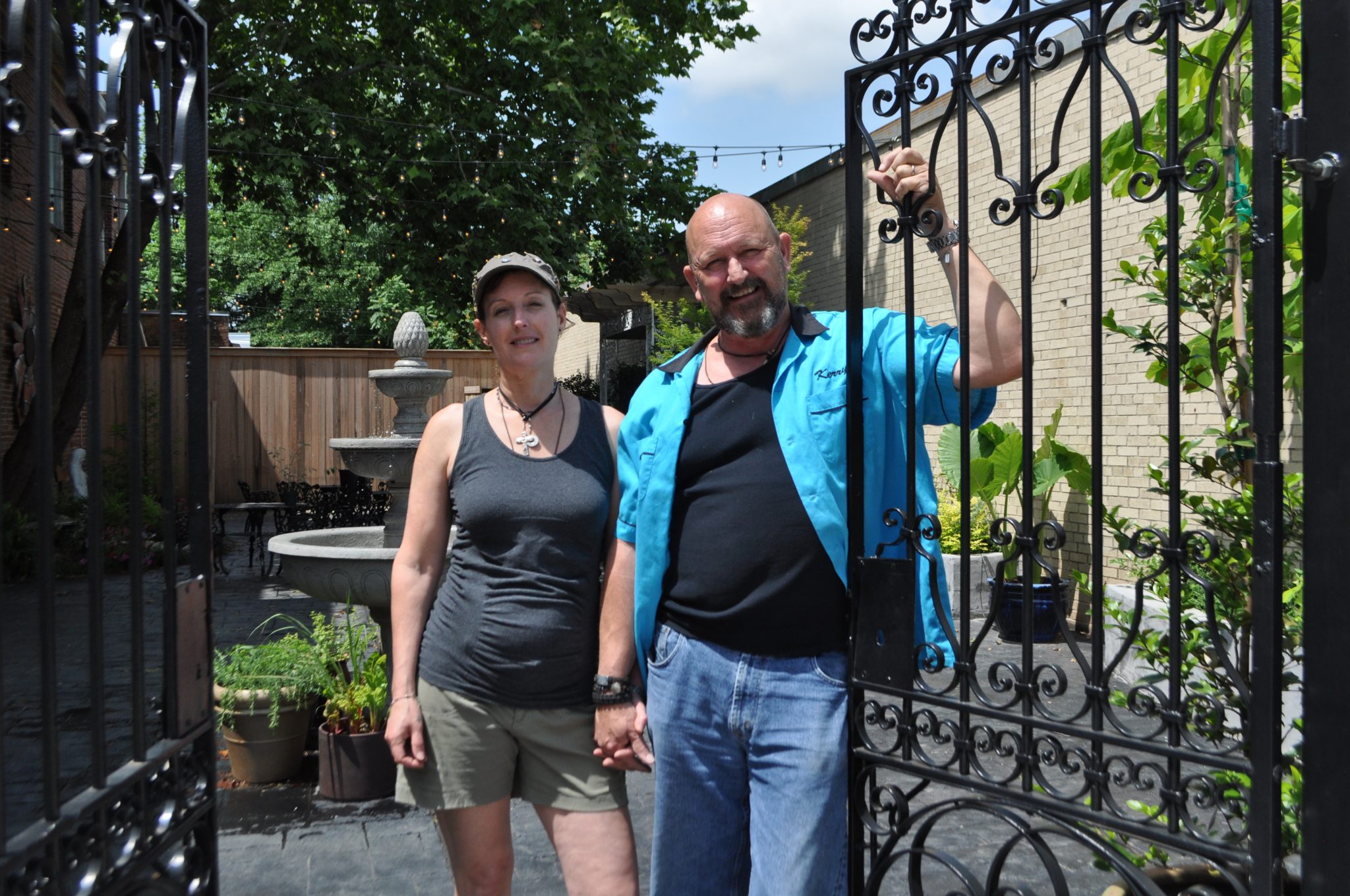 After eight years of hard work and building a vision, Kerry and Anne Easley are inviting the public to come to The Courtyard for its official grand opening and ribbon cutting.
Set for 5:30 p.m., Saturday, May 23, the Easleys are excited about the public getting to be a part of their investment in the arts and historic downtown Minden. The event, located at 105 Pearl St., will feature the official ribbon cutting, followed by live music, jambalaya and beer, all free of charge.
Kerry Easley, owner of Easley Studios and The Courtyard, says the building and courtyard hold special significance for him and his wife Anne.
"We're now able to invest in ourselves instead of a 401K," he said. "We've taken an eyesore and turned it into a destination. We've been in business for eight years now, and we've moved to this new location, so it's just to let everyone in town know that we've moved and that we have a new building."
Originally, the Easleys bought the Rogers frame shop. They expanded from just framing into photography for all the schools for Webster Parish as well as some in Bossier Parish.
The Courtyard is an outdoor photo studio and event center. They rents The Courtyard for various events such as weddings, Mardi Gras parties, and the Minden-South Webster Chamber of Commerce has rented it for special events as well.
"When we bought this building, there was just a vacant lot next door," he said. "Anne and I love New Orleans, and we love that New Orleans courtyard feel and we wanted to take that empty lot and turn it into something nice."
Much of the materials at The Courtyard are salvaged materials, such as the front fence. Easley says the wrought iron picket fence came from New Orleans, and the gate is roughly 250 years old.
The Easleys say the old Crichton building was constructed in the 1920s by Thomas Crichton Sr. It originally housed four separate businesses – three downstairs and one upstairs – none of them connected, only accessed through the outside.
"Mr. Crichton was known to build stout buildings since he also owned a concrete and gravel company," Anne Easley said. "It was originally and always has been a stand-alone building, unlike all of the other historic buildings in Minden which share walls."
Kerry Easley says former downtown development director Pattie Odom was instrumental in their quest to revitalize the building and The Courtyard. She helped them apply for and were awarded two state grants for the project. One grant was a Restoration Incentive Grant for $10,000, which helped pay for the exterior stairs. Kerry Easley says the stairs cost about $26,000.
"It really helped us finish this thing off the way we wanted it, which was really nice," Kerry Easley said. "We wanted it to have a French New Orleans historical look. (Odom) was extremely helpful in helping us get the forms we needed, the tax incentives, and if it weren't for her, we wouldn't have known about (these grants)."
The other grant was a Tax Incentive Grant, which allowed the Easleys to get credits against their state taxes for 25 percent of the total cost of the project.
They also shoot product photographs for Amazon.com, which means they photograph products the online company is selling, Easley says.
The company is also part of the Cultural Arts District, which means any art that is sold, no taxes are charged.
"It means we have been designated from the State of Louisiana as a cultural art (business)," he said. "We were also the first art gallery to open in Minden. Minden has City Art Works too. Now we do art, photography, custom framing and music. Anne and I like it because it's just a cool job to have."