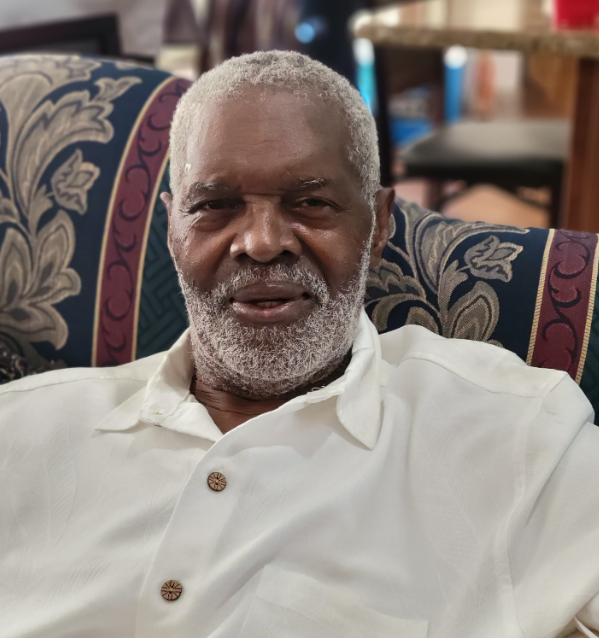 Edward Earl Hudson was born on August 11, 1940 to the late Dave Hudson and Tishie Warren Hudson in Shreveport, Louisiana at Confederate Hospital. The third of nine children, Monroe, as he was affectionately called, ran the family farm with his brothers throughout his childhood.
He accepted Christ at a young age at Growing Valley Baptist Church and received his early education at Growing Valley Elementary School until 7th grade. His secondary education was completed at Webster High School (Class of 1960).
Monroe was a two-sport athletic standout! He along with his brother, Dave, and cousins Bunny Ray, LD, and Orail led the basketball and baseball teams to state championships in 1960! He was attended and played basketball at Southern University in Baton Rouge, Louisiana.
In 1962, he married Faye Speech and to that union three children were born: Jacqueline Hudson Ivey, Reginald Bernard Hudson and Sharon Hudson. Monroe secured a job at the paper mill in Springhill, LA as a line worker. Because of his work ethic and dedication, he was promoted to maintenance. During this time, Monroe realized that he could earn an income pursuing his passion; in 1967, with the rest of the Hudson Boys (Bunny Ray, L.D. and Edward), Monroe started officiating games throughout the State of Louisiana and East Texas. Also during this time, Monroe transitioned from the paper mill and began working at the Shell Plant (Louisiana Army Ammunition Plant).
In 1975, he married Remonia Goree and to this union one child was born DeVaria "Dee" Hudson Ponton and three bonus children were embraced: Fanese Williams Cowan, Genna Williams Dunmyer and Michele Williams Ford. After over 35 years of dedicated service at the shell plant and over 30 years officiating, Monroe retired to spend his days "spoon heeling" with his friends, gathering at White's Barbershop for the latest news and having uplifting conversations under the trees.
God rewarded Monroe and called him to His Kingdom on Saturday, March 12, 2022. Awaiting his arrival were his parents Dave and Tishie Hudson, siblings: Etherline Hudson Kemp, Carrie Hudson Walker and Clem Hudson and children: Jacqueline Hudson Ivey and Reginald Bernard Hudson.
Monroe was well known and abundantly loved. He frequently communicated with his class brothers and sisters and enjoyed meeting his siblings for morning coffee. He would often drop gems to his children to prepare them for life. A common word of advice from him, "The world is FULL of phonies." He encouraged his children to be themselves, to be kind, to be giving and to work hard. A flip phone connoisseur, Monroe didn't believe he needed a smartphone or the internet. If he wanted to know something, he could still find it out by dialing up one of his children and have them get on their "little horn." One discovery is when he learned that he was a Facebook favorite as the star of #DaddyChronicles, a look into his conversations and interactions with his daughter, Dee. His words and actions provided laughter and many stated that he inspired them to be a better father. Monroe's reach was far beyond his living room.
Monroe leaves to cherish his memories and carry out his legacy: his children: Sharon Hudson (Latarice), DeVaria "Dee" Hudson Ponton (David), Fanese Williams Cowan, Genna Williams Dunmyer (John) and Michele Williams Ford (Torrance); three brothers: Dave Hudson, Bernard Hudson and Lee Hudson (Vernia); two sisters: Lillie Doris Hudson and Peggy Hudson Morris; eighteen grandchildren; thirty-two great-grandchildren; former spouses: Faye Speech Hudson and Remonia Goree Hudson; a special friend, Doris Marzett and a host of nieces, nephews, extended family and great friends.
Services were entrusted to Benevolent Funeral Home in Minden, LA. A Celebration of Life to honor the legacy and impact of Monroe was held on Saturday, March 19, 2022 at Growing Valley Baptist Church.