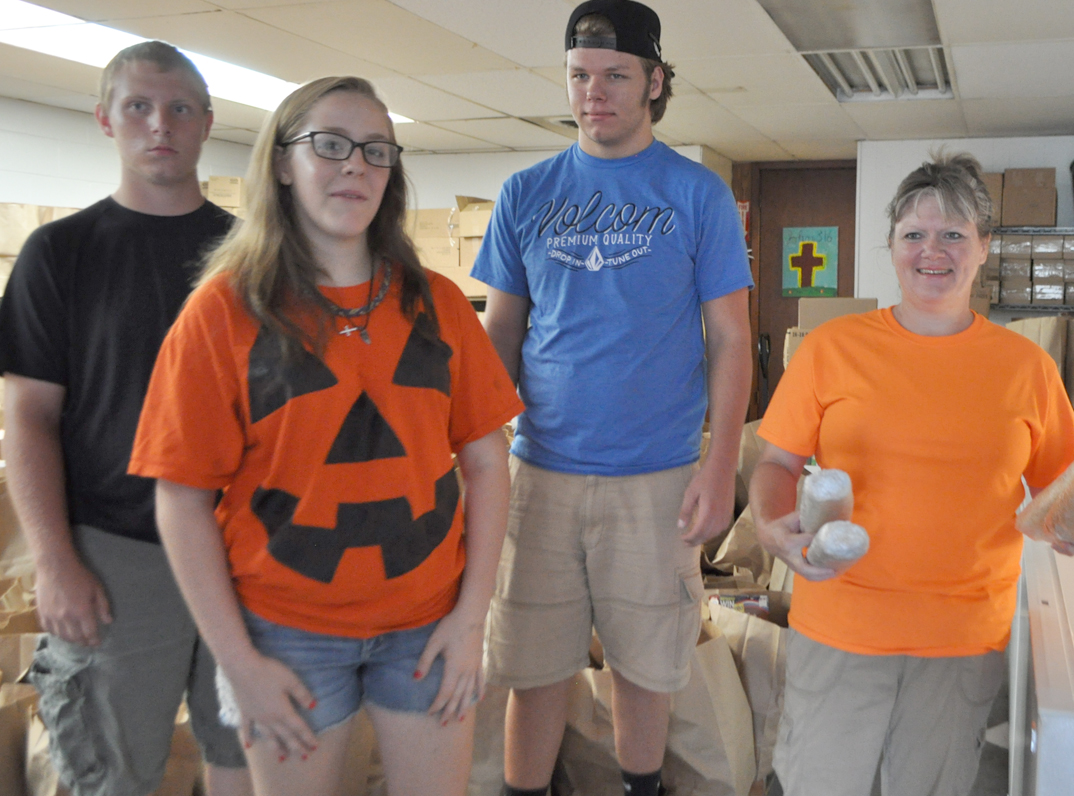 In celebration of Hunger Action Month, the Joe LeBlanc Food Pantry offered access to an array of services for those in need.
Not only did volunteers show up wearing orange in honor of Hunger Action Month, representatives from Medicaid and the Department of Children and Family Services were on hand to help low-income clients sign up for the Supplemental Nutrition Assistance Program and Family Independence Temporary Assistance Program.
Jessica Lewis, JLFP director, says Hunger Action Month is a great way to bring awareness to helping those who are food insecure.
"Every September is Hunger Action Month," she said. "We create a calendar at the first of the month and send it out, and it gives you something small but significant each day of the month to bring awareness to the hunger fight."
On Monday, people are asked to make a pot of coffee at home and donate what they saved by not buying coffee at a restaurant or convenience store. On Tuesday, JLFP will be celebrating their clients' September birthdays. Volunteers can donate cake and ice cream for the celebration. On Wednesday, the public is asked to wear orange to bring awareness to hunger. On Thursday, families are asked to set an empty plate at dinner and talk to their children about childhood hunger.
The freezer clean out will take place Sunday, and families can donate their frozen goods at Minden Floral where volunteers will have freezers to fill up for the pantry. It can be meat, frozen vegetables and other frozen foods, she said.
"One of my favorites was to contact the Greater Baton Rouge Food Bank and see how you can donate," she said. "They lost 500,000 pounds of food in the flood. They actually posted a live video on Facebook of the warehouse. It was devastating. Our food bank here in Shreveport has more than 70 pantries under them, and all those pantries in Baton Rouge didn't get their food that month. Just think of how many people that affected."
Statistics from 2013 show that one in seven people are food insecure. Based on Minden's population, she says figures show that roughly 2,300 people struggle to buy food for themselves and their families.
"There's still a huge population that's not being reached yet," she said.
JLFP is also celebrating nine years of serving clients in the Minden area. Lewis says the food pantry opened in 2007, and their client base has grown to more than 700 per month.
It receives about 24,000 to 30,000 pounds of food per month from the Northwest Louisiana Food bank, she said, not counting the donations and contributions made by local individuals, organizations or businesses.
Officials with Feeding America say about 48 million people in the United States are food insecure, with roughly 15 million of those people being children.
"Last year was 'Spoon-tember,' where everyone was asked to take selfies with spoons on their nose," she said. "It was kind of a goofy way to bring awareness to hunger. We do our calendar tailored to our area, and we like to make it as fun as we possibly can."