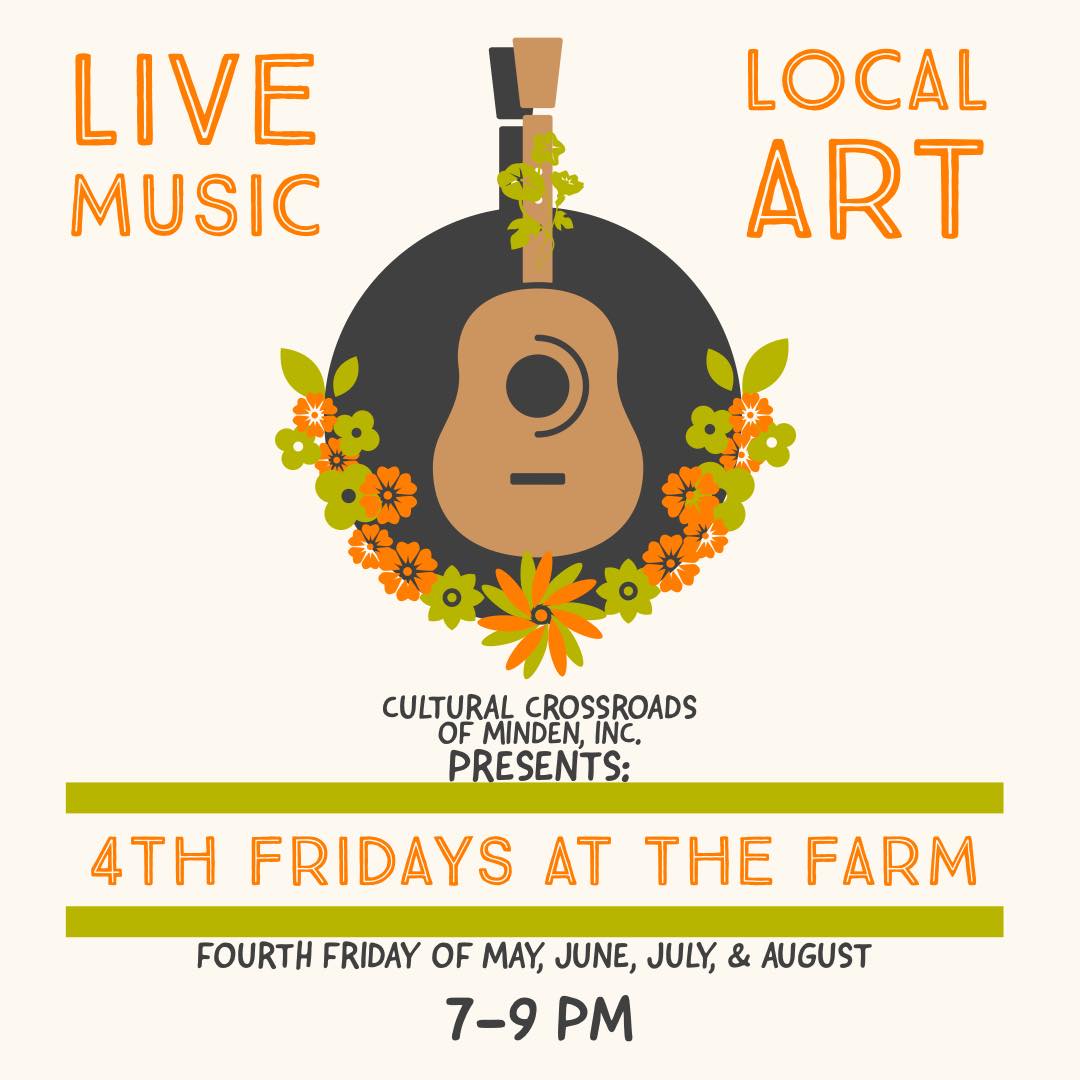 The Farm of Cultural Crossroads begins a series of free musical performances this month. The series, titled Fourth Fridays, will showcase different regional performers on the fourth Friday of May, June, July, and August. Local artists will also have their work on display for sale. All of the performances, with one exception, are family friendly.
On May 27, Everett Street Jazz will kick off the series. Everett Street Jazz is a group of musicians and music educators who perform 1920s-1950s instrumental combo jazz music. "We thrive in the Swing, Dixieland, Latin, Bossa, Fusion, and Bebop subcategories in jazz; however, we enjoy funk, pop, Disney, and R&B charts from Tower of Power, Stevie Wonder, Michael Jackson, and more," they state on their website. Everett Street Jazz will be playing a three hour set, and they also take requests.
June 24 will be the only adults-only (21 and up) performance. That evening, Opossum, Where Art Thou? will be performing musical comedy based on their album, Hocum. The Farm's website post says, "It is rife with cringe-worthy anecdotes that most in a small town can relate to and it's brought to life with some mighty fine string pickin' that makes it an easy listen. The musical comedy of the Opossum boys will make you question if you should laugh or grimace." On this date only, alcohol will be permitted at the performance.
On July 22, there will be two sets of performers. Husband and wife, Sam and Amy Grillett, will be performing folk/bluegrass music. "There's something about the chemistry of a loving couple making music together and sharing it with others that makes a performance even more magical," the Farm stated on their website. That evening Bonnie Ferguson will also perform and "serenade your spirit with her soulful voice and gentle strumming." Bonnie is not only a musician, but is a visual artist as well. She will be a Featured Artist on a different Fourth Friday date.
On August 26, Twang Darkly from Shreveport will be playing "rural space music." This is described as ethereal mood music meets jazz. These performers build most of their own instruments — mostly string and wind instruments. This is certain to be a unique show.
All of the performances have free admission. Some evenings may have a food truck or vendor available. Guests are welcome to bring their own cooler with food and drinks, but there will be a $5 cooler charge at the gate. Feel free to bring your own lawn chairs or blankets to lounge on while you enjoy the show. The Farm of Cultural Crossroads is located at 419 East Union Street. Performances start at 7 p.m.