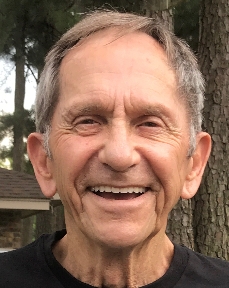 Around 3 am on January 8, 2021, Garland Mack Garrett, Sr., took his final breaths on earth at his home in Sarepta, LA and was welcomed to Heaven with the sweet embrace of Jesus. His passing took place while he was peacefully sleeping, mere hours before his 79 th birthday. Mack was a 1960 graduate of Springhill High School where he was Class President his Freshmen, Junior, and Senior years and Secretary his Sophomore year. During his high school career, he was a vital member of the Lumberjack Football Team.
He was known to most as Mack, but anyone who met him called him "friend". One very special lady, Judy Waller Garrett, knew him as Honey. Mack and Judy celebrated their 59 th wedding anniversary on August 4, 2020.
Four children and their spouses were blessed enough to call him Dad: Garland Mack Garrett, Jr. and his wife Jonette; Julie Garrett Mills and her husband Kenny; Jennifer Garrett Douglas and her husband James; and Christian Garrett. Two special grandchildren came into this world calling him Pops: Jamison Rae Douglas and Braeden Garrett Douglas.
In Mack's spare time, he could be found in the woods hunting, on the lake fishing, or on the golf course spending time with old friends and making new ones. Mack very proudly joined the Brotherhood of the Blue when he served Sarepta and Webster Parish as a Chief of Police and Bailiff. His gift of teaching and love for the Word of God opened the door for him to teach the Ed Schultz Sunday School Class at the United Methodist Church in Springhill, LA.
Mack loved his family, his friends, his country, and his Heavenly Father. He loved to laugh and he was very generous with the wisdom he shared. "Pay attention", "It's always safe to trust the Lord", "Bow up, grab a tree root, and growl," and "I am on your side" are just a few of the many Mack-isms he often repeated to his family.
Those waiting to greet him in Heaven included his parents- Dr. William R. and Mabel Garrett and his brother- William "Bill" Robert Garrett, Jr., as well as Granny Reba and Papaw Ferman Robinson. Those of us who look forward to seeing him again include his sister- Mary "Sister" McEachern, wife- Judy, four children and their spouses, two grandchildren, many nieces and nephews, and countless friends who had the privilege of knowing him.
He will be sorely missed by anyone who had the pleasure of meeting him. Knowing that he is free from pain, with our Lord, and that we will see him again gives those who knew him strength and peace. I am sure if he was here today, he would be telling us that the day he took his last breath on earth, was when he truly began living.
Visitation for family and friends was held at New Sarepta Baptist Church on Friday, January 17, 2021, from 5-7:00 pm.  Celebration of Mack's life was held at New Sarepta Baptist Church on Saturday, January 16, 2021, at 2:00 pm.