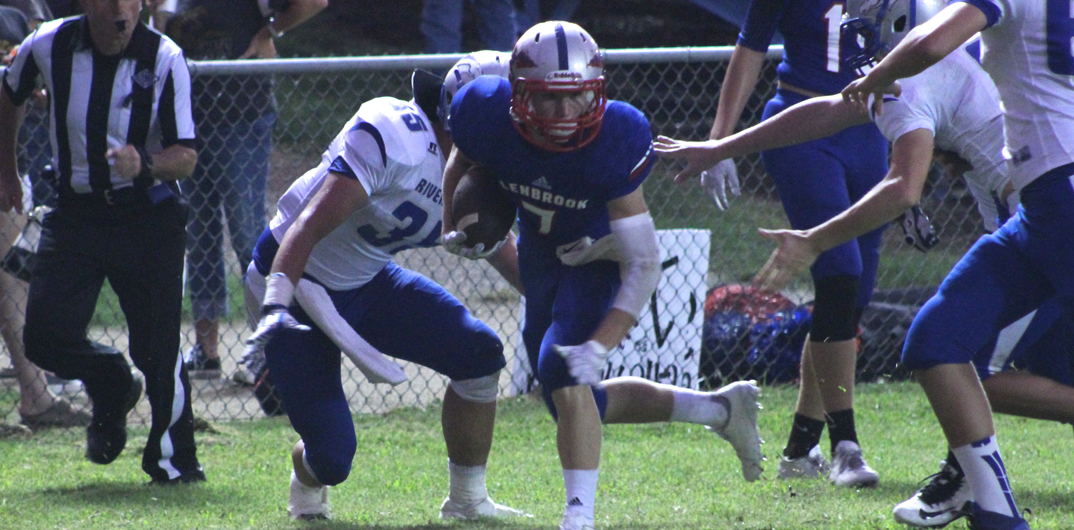 No one can claim the Glenbrook Apaches haven't endured adversity in year two under head coach Caleb Carmikle.
The Apaches have suffered a season's worth of ups-and-downs in their first three games of the 2016 season.
First, there was a season-opening blowout loss at the hands of Class 4A Copiah, then the thrill of victory on the road against Porter's Chapel was tainted by the loss of senior guard Peyton Page who broke his arm on the game's first offensive series. The Apaches fell to 1-2 last week against Greenville Christian after battling cramps and another injury, this time a season-ending broken leg for linebacker Joseph Kidd. Glenbrook led twice in that game, including a 20-12 advantage in the fourth quarter, only to see the Saints walk away with the win.
It's a tough gamut of emotions to deal with in just a few short weeks, but Prairie View Academy looms large this Friday as the Apaches open district play. There's no time to waste feeling sorry for anybody when your season possibly hangs in the balance entering week four.
"This is a huge game," Carmikle said. "If we want to win a district championship, which is everybody's goal going into a season, the path goes through Bastrop."
Prairie View finished 9-1 last season as champions of district 6AA, but lost much of that roster to graduation. The Spartans, coached by Matt Middleton, have done an excellent job of maximizing their roster and are off to a 2-0 start this season following a 38-0 win over Union Christian Academy and a 34-12 thumping of Carrol Academy.
"They're a very well-coached football team, very disciplined," Carmikle said. "On both sides of the football they make you play a very fundamentally-sound football game just to beat them. We've definitely got a challenge ahead of us."
"(Middleton) does a great job of getting the most out of his kids in the triple-option game. They're not quite the team they were last year, but they're very, very talented."
The Spartans will be led by a freshman quarterback Friday night, but Middleton doesn't ask the world of his young signal-caller. Prairie View will rely heavily on getting a push up front and moving the pile with their bruising backfield.
"Their quarterback made a big jump on film from week one to week two," Carmikle said. "You can definitely tell he's getting more comfortable running that option. They have a big middle linebacker/fullback that reminds me a lot of Drennan Keen from last year. He transferred in from Sterlington and he's a load that we'll have to tackle. Up front, they're not as big as they were last year, but they get after you; that's kind of their game offensively."
Glenbrook will need a big game from their front seven, especially on the defensive line from players like Nick Moses and Albert Taylor.
While the Apaches are on offense, the challenge will be staying balanced, something the Apaches haven't been able to do in their first three contests. The Apaches entered the season looking prolific in their two warm-ups, but quarterback Seth Tyler and his wideouts have yet to get on the same page.
"I think it's just a trust issue with all of the guys," Carmikle said. "Seth (Tyler) has to trust the offensive line is going to block and give him time, the receivers have to trust that Seth (Tyler) is going to throw them good balls and Seth (Tyler) has to trust his receivers that if he gets the ball out there in the right place they'll make the plays. They all have to trust me to call the right plays and I have to trust them more that they'll make the play when we give them the chance. We still have a lot of weapons, but they've never had to make the big plays on Friday nights yet."
With three weeks under their belt, the Apaches must come together Friday night or they'll be 1-3 and more importantly 0-1 in district.
"We can't rely on running the ball 45 times a game," Carmikle said. "Personnel wise, that's not what we're built for."
With that said, the head coach believes his team is ready to hit the road and pick up the biggest win of his tenure to date.
"We have to take it one play at a time," Carmikle said. "If you get better every rep, it adds up to a four-quarter win. The injury stuff, that's just part of football. Good teams are measured by how they respond when things like this happen. It's a great opportunity to show what kind of character we have, and I think these kids have tremendous character."