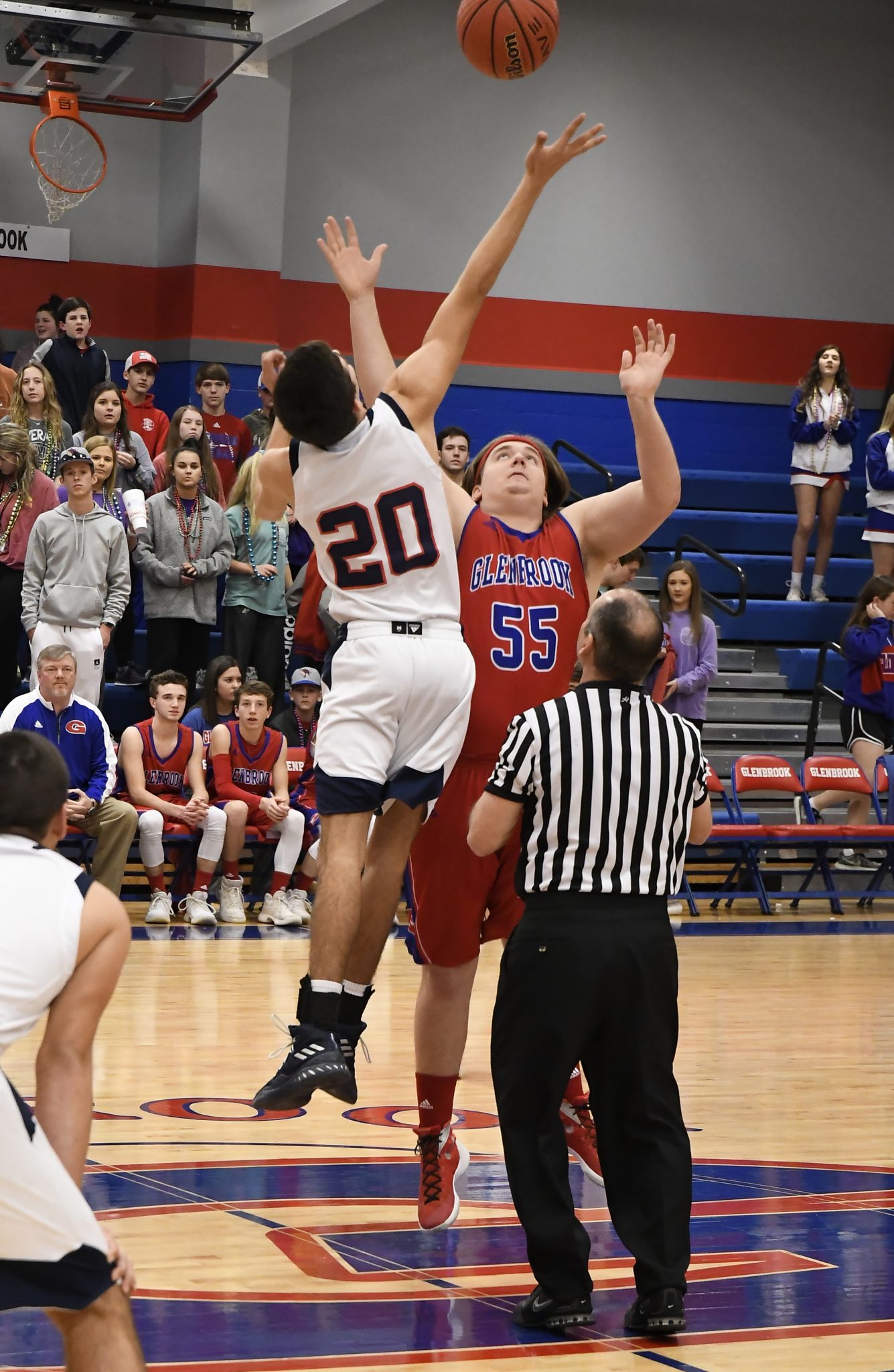 Home sweet home, indeed.
The 2018 AA South State Tournament tipped off Monday night at Glenbrook School with four games, highlighted by the host school taking on the Amite School Center Rebels in the final boys game of the evening.
Led by the incredible efforts of their senior point guard, Da'maza Robinson, the Apaches had the look of a team determined to extend their season; that's just what they did, handing their visitors a 74-45 beatdown to advance to Wednesday's second round game against the No. 2 seed out of district 3AA, Clinton Christian.
The Apaches came out of the gates applying fullcourt pressure, forcing Amite's guards into trapping situations and coming up with steal after steal off errant passes.
On the offensive end, from start to finish it was Robinson's night.
The mop-topped senior exploded for 17 points in the first half by getting to the rim at will and finishing through contact or drawing a foul. By the time the buzzer sounded for halftime, Glenbrook had a double-digit lead and Robinson had 17 points.
In the second half, it was more of the same, as Glenbrook refused to backout of their defensive pressure.
In the second half Robinson began to find open teammates off penetration, dishing several dimes to senior big man Joseph Kidd and junior sniper JC Brown.
Kidd was especially efficient on the night, finishing with 10 points in a rare double-digit scoring night for the rebounding specialist. Brown was quiet in the first half, but made up for it by knocking down a pair of 3-pointers in the second half, his second of which turned a 15-point game into an 18-point game to crush the competitive spirit of Amite.
Things almost got ugly in the final few minutes of the game as an Amite player, frustrated by the score and chatter from a motivated Glenbrook student section, tried to enter to stands to confront Glenbrook students. He made it all the way to the Apache bench before law enforcement and Glenbrook Athletic director Gary Harris intervened. A technical foul was assessed to the Amite player; otherwise, both teams showed great sportsmanship throughout, and the Apaches and Rebels met for a prayer at midcourt following the game.
Robinson finished the game with 24 points and 12 assists to lead Glenbrook, followed by Brown with 12 points, Kidd with 10 points and Cody Chase with 9 points.
Glenbrook and Clinton Christian will meet Wednesday at 6:30 p.m. back at Glenbrook School.
OTHER TOURNAMENT SCORES
Girls: Clinton Christian 52, Prairie View 40
Amite School Center 45, Franklin 19
Boys: Sylva Bay Academy 71, Franklin 23