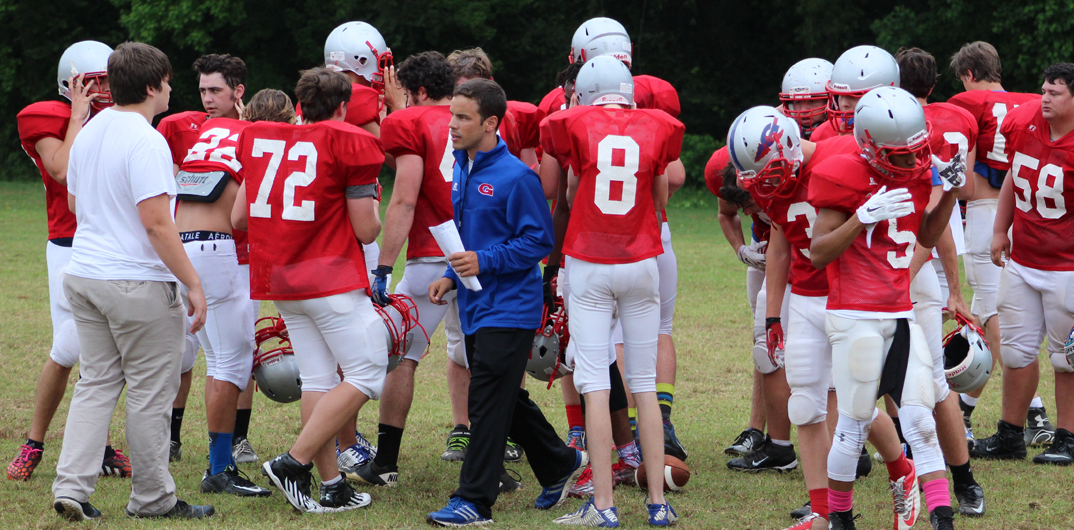 The 2016 football season showed its' first signs of life Monday morning when the Glenbrook Apaches took the field for fall camp at 8 a.m.
The Apaches arrive for camp riding a wave of momentum from a successful summer of workouts.
"For the most part, we had 100 percent attendance this summer," second-year head coach Caleb Carmikle said. "They haven't been just showing up either, they've been getting after it. We've seen incredible results in the weight room. Everyone of these guys has gotten bigger, stronger and faster; we're a different looking football team than we were last year."
With the arrival of fall camp, teams finally get to work as a full-unit on the field. Carmikle said this day couldn't have come any sooner for his group.
"This is a really fun time of year," Carmikle said. "You spend two months just running and in the weight room. It's not the same as putting the pads on and getting after it."
Glenbrook has two new coaches on staff this fall in Dustin Hayes, formally of Central School in Grand Cane, and Steve Brasher, former head coach of the Minden Crimson Tide. Brasher won two district titles at Minden and posted five winning seasons.
"His (Brasher) reputation around here is very good," Carmikle said. "To be able to have someone with that kind of experience on our staff is a blessing for us. I'm sure there's a lot I'll learn from him."
Last season, the Apaches had talent at several positions, but depth proved to be a hindrance. The constant battle fought by small school coaches is that of finding players capable of stepping in should a starter be injured or need a breather. This year, Carmikle said Glenbrook is well-equipped with a sideline full of athletes ready to contribute.
"We have either 27 or 28 guys, tenth through twelfth grade," Carmikle said. "We have a few ninth graders who will move up and dress for us to bring that to 31 or 32. The difference is the number of kids who can come in and play is so much greater than it was last year. We're really close to being two-deep at every position. Our talent level is much improved."
The Apache offense has starters back at quarterback (Seth Tyler), receiver (Joseph Windham, Mason Hood, Da'maza Robinson) and running back (Marshal Meek). Junior Nick Moses and senior Peyton Page are veteran lineman who return on offense as well.
Defensively, Glenbrook has safety Tyler Perryman back to roam the secondary and one of the districts better linebacker duo's in Seth Gauthier and Trent Albritton. All-District defensive end Parker Christy is also back.
Newcomer Cameron Barnette drew high praise from Carmikle. It will be intriguing to see where his athlecism lands him on the field. Then there's the explosive edition of Lemoris Jackson Jr. to the backfield and receiver corps.
Among these, the Glenbrook coaching staff said they chose four captains for the team.
"Tyler Perryman, Mason Hood, Peyton Page and Nick Moses are our captains," Carmikle said. "They're guys who show up everyday, they're vocal and people gravitate to them. If you'd have asked me ahead of time, those are the four I would have picked."
Unlike LHSAA-affiliated schools, Glenbrook and the rest of the MAIS begin their regular season August 19. The Apaches will host Copiah Academy in Minden to kickoff the regular season.
Glenbrook will scrimmage Claiborne Academy in Homer, August 5, and will host the Glenbrook jamboree on August 11.