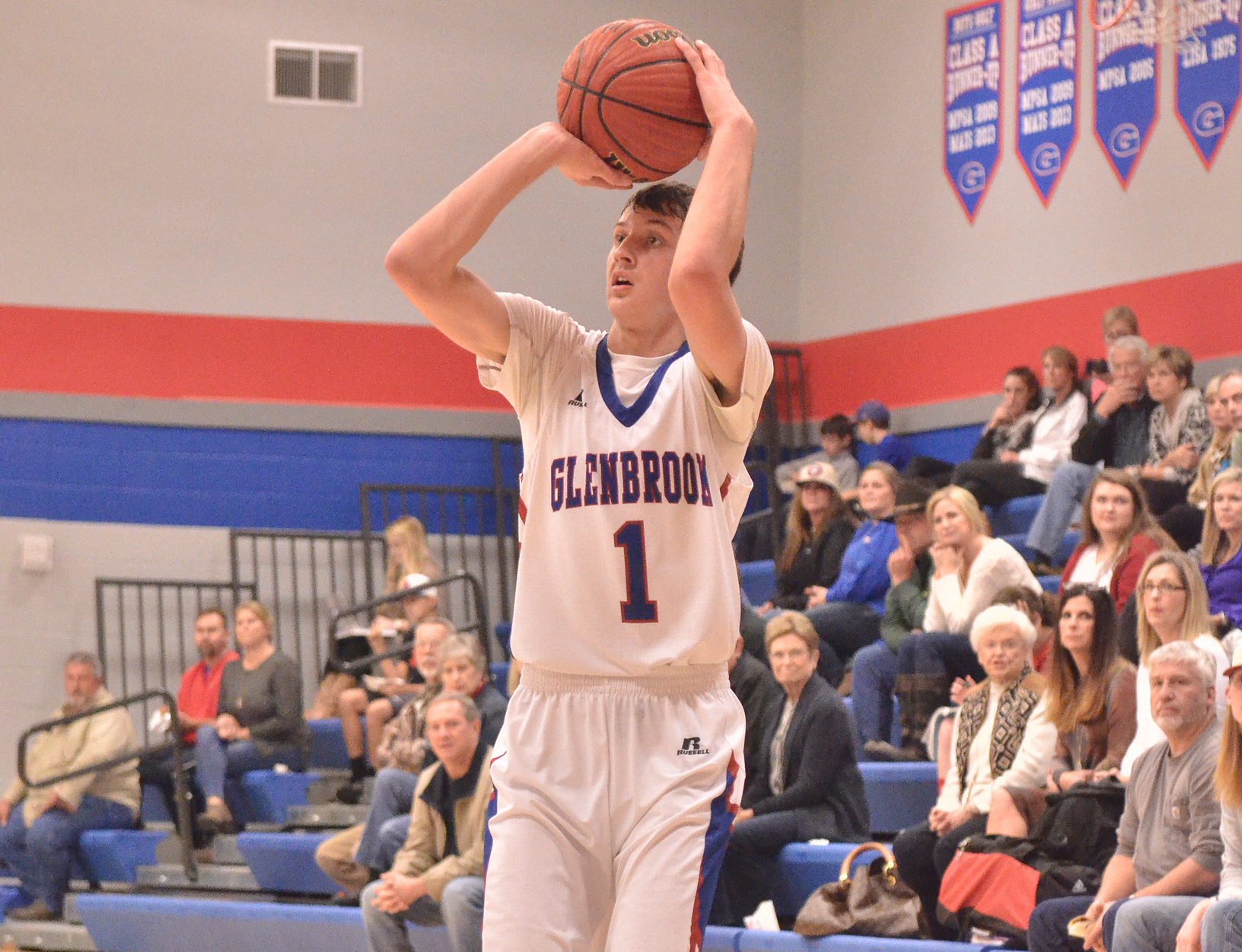 If the Glenbrook Apaches keep playing defense the way they have through four district games, they could play deep into the postseason.
Tuesday night, playing in front of their home fans for the first time almost two weeks, the Apaches got after their longtime-district foe, the River Oaks Mustangs with suffocating defense. The Apaches opened up a 35-point halftime lead to crush the Mustangs' spirit. The second half was nearly a formality as Glenbrook emptied the bench in a 54-17 victory.
The Apaches (11-5, 4-0) are now winners of five-straight contests as they reach the midway point of district play.
"I felt like we played our best defense of the year tonight," Glenbrook head coach and Athletic Director Jeff Dalton said. "We turned them over early and often and capitalized on the offensive end."
The Apaches were never in danger Tuesday, going into the lockerroom at halftime with a ridiculous 41-6 lead. That allowed Dalton to rest some of the starters and give valuable minutes to Glenbrook's role players.
"It's good to put teams away early," Dalton said. "We were able to get all the guys in for some game action."
The increased minutes for the bench and rest for starters could not come at a better time, as Glenbrook prepares for a crucial two-game with Prairie View Academy and Union Christian Academy.
"We have a big one Friday night at PVA," Dalton said.
Joseph Windham finished with 21 points to lead the Apaches; Cade Conterez played well, adding 13 points and Johnny Law Flournoy had 6 points.
Glenbrook vs. River Oaks (girls)
The Glenbrook Lady Apaches rolled to victory against the River Oaks Lady Mustangs, 59-23.
"It was a good game for us and a good win," Lady Apaches head coach Rendi Dillard said. "We needed that to get our feet back under us after the tough week we had last week. It's always a good night when everyone scores."
The Lady Apaches were led by Kate Marvin who finished with 11 points and played outstanding defense. Megan Sims was in double figures with 10 points; Olivia Dalton was close with 9 points for
Glenbrook.
Minden vs. Fair Park (boys)
Playing their second-consecutive district road game, the Minden Crimson Tide (9-12, 0-2) were embarrassed by the Fair Park Indians, falling 58-31.
Coach Rennie Bailey was understandably upset with his team after the game.
"We went to a zone defense tonight for probably 31 of the 32 minutes," Bailey said. "I thought that helped us, but on the other end, we couldn't score and turned the ball over way too much. If we can't put it in the hole and we're turning the ball over, which cuts down our opportunities to get the ball in the basket, you're not going to have much success against a team (Fair Park) that is top 15 in the power ratings."
There were some positives for the Tide.
"I thought our guys showed great composure," Bailey said. "Their reactions to what was going on on the floor were good, win or lose."
Minden vs. Fair Park (girls)
The Minden Lady Tiders just keep rolling.
Minden (20-2, 3-0) used a furious first-half rally and some hot shooting the zoom past the Lady Indians on their home floor, 75-35.
Minden led 49-22 at halftime after ending the first quarter on a 18-7 run.
"I thought we got out to a great start," Lady Tiders head coach Jacob Brown said. "Our girls played well really in all phases of the game. Once we built our lead, I saw our girls slow the pace down and turn our offense over. It was nice to see that discipline in our halfcourt offense.
Minden outscored Fair Park 19-3 in the third quarter to put the game away, as the Minden subs came in to finish off the Lady Tiders' district victory.
Minden is now on a 14-game winning streak as the continue their stellar season. Brown credited Tayler Banks with starting the hot shooting night for Minden.
"She's been playing some really good basketball of late," Brown said. "As a team, we shot 58% from behind the arc tonight. Destini Powell also shot the ball extremely well tonight."
Powell led the team with 19 points, while Derrica Gilbert added 13 points. Strawberry Batton finished with 12 points, Bre Rodgers added 10 and Kennedy Dent finished with 8 points.
Lakeside vs. Jonesboro-Hodge (boys)
The Lakeside Warriors went on the road and took a tough 55-44 loss.
"It was a very close game in the first half," Lakeside head coach Jason Gould said. "It was kind of a defensive game. Jonesboro-Hodge is very long and tall. They protect the rim really well, and that made it hard for us."
In the fourth quarter, Lakeside lost their composure, according to Gould.
"We had a meltdown," Gould said. "Very disappointed in my players for folding a little bit and losing their cool. It cost us the game. We have to mature to handle these road games where it's tough to win."
Tyreke Loftin led Lakeside (12-9, 1-2) with 18 points, while Jalen Gould and Damian Coleman were each held to 8 points.