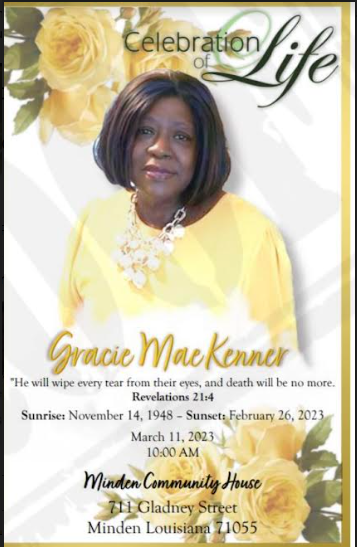 Gracie Mae Kenner was born November 14, 1948 in Red River Parish in Coushatta, Louisiana to Molly Mae Booker and Bob White.
Gracie lived in the town of Bienville, Louisiana where at an early age she accepted Jesuse Christ by being baptized at Mount Cannon Baptist Church.
Gracie grew up in Bienville, Louisiana where she graduated from Shady Grove High School, class of 1962. She was employed at Conagra, well known as the Chicken Plant (Arcadia La), for many years. She later decided to continue to further her education when she enrolled in Tyler Jr College for Medical.. She worked for Evergreen, Hope Youth Ranch and many other facilities and businesses located in Minden.
She met and married the love of her life, Arthur Ray Kenner and together raised three children:
Patrick White, Sonya Route (Kenner), and Fredrick Kenner.
Gracie departed this life on Sunday, February 26, 2023. She was preceded in death by her father, Bob White, her mother Molly Todd (Booker), and her husband Arthur Kenner..
She leaves to cherish her memories: four children: (Ret. Army) Patrick White, (Ret. Army) Sonya Route (Kenner), (Ret. Army) Fredrick Kenner, Joaqulin Armstrong , one brother Johnny Booker and a host of other relatives and friends.
Gracie was a kind, spirited, humble and a loving soul. She was always joking and tried to put a smile on the face of everyone she met. Most importantly she loved her family and her grandchildren deeply.
Memorial Service for Gracie Kenner will be 10:00 am Saturday, March 11, 2023 at the Minden Community House, 711 Gladney Street, Minden Louisiana 71055