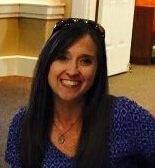 J.E. Harper Elementary School principal Janene Ashley has been nominated for the 2017-2018 National LifeChanger of the Year award.
Sponsored by the National Life Group Foundation, LifeChanger of the Year recognizes and rewards the very best K-12 educators and school district employees across the United States who are making a difference in the lives of students by exemplifying excellence, positive influence and leadership.
"I was very flattered that I was nominated," Ashley said. "The things they noticed about my character, the way that I am leading Harper and the way our parish is going, was a good thing."
Ashley was nominated by her secretary, Vicki Semmes. She previously taught pre-kindergarten for 17 years before moving into an administrative position. Now in her sixth year as principal, Ashley strives to provide staff and students with the best learning environment possible. She has been a District Principal Fellowship member for two years, where she researches, plans, and present ideas during professional development meetings.
"Ms. Ashley is a fair, caring leader who exhibits transformational leadership qualities," Semmes said. "She seeks feedback from all stakeholders to evaluate her leadership abilities. As part of her team, I believe she is a LifeChanger in our community."
Each school year, LifeChanger of the Year receives hundreds of nominations from all across the country. In 2017-2018, 17 individual awards will be given.
Ashley has spearheaded her school's newest initiative, called the summer community outreach program. She also planned for her team to be part of the local library Summer Reading Program, Webster Parish's Back to School Bash, and a Paperbacks and Popsicles event at the Minden Recreation Complex.
One grand prize winner will receive $10,000 to be shared with their school/district, four grand prize finalists will receive $5,000 to be shared with their school/district and 10 LifeChanger award winners will receive $3,000 dollars to share with their school/district.
Additionally, one nominee will receive the $5,000 Spirit award, reserved for the person whose community demonstrates the most support for their LifeChanger, and one nominee will receive the $5,000 Spotlight award, given to a nominee in a specific discipline each year.
Ashley already has several ideas for how to spend any prize money that comes her way.
"We want to use some of it for a positive behavior support, for rewards systems and depending on the amount, maybe even some more technology, because that's where our district is going. Hopefully, we are fortunate enough to get that money."