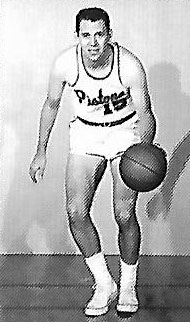 Stories of MHS 1956 grad and NBA great Jackie Moreland
Jenny Moreland Kennon will be speaking on her memories of her late husband Jackie Moreland at the next "Night at the Museum" event May 14. Kennon, a 1957 MHS graduate, will be the 62nd speaker for the Dorcheat Museum's "Night at the Museum" speaker series.
She will be speaking about Moreland's life as a ballplayer at Minden High School during the 1950s, then his years at LA Tech and finally the NBA Detroit Pistons and ABA New Orleans Buccaneers era. Other speakers for the evening will include Jack's brother and daughter.
In his second season at Louisiana Tech, Moreland set what is still the all-time rebounding record for a Tech player in a single season with 468 rebounds. His 5,030 points scored during his Minden High School career still ranks fourth as most points ever scored in high school basketball.
After retiring from basketball, Moreland was a project engineer on the Louisiana Superdome in New Orleans.
Don't miss your chance to hear about some of our local history. The museum events will be held in the Media/Learning center at the Dorcheat Historical Association Museum, 116 Pearl Street, Minden, La.  Museum doors will open at 5:30 p.m., with first-come, first-serve seating.  Program begins at 6 p.m. Admission is free with potluck desserts and snacks welcome. 
For more information contact Schelley Brown Francis at 318-377-3002 or visit www.museuminminden.blogspot.com to sign up for the museum email blast. You can also find the museum on Facebook. To learn more about Webster Parish's rich history, visit the Dorcheat Historical Association Museum located at 116 Pearl Street in Minden.