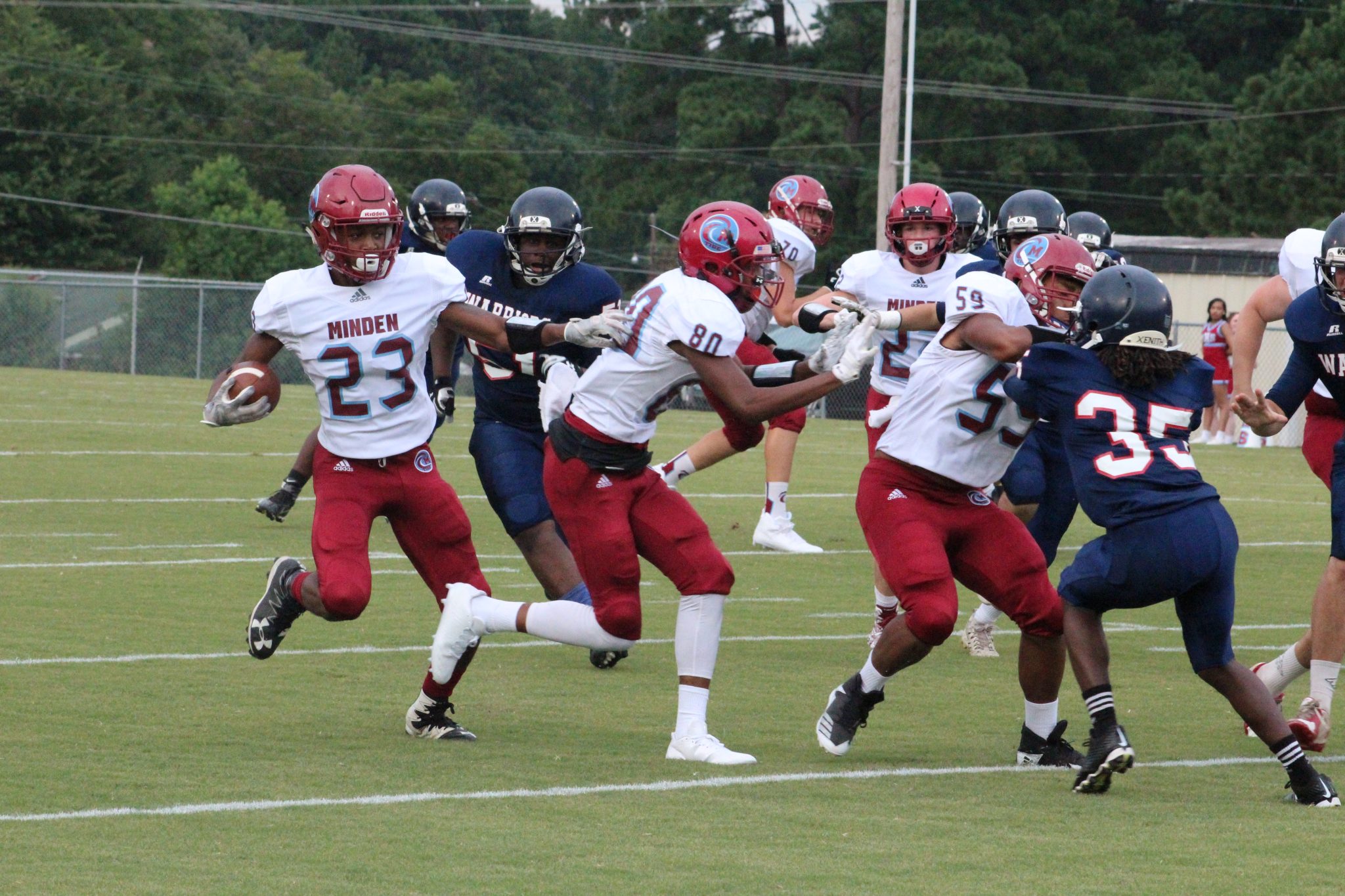 There's no margin for error at Minden High in week one, as the Crimson Tide will be opening the 2017 season against Haughton at Harold E. Harlan Stadium.
Minden and Haughton share a special place in each other's heart; the bad blood goes both ways, and there's no sweeter victory than one against the other.
This matchup had started to become stale in recent years, with Haughton riding a 7-game win streak into last year's game.
Head coach Spencer Heard and the Tide stepped up though, winning a 23-20 barnburner at Haughton to snap the streak and reignite the rivalry.
Now, Heard knows he must contend with an angry bunch of Bucs out for revenge.
"I'm sure they're looking really forward to playing this game," Heard said. "A lot of those guys graduated, they had a pretty high turnover of seniors, but those kids were on the team even if they weren't on the field. I'm sure they have that drive to get redemption, but we have to focus on doing our jobs and executing."
Minden has made strides since their first scrimmage against Airline a few weeks ago.
The offense is beginning to find its footing with Seth Tyler at quarterback and the defense is starting to play with more confidence and speed as new starters garner important practice and game reps.
However, two areas have continued to plague the Tide throughout their tune-ups: the offensive line and secondary.
The offensive line hasn't exactly pushed people around.
Minden's downhill running game hasn't found its footing yet with capable junior Zack Gage. Tyler has also been under immense pressure far too often when dropping back to pass.
"As always, I'd like to be able to run the ball," Heard said. "I feel good about several spots. We have to get a little better at left tackle. There's still uncertainty about some of the assignments because of the relative newness of the individuals playing there. They just have to get comfortable in their assignments and that will lead to them coming off the ball a lot harder. They're big strong kids; they just have to keep working and getting reps."
On the other side, Minden's secondary has been giving up big play after big play.
North Webster's TJ Hawthorne beat Minden over the top for a 60-yard touchdown, Lakeside's Chase Mitchell hauled in a 40-yard pass, as did Gavin Jones, and Captain Shreve scored twice on passes covering 30+ yards in scrimmage action.
"It's really been happening on our defense's right side," Heard said. "We just have to trust the scheme and not get caught up trying to do more. I'm confident in both the guys we have over there."
Both units in question will be put to the test, along with the rest of the Minden team, against a Haughton team flush with playmakers.
"The quarterback is new, but he looks pretty accurate," Heard said. "They have a big-sized running back, some fast receivers; a pretty typical Haughton offensive line.
The defensive line isn't as big as usual, but they're really athletic and the linebackers are all a couple hundred pounds."
Weather is likely to play a large role in the game, should it go on.
The lights went out in Haughton under perfect conditions last year during Minden's 23-20 victory over the Bucs; the Tide might see the inclement weather as good omen.
A canceled contest would add another layer of intrigue to the ongoing saga at Minden's home stadium, The Pit, where this game was originally supposed to be played.
"We're not thinking about that at all," Heard said. "Our guys have been mentally prepared. We just have to go out and play football in whatever stadium against whatever conditions."