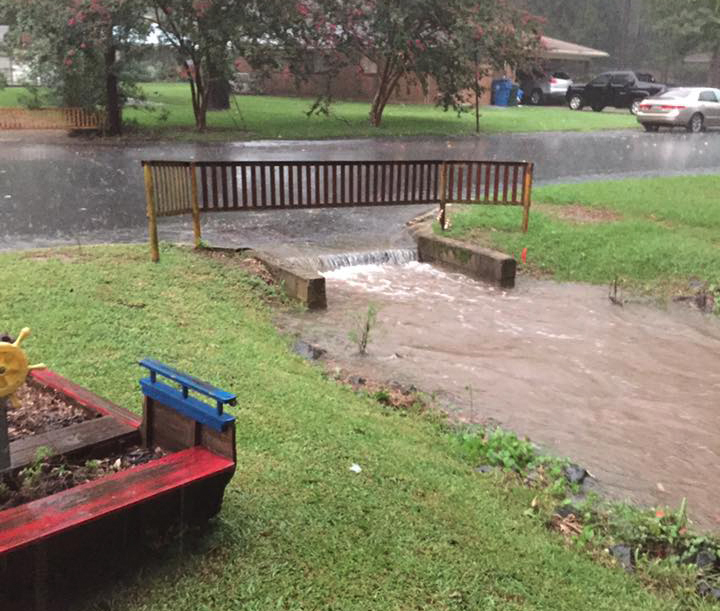 A Minden woman blames the city for not doing enough to stop rainwater from building up around her house, and at times, flooding it.
Judy Daniel, who lives in a cul-de-sac on Sarah Circle behind E.S. Richardson Elementary School, said water from heavy rains have flooded her house, and the culverts in the ditch that run alongside her house are not big enough.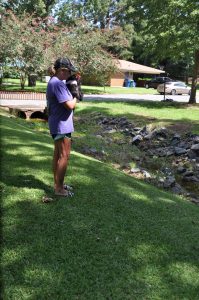 "Every time it rains hard at once, the ditch fills up," she said. "The culverts are too small to handle the water that's coming through it. When this side of the ditch gets full, the water on the other side comes across the road, comes straight to my front door and my carport door and comes into my house."
Luckily, her house did not flood from Tuesday's heavy thunderstorm, but water did make it to the end of her driveway. She described the ditch as having built up dirt and grass that is holding up the water. She blames dirt that came from recent parking lot construction from Eastside Missionary Baptist Church filtering down to Sarah Circle.
"My house has flooded four different times, three before I moved here and once since I've been here since 2000," she said. "It's gotten a lot worse. When they did all that construction up there at the church, they brought in all that dirt and it would wash down here and fill up the ditch."
Mayor Tommy Davis said work has been done to dig out that ditch this year, and unfortunately, Sarah Circle is in a low-lying area, which makes it prone to water runoff.
"There's a place where we've dug out the ditch and put some rip rap or rocks to keep it from filling up," he said. "Part of it is on private property, so it's not something we can address. It goes all the way to the school all the way down to Turner's Pond."
"I've had them come out here to dig out the ditch, and (the city) dug out right by the culvert on my side, but it filled up again," she said. "We've complained, we've begged them, we've done everything to get them to change the culvert, but nobody will do anything."
She said they did come back out around July and dug the ditch out across the street from her, but they never came back.
Davis said it is a natural drainage area and there is only so much they can do.
"That's one of those places where there are a lot of houses and there's a lot of water that dumps in there," he said. "There's a lot of water that comes through there. I know we've worked on it some this year, and we work on it on a pretty regular basis."
He reiterated that much of that area is private property and the city is only allowed to go so far before they hit private property lines.
"It's been going on for several years," he said. "It's an ongoing problem because it's just a low area, and water has a natural tendency to run downhill and that's where it goes. We've had a very wet year, too."