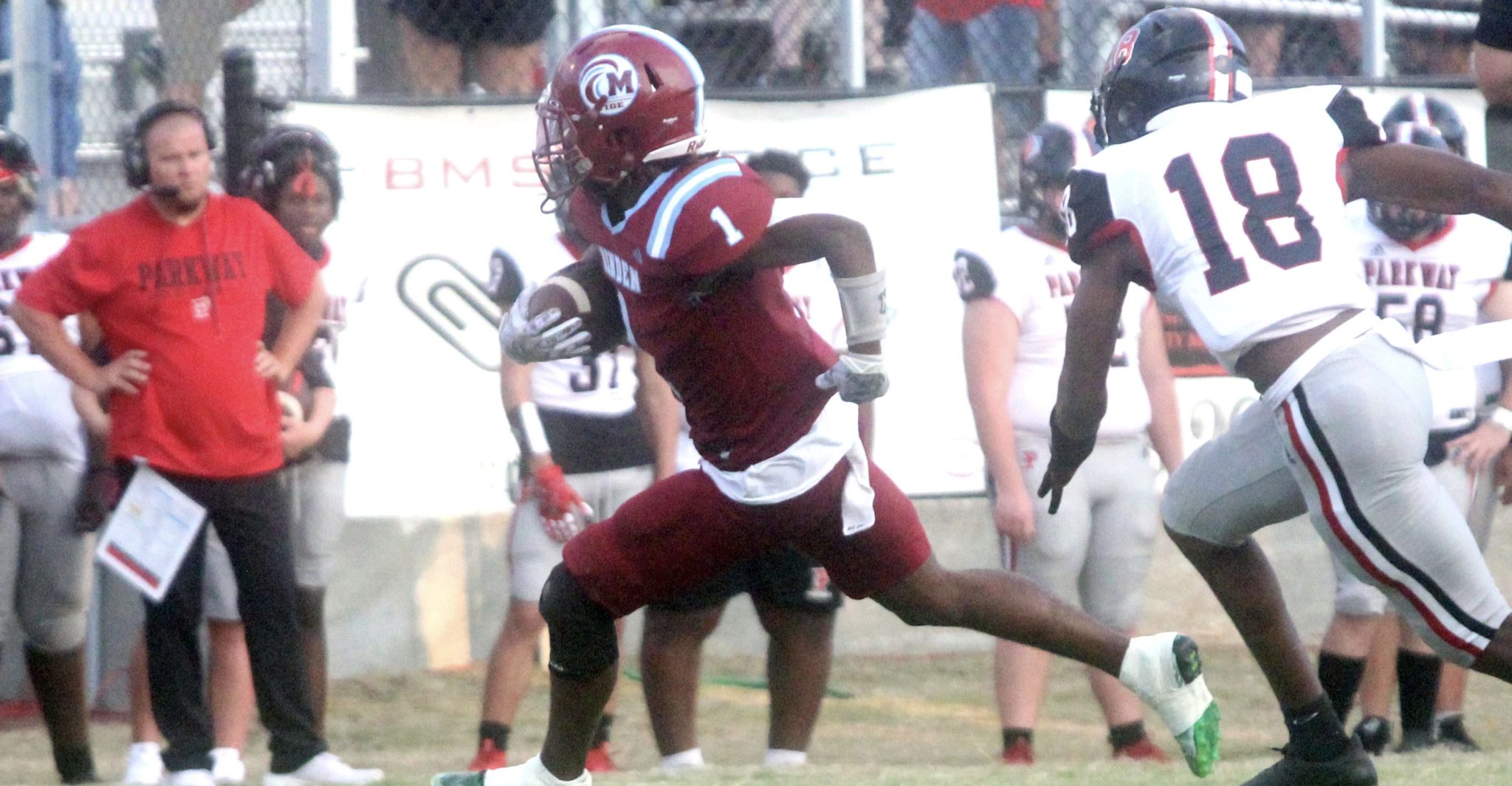 If Friday night's season opener is any indication, the Minden Crimson Tide are going to be a fun team to watch this season.
The Tide came up just short on the scoreboard, falling to the Parkway Panthers 43-41 at The Pit at W.W. Williams Stadium.
But unlike last year's season-opening loss to Parkway, Minden was in it until the end. In fact, the Tide led going into the final quarter.
"It didn't come out on the right side of how we wanted it but I'm very proud of our guys effort," Minden Head Coach Spencer Heard said.
"We're definitely not there yet. I think we're going to get better in the box on defense. I think up front we're going to get better on offense. Everything is just going to get better as we go forward. But I think to go out there and perform like we did in the first outing? That makes me feel good going forward. I think the sky's the limit for this team and what we can accomplish this year."
The game featured some spectacular individual performances and big swings of momentum.
Minden senior Jakobe Jackson rushed for 176 yards and two touchdowns on runs of 2 and 44 yards, according to statistics kept for the KBEF/KASO radio broadcast. He also caught five passes for 81 yards, including TDs of 49 and 16 yards.
And if that wasn't enough, he played most of the game at free safety.
"I thought Jakobe was just a man tonight," Heard said. "He really stood out on the field on both sides of the ball. He played the entire game. He had to fight through some cramps, played free safety for most of the night. We used him all over the field."
Parkway Head Coach Coy Brotherton was certainly impressed.
"We knew No. 1, Jakobe Jackson, is probably going to be one of the better players we're going to see all year," he said. "We told our guys that their offense runs through him and, hey, their defense runs through him too. That sucker didn't come off the field. He was a warrior tonight. We knew we were going to get that with him."
Jackson and sophomore Hudson Brown split time at quarterback with Brown starting the game.
On the Tide's first possession, he ran 44 yards to set up Minden's first touchdown, a 2-yard run by Dunavan Robinson.
Brown had an impressive debut, completing 14-of-30 passes for 169 yards with no interceptions.
"I felt like offense we moved the ball well," Heard said. "I thought Hudson Brown did a good job for his first outing, for a sophomore quarterback a really good job. He was calm under pressure, took care of the ball."
Parkway sophomore running back Antonio Gladney, running behind a big, talented offensive line, rushed for 272 yards on 22 carries and scored four touchdowns. A big one came with just 2 seconds left in the first half and gave the Panthers a 30-27 lead.
Minden took a 34-30 lead on a 44-yard run by Jackson and Bryson Ranger's PAT with 5:12 left in the third quarter. But Parkway quickly regained the momentum on a 72-yard run by Gladney.
The Tide went back on top on a 10-yard run by Cameron Mitchell with 56 seconds left in the quarter.
The Panthers scored what proved to be the winning touchdown on a 4-yard run by CJ Dudley early in the fourth.
Minden had only one more possession which ended with a punt.
Parkway ate up the final 7:58 of the game on an 18-play drive to the Tide 3. It included just one pass.
The Panthers overcame a second-and-25 from their 28. On third-and-17 from the 36, Dudley ripped off an 18-yard gain.
Parkway looked like it was taking control in the second quarter with a 23-12 lead. But the Tide recovered two fumbles, setting up Brown's TD passes to Jackson.
"Unquestionably, that's the big thing," Heard said. "Our guys kept fighting all the way to the end. You can't ask more in that regard."