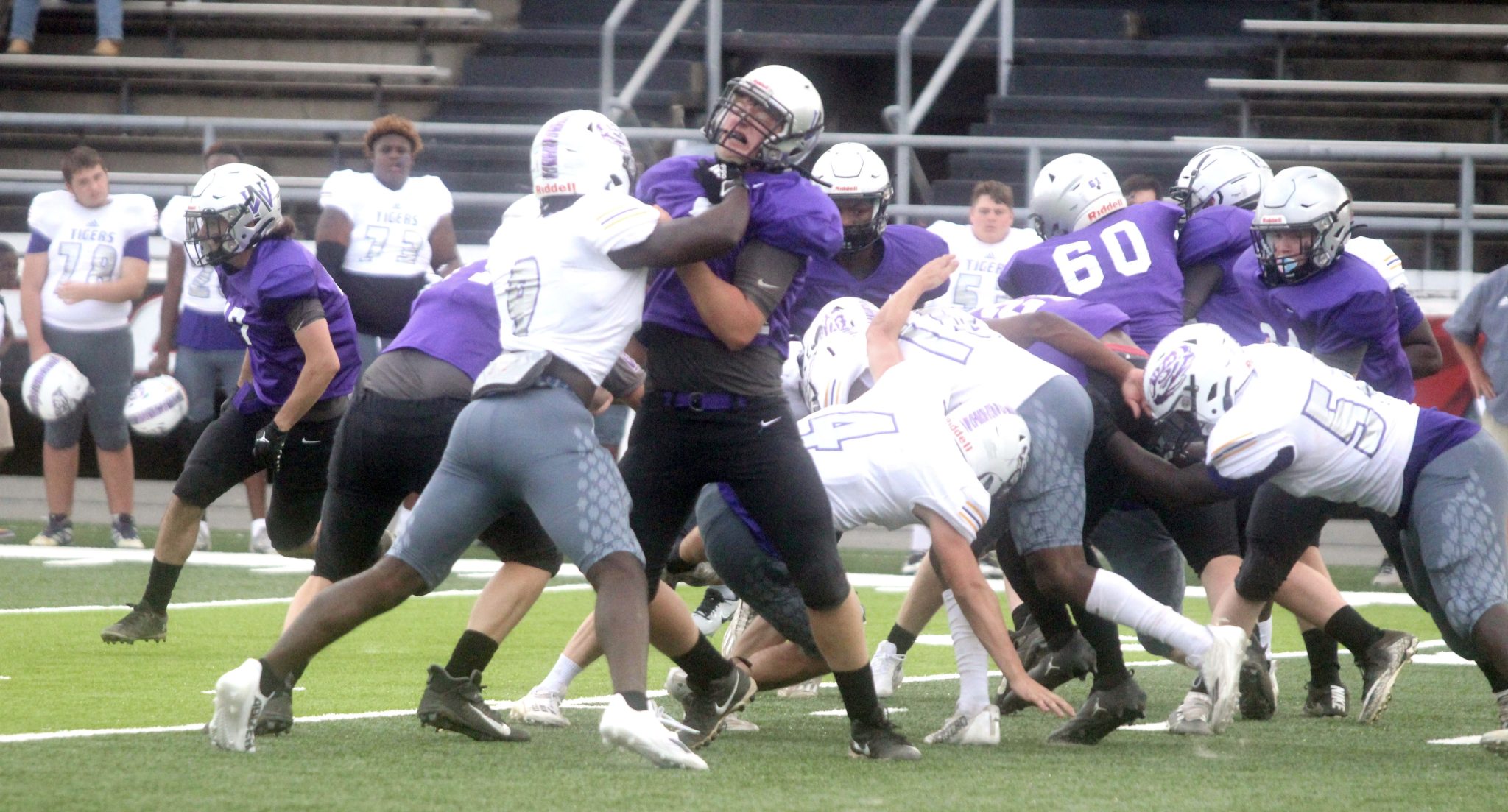 By Shawn C. White, Special to The Press-Herald
Webster Parish coaches got a quick look at what's to come in the fall with the short window of spring practices and scrimmages.
With the seniors gone, it's time for the juniors, sophomores and freshmen to shine. The four parish teams took different approaches to handle the spring football opportunities.
Minden
Minden went through some growing pains last season and came into spring practice and a scrimmage with more experience, according to Coach Spencer Heard.
"We're a much older team," Heard said. "We graduated seven seniors but the bulk of the kids that are coming back did the majority of playing last season. I see the experience building not only on the field but in the weight room and practice. They are just more mature."
One of the improvements the Crimson Tide will see is more reps from upcoming sophomore Hudson Brown which will have more than one benefit.
"We had an outstanding athlete in Jakobe Jackson," Heard said.  "We have a young quarterback in Hudson Brown who showed he could take more reps.  This is a big deal because this will free up Jakobe Jackson to play other positions like free safety on defense."
Nolan Garms will be moving from right tackle to linebacker.  Another bright spot for Minden was O'Marion Corley playing left tackle at 5-feet-10 and 210 pounds.  

Also, Mark Miller, who comes from Humble ISD out of Texas, has been hired as linebackers coach.
Although Mother Nature dampened their practice schedule to only about seven days and also many players were still out with baseball, Minden did manage to get in a tri-scrimmage game at Richwood against the host team and Bastrop.
"We looked pretty in sync," Heard said. "I was pleased. We played aggressively and fast. We made mistakes but we got a peek at the quarterback. One of our bright spots was the offensive line. We are way stronger than last season. We'll get some 7-on-7 scheduled to work on that offense."
North Webster
North Webster's John Ware has a young squad coming up in the year and saw some improvement.
"We looked better in the back end and secondary," Ware said. "We've got guys making plays but we've still got a long way to go. We looked better in our skill positions."
A few players that stood out for the Knights were quarterback Jkobe Lawson, Braylon Richardson and Calvary transfer Xavier "Tutt" McGlothen.
"Jkobe (Lawson) can run our offense," Ware said. "We will be going back to some Wing-T. He and Braylon Richardson are going to be some playmakers. Xavier McGlothen is good and going to be a great player for us."
Ware did see that his line is still young but will gain more experience as the season goes on.
"We have a small senior playing class," he said. "We are going to be starting ten or more sophomores and seven juniors. We are incredibly young up front."
The Knights scrimmaged Logansport, meeting halfway at Parkway's Preston Crownover Stadium in Bossier City.
According to Ware, the scrimmage went fine and each team scored once.
The main idea for Ware is to get film and preview what he will have in the fall.
"Don't put much into the scrimmage, but mainly get film," he said. "We will see who will fit in where. We have a general idea about who will be starting where but we may see something we need to change."
Lakeside
Lakeside chose to have spring practices but not play a scrimmage game for the season.
Coach Mike Santelices will have to fill some mighty big holes as quarterback Cooper Chase and wide receiver Joshua Sebald will be graduating.
But in the practices, Santelices was pleasantly surprised. "Thought it was good," he said. "Practices went well. We have a lot of questions to answer, but I was pleasantly surprised."
The Warriors will be implementing some new schemes and the team picked them up well.
Lakeside will have a lot of new people in new positions. One is quarterback Taron Riley, who has not played since middle school. Riley is throwing well according to Santelices.
Running back Jordan Case was already tearing up the yardage for the Warriors.
Santiceles sees an improvement since football season in the Lakeside running back.
"Case's return development in a year is unreal," he said. "He's put on some weight. He always had vision and was always good for 25-30 yard runs, now he's going for touchdowns each time."
The speed of the team is an improvement which the Lakeside coach has seen through the spring, but he does realize he is missing some key pieces to replace.
"We're going to practice over the summer," Santicles said. "We're learning new schemes and we have new people in new positions, but repetition will have us ready for September."
Glenbrook
Glenbrook was still in the midst of a search to replace Coach David Feaster and opted not to have spring practice.
During that time, though, the Apaches have found a new fit in Reagan Smith.
Smith brings experience from being an assistant coach at some top-notch football programs including West Monroe, Logansport, Parkway, and North Caddo. He also has three state championships under his belt to bring to Glenbrook.
—
All these teams will get ready for summer workouts and practice to get in preparation for next fall.