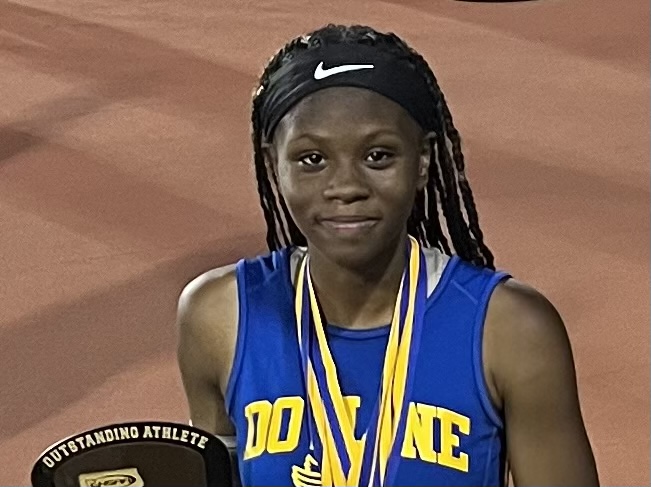 Doyline junior Izayla Harris won four events in the Region I-B track and field meet Tuesday at Quitman.
She took the 100-meter dash in 11.66 seconds, the 200 in 25.45 and the 400 in 59.60. She won the triple jump with a leap of 35 feet, 3inches.
Her times in the 100 and 200 were significantly faster than her winning times in the Class B state meet last year. She ran a 12.10 in the 100 and a 25.89 in the 200.
Her 100 time was the fastest in the state this season regardless of class.
On Monday, she won the 100 by .84 seconds over runner-up Lehr Turner of Florien, the 200 by 2.0 seconds over Lauryn Vernon of Simsboro and the 400 by 5.64 seconds over Ava Brown of Negreet.
Her distance in the triple jump was 2-0.75 feet farther than the best jump of runner-up Vernon.
Doyline freshman Takerria Washington won the 800 in 2:46.16. Quitman's Kinley Walker was second in 2:52.26.
The top three finishers in each individual event and the top three teams in the relays qualified for the Class B state meet Thursday, May 4, at LSU.
Sophomore Landon Spears finished second in the boys high jump with a leap of 5-10. Castor's Jamarion Carter won with a 6-2.
Sophomore Caysten Mingo was third in the javelin with a 115-3. Castor's Johnathan Warren won with a 132-9.
Sophomore Peyton Handy finished fourth in the girls long jump with a 14-2.
Doyline finished fifth in the girls division with 63 points, just one point behind Weston and six behind third-place Castor.
Quitman won with 101. Simsboro was second with 96,
Castor won the boys title with 105. Simsboro was second with 99.5.