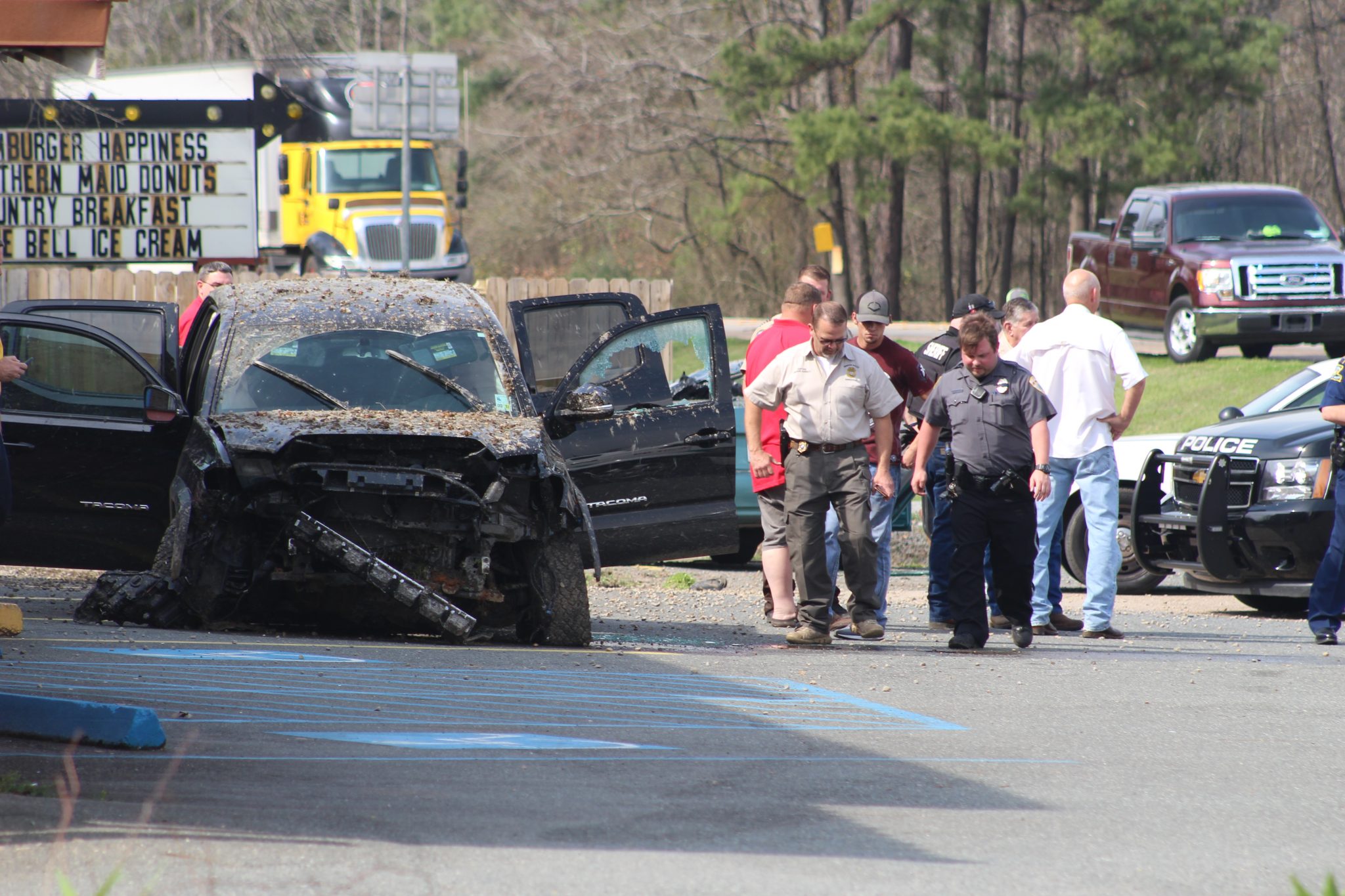 DIXIE INN — Two men have been arrested after one led authorities on an over 100 mph chase through Webster Parish Tuesday.
Chief Deputy Bobby Igo, with the Webster Parish Sheriff's Office, said the chase started after deputies made a traffic stop for speeding on La. Highway 371 south of Cotton Valley.
"The vehicle pulled over and the driver got out and came toward the officer," he said. "As he was coming toward the officer, the vehicle sped away."
The driver of the 2016 Toyota Tacoma was identified as Durioki Deshone Hawkins, 23, of the 3000 block of Norman Place in Bossier City. Deputies said Kevonte Dekorey Austin, 18, of the 8000 block of Woodlands Trail in Greenwood, slid into the driver's seat and sped away.
Igo said after the deputy took Hawkins into custody, he began chasing the vehicle north on La. Highway 371 before the vehicle turned around at McDonald's in Springhill and headed south. Austin ran several vehicles off the road into the ditch on his way south, according to the arrest report. He also reportedly hit a WPSO patrol unit twice, attempting to push the vehicle off the roadway.
Dispatch notified agencies the vehicle had been reported stolen out of Shreveport.
Multiple agencies chased the vehicle to Dixie Inn where the Dixie Inn Police Department laid spike strips across Highway 371, just north of the U.S. Highway 80 intersection. Igo said a roadblock was set up to prevent the truck from going through the intersection to avoid any fatalities.
Once the truck crossed the spike strips, it left the roadway, ramped the ditch and went airborne over a wooden fence, landing on top of a car occupied by a Bossier City woman in the parking lot of Nicky's Mexican Restaurant. Igo said the car's occupant was unharmed in the crash.
When the vehicle came to a complete stop, deputies said Austin immediately left the vehicle and jumped into the backseat of a car occupied by two females.
Austin was taken into custody after he was observed getting into the vehicle. He is wanted for escaping the Caddo Correctional Center. Deputies said he walked away from a work release program on Feb. 8.
Austin was charged with attempted first degree murder, aggravated flight, theft of a motor vehicle, aggravated damage to property, attempted carjacking, reckless operation and as a fugitive from Caddo Parish.
Hawkins was cited for speeding, and charged with illegal possession of stolen things, and a probation hold from Caddo Parish. The Webster Parish Sheriff's Criminal Investigation Division also placed a hold on him.