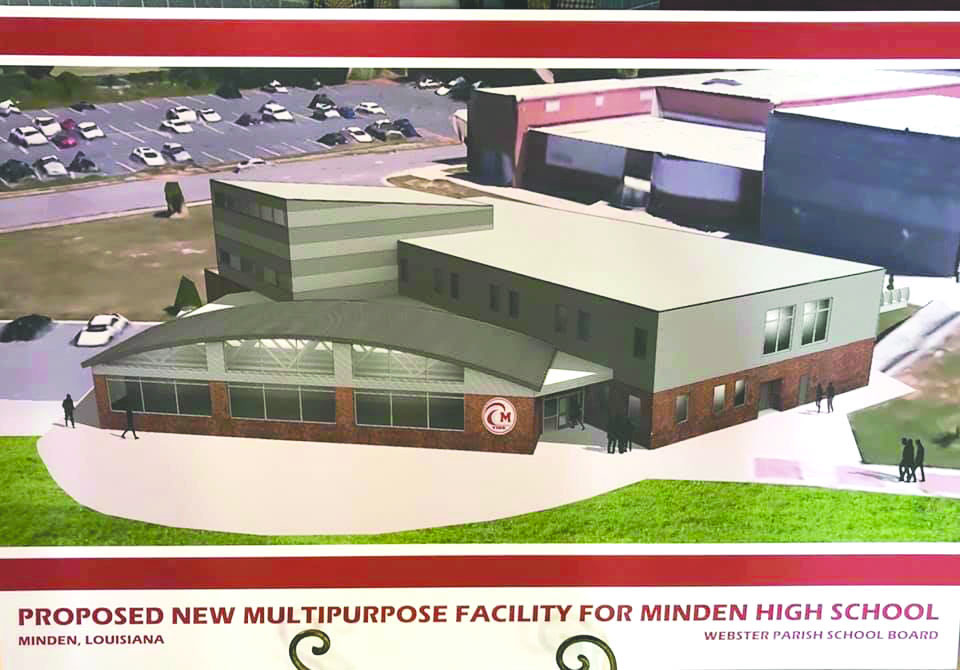 Minden's first look at new multipurpose facility
JJ Marshall
Minden Press-Herald
Minden High is hoping to bring back the "Home of Champions" with a new state-of-the-art multipurpose facility planned to be completed in the next two years.
"The big message is that it is not just for the football team," Minden principal Becky Wilson said. "We are expecting about 350-400 students to be utilizing it every day."
After the gym was condemned in 2016, space has been an issue for a number of organizations at the high school.
"Space has definitely been an issue since we couldn't use the gym anymore after it was condemned," Minden head football coach Spencer Heard said. "It's going to be much easier to practice inside on rainy days, but really having something like this that the whole community can use is important for us."
The proposal passed in May through the school board and the funds will become available in August to build the facility. It will be a two-story building just behind the visitor's parking lot on the hill by the concessions stands in the football stadium. There will be a multipurpose area about half the size of a regular gym to serve as auxiliary space where the JROTC, danceline and cheerleading squads can practice and organize.
"It's really going to be big for the JROTC to have space to use," Heard said. "It's going to be very nice."
There is also a 3500 square foot locker room that will be available for varsity, junior varsity and freshman teams.
"An anonymous donor made a generous donation to assist with the equipment for the new weight room," Wilson said.
The weight room will overlook the football field.
Also in the works for the facilities is a new coach's office, a medical facility for taping and treatment, a wet area filled with hot tubs, a film/meeting room and more.
The top floor will be at the same level as the school buildings and will connect to the library with a mezzanine so that students and faculty can walk directly from the school to the new multipurpose facility.
Six classrooms will be housed on the second floor, with two designated for JROTC.
"I'm expecting it to be completed in the next two years," Heard said.
Construction completion times can be fickle, but this is something the entire school and the city of Minden can get behind. With a number of organizations at the school continuously vying for space, a new two-story facility that houses a plethora of activities will be a welcome sight for the Tide family. Hopefully for Minden, it will be the revamped Home of Champions.