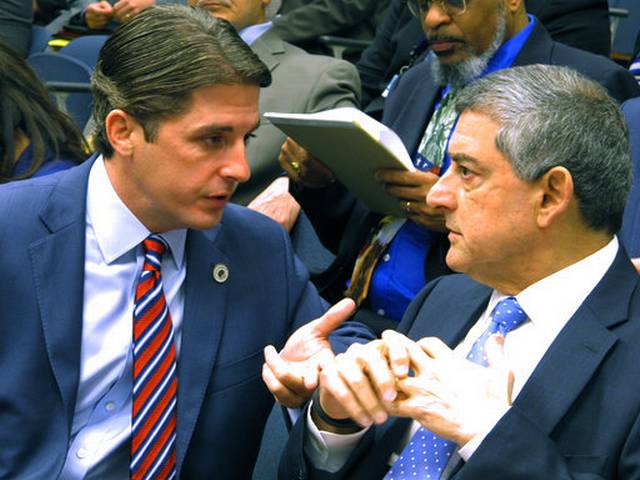 BATON ROUGE — House Republican lawmakers Monday advanced a rewritten budget proposal that would spend hundreds of millions less next year than Gov. John Bel Edwards wants and protect the TOPS college tuition program by making cuts to health care.
The more than $28 billion operating budget proposal for the financial year that begins July 1 received backing from the House Appropriations Committee in a 17-5 vote. Republicans supported the pared-back spending plan, while Democrats opposed it.
The plan would spend $235 million less in state tax dollars than an income forecasting panel projects Louisiana will receive, instead using 97.5 percent of the forecast dollars.
Edwards, a Democrat, wants to use all dollars available. House Republican leaders worry the projections are too rosy and could force cuts in the middle of the budget year if lawmakers spend the full amount, a situation that has repeatedly happened over the last decade.
"We're trying to get away from having consistent midyear cuts," said Committee Chairman Cameron Henry, a Metairie Republican. "I don't know of any other way to do this."
Most of the money was stripped from the health department. Dollars also were removed from education programs, the prisons department, the state's child welfare agency and the state police.
Henry predicted agencies will tell lawmakers "the world's going to fall apart" under the scaled-back spending plan.
He and other GOP lawmakers called the proposal a "standstill" financing plan — even though several departments would see less state funding than they're receiving this year, including public colleges, the corrections department and the health department.
"This is fiscally prudent," said Rep. Blake Miguez, an Erath Republican.
Democrats suggested the explanation was disingenuous because agencies have increased costs for pension payments and health insurance for which they'll receive no extra money.
"That amounts to a cut in my view," said Rep. Walt Leger, the House's top-ranking Democrat. "We're going to continue to make these agencies crawl."
Lawmakers crafting their version of next year's budget didn't spell out where spending should be reduced. Instead, the House budget version largely would leave it to the Edwards administration to decide how to make the cuts.
Commissioner of Administration Jay Dardenne, the governor's chief budget adviser, said if lawmakers want to pare back government spending: "Tell us what you want to reduce specifically and what services you don't want to provide."
The budget bill heads to the full House for consideration, for debate later this week.
Among the larger changes made Monday, lawmakers agreed to a proposal from Baton Rouge Rep. Franklin Foil, a Republican, to cut the Louisiana Department of Health by $82 million in state financing next year. The dollars would be used to fully cover tuition payments for students in the TOPS program.
Lawmakers only provided enough money this year to pay about 70 percent of tuition costs for TOPS students, and a similar amount was proposed for next year. Foil said that violates a commitment to students who meet the TOPS performance standards.
"I think this is a top priority to our constituents, and I believe LDH can handle the reduction," Foil said.
Democrats bristled at the change.
Rep. Gary Carter, a New Orleans Democrat, said Foil was proposing to cut health programs for vulnerable people to pay for a college program in which 40 percent of recipients come from households earning $100,000 or more a year.
"There has to be a balance," said Rep. Patricia Smith, a Baton Rouge Democrat. "We are a poor state."
The committee voted to block state workers from getting a pay raise next year and added new legislative hurdles for agencies to fill vacant positions. As they reduced spending to the health department, they added restrictions on where the agency could make cuts, trying to protect certain programs.