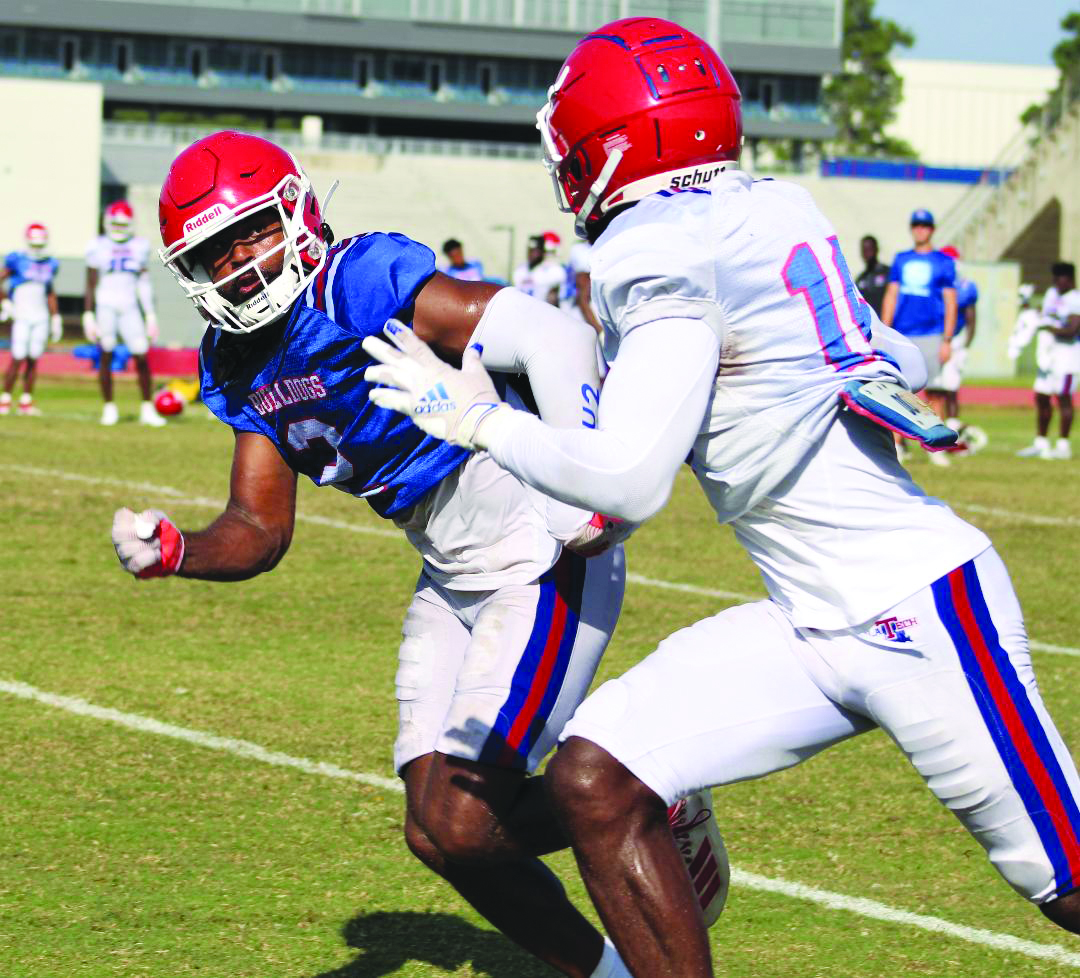 RUSTON — Louisiana Tech's defensive backs have been working on getting better every day during the 2021 fall camp.
The unit returned all of its starters from the 2020 campaign in graduate Khalil Ladler, senior Zeno Hannibal, junior Jaiden Cole, sophomore BeeJay Williamson and freshman Cedric Woods, and also added new Bulldogs in the backfield to help create more depth at the safety and cornerback positions.
"We've gotten some great work," said Tech coach Skip Holtz. "Zeno Hannibal continues to get better and better and keeps working at it. Bringing in the competition has motivated him. Cedric Woods is playing at a really high level. Brodrick Calhoun is starting to come along. These are all names of guys who have been here and played here and are getting better and better with the reps they are getting. I really like what BeeJay and Jaiden Cole are doing.
"We've got about eight or nine guys right now we feel we can play in the secondary which is going to be huge. We had to make sure we had some depth after what we went through last year with COVID and injuries. We want to make sure we have as much depth as we can and we're starting to build that. The three new faces have increased the intensity and competition in the room."
Ladler appeared in nine games, including seven starts, at safety in the 2020 season. He registered 34 total tackles, including 19 solo and 1.5 for loss. The native of Stone Mountain, Georgia, tallied three or more stops in six contests during the campaign and had a season-high seven tackles at UTSA on Oct. 24. Ladler was named an all-C-USA honorable mention.
"The safeties have been doing really good," Ladler said. "We've been working to try and make each other better each and every day. We come out and attack every day like it's game day."
Hannibal appeared and started in nine games during the 2020 season where he recorded 26 total tackles, including 16 solo, five pass breakups and one fumble recovery. The Monroe native had a career-high eight tackles at BYU on Oct. 2 and a career-high four pass breakups at North Texas on Dec. 3. Hannibal was named an all-C-USA honorable mention.
Cole appeared in all 10 games and made five starts during the 2020 campaign. The Monroe native registered 39 total tackles, including 21 solo, 2.5 for loss and 2.0 sacks, one pass breakup, one quarterback hurry and one forced fumble in 2020. He had a career-high six tackles against both Marshall on Oct. 17 and UAB on Oct. 31. Cole had at least three stops in eight games during the 2020 campaign.
Williamson has been named to both the Conference USA and Paycom Jim Thorpe Award preseason watch lists. The native of Dallas finished the 2020 season third on the team with 56 total tackles, including 32 solo, while also registering 2.0 tackles for loss, 1.0 sack, three interceptions, three pass breakups, one quarterback hurry and one forced fumble. Williamson was an honorable mention for the Paycom Jim Thorpe Award Player of the Week in 2020 after he registered two interceptions against UAB and forced a fumble at the goal line to give LA Tech the game-winning possession. The sophomore defensive back registered multiple tackles in every game of the 2020 campaign.
Woods started in all 10 games at cornerback as a true freshman for the Bulldogs in the 2020 season. The Monroe native made his first career appearance at Southern Miss on Sept. 19 where he posted a career-high six tackles. Woods led the Bulldogs with six pass breakups during the campaign and registered 30 total tackles, including 21 solo, and two interceptions.
He posted a tackle in nine games, including seven games recording at least three tackles. Woods was named to the 2020 Conference USA All-Freshman Team.
"We've been coming along really well," Woods said. "It's a grind. It's a process coming in every day working and getting better. We brought in two transfers during the spring and they've been coming along. Injuries are a part of this game. We've been working and trying to elevate the room and get better every day."
Tech returns five more lettermen in redshirt junior DJ Brown, junior Marquallius Turner, sophomore Brodrick Calhoun, redshirt freshman Christian Archangel and freshman Jamison Kelly. Sophomore Dallas Taylor-Cortez and freshman Tyler Mansfield also return from the 2020 squad.
Louisiana Tech added a trio of transfers in the spring in graduate Baylen Buchanen (Tennessee), graduate Elijah Hamilton (Vanderbilt) and junior Myles Mason (Arkansas). Redshirt freshman Qua'veon Turner joined the Bulldogs this fall after spending the previous two seasons at ULM.
"We have a lot of faces back there," Holtz said. "Elijah Hamilton and Myles Mason are a little bit limited right now with bumps and bruises during camp, so they're not getting as much work.
"Between those two and Baylen Buchanan, the three new additions in the backend, they are all going to make us stronger."
Tech added a pair of freshmen defensive backs in Carlos Dunovant and Bryant Wade.
Louisiana Tech opens the 2021 season at Mississippi State at 3 p.m. Sept. 4.
The Bulldogs will then open a three-game home stretch against Southeastern Louisiana at 6 p.m. Sept. 11 inside Joe Aillet Stadium.